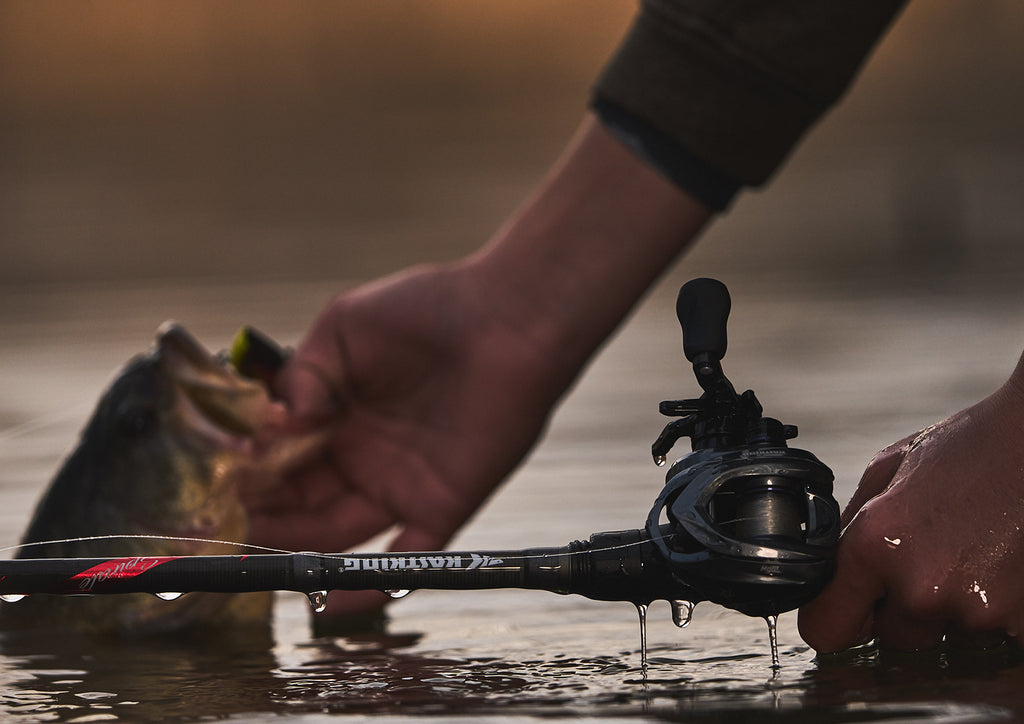 In Review: Mg12 Elite Baitcasting Reel
Affordable Innovation is KastKing's trademark slogan, but that does not mean every reel has to be priced below $100. Affordable Innovation means giving anglers the very best alternatives, and at a fair price tag. Hence the new Mg12 Elite Baitcasting Reel. This is a high end reel that I am sure other manufacturer's reels in the same class would be double the KastKing price tag. Recently, professional bass angler James Elam, who currently fishes the MLF Series used the new Mg12 and raved about its performance. According to James, "This is the perfect jerkbait baitcasting reel." He also plans on using it for other smaller crankbaits and lures while bass fishing. Let's take a look and see what this tiny beast has to offer KastKing anglers and why I feel this may be your next high end bass fishing reel purchase.
Built Tough
The lightweight magnesium-alloy frame is 30 percent lighter than aluminum alloy and 55 percent harder than carbon fiber. The reel's featherlike weight of only 4.8 ounces will make you feel like you don't even have a reel on your rod at all! Add in the 11+1 double shielded stainless bearings and you have the makings of one of the strongest and toughest reels on the market today. And, the deep spool design will hold more line you could ever need for any bait you throw while bass fishing with the baitcasting reel. For those of you who think weight translates to strength, think again. This bad boy has a main gear and shaft that are constructed of hard anodized aluminum and linked to a 100 percent brass pinion gear. A carbon 90 mm solid carbon fiber handle and side plates also keep the weight low while maintaining strength.
Casting Made Easy
Are you adept at casting a baitcasting reel? If not, just like a lot of other KastKing reels, the new Mg12 makes casting without backlashes even easier. The reel is built with a patented-design "Auto-adjustment Magnetic Braking System" (AMB) that virtually eliminates backlashes. The way it works is the system automatically adjusts the brakes depending on the speed of the spool. I made a lot of casts using various weight lures and the system works great… but you still need to be conscience and have an active "thumb" for best results, just like any baitcasting reel out there. I will say though my thumb was barley used on most casts and I had zero backlashes while bass fishing.
Speaking of bass fishing, this reel is perfect for those slightly smaller baits – spinnerbaits, smaller crankbaits (2.5 size and smaller), the KastKing bladed baits, any finesse lure you care to throw. Where it shined for me, and exactly what James Elam said, was on jerkbaits. Using this reel on the Speed Demon Jerkbait rod I was able to cast and "work" the jerkbait with ease. The 7.5:1 gear ratio is designed for fast retrieves, perfect for topwaters, jerkbaits, jigs, and other techniques that create slack in your line. The high gear-ratio comes in handy for solid hooksets on long casts, further reducing missed bites.
Magnesium alloy frame
4 pounds of max drag
8 ounces
26 IPT
11+1 Stainless bearings
Mono capacity - 8/110, 10/100, 12/65
Braid Capacity - 20/160, 30/85, 40/65
Line Options
As with any baitcasting reel, line options always come into play. This reel is compact, but is no way a slacker where line capacity comes into play. For me, I spooled it up with 10-pound test Kovert Fluorocarbon line and was pleased at the capacity. The reel is for throwing your slightly smaller lures above the finesse size but below those larger spinnerbaits – 1/2 ounce and larger, big topwaters, large crankbaits etc. I also want to try the new TriPolymer Mono Line for jerkbaits as it sinks slower than fluoro, but will give me the toughness of fluorocarbon.
Go Get One!
KastKing offers a lot of reels but in my opinion, this will be the king of the crop where bass fishing and baitcasting reels comes into play. The reel will last you a lifetime and will perform flawlessly whether you are a weekend warrior, casual angler or tournament pro. My only hope now is they add a slightly larger size to the line-up… but then again that means I have to spend the big bucks again!
Affordable Innovation is what makes KastKing great, and even though this reel is on the high end of the spectrum, it is still hundreds less than comparable reels on the market. In my opinion, if the budget allows, go for it, you will not be disappointed in the bass fishing baitcasting reel. The light magnesium alloy frame, 7.5:1 gear ration, palm size comfort, a great anti backlash system and 11 stainless bearings make this reel a winner amongst all bass fishing baitcasting reels out there.