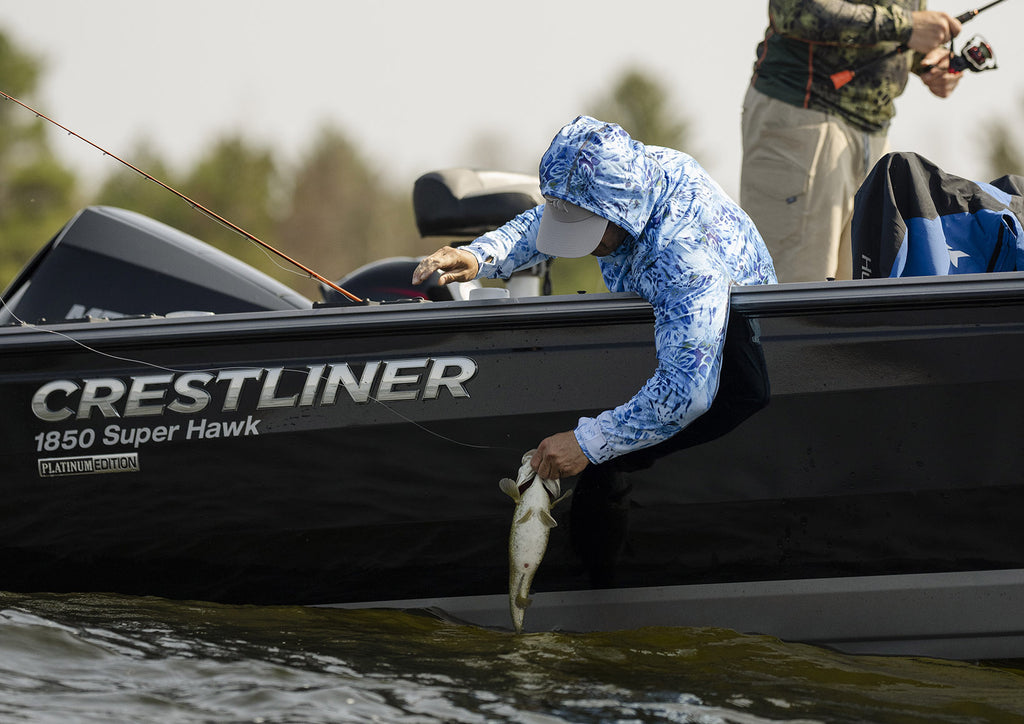 KastKing MegaTron 200 Baitcasting Reel: The Beast for Under $100
Every so often a new baitcasting reel comes along that catches an angler's eye. It may be bigger, lighter, faster, colorful or whatever. Remember when the first left handed baitcasting reel came along? Everyone was like "Holy moly, this is the best thing since sliced bread." Most anglers use size 100 reels to target bass, walleye, snook, redfish pike and more. The reels are light, cast like rockets and can handle most situations. Then, like I said earlier, a reel comes along that grabs the attention of anglers. This is exactly what the new KastKing MegaTron 200 Baitcasting Reel is doing. This reel, in my opinion, is a beast of sorts. Let's take a look at what it offers, and not to mention, the reel retails for under $100!
Before we get into the nuts and bolts that make up what I call a beast similar to the way I felt when I grabbed the Kapstan Elite 300 baitcasting reel a while back. The reel added so many features and could handle so much more. The new MegaTron 200 is in the same class but just a tad smaller. And, it can also double as a great reel for saltwater fishing as well as freshwater.
What Do You Want?
When you look at a baitcasting reel, what is it that you really want? What I look for more than anything is what can I throw with this reel and what are its limits. The Megatron is not a finesse reel, so scratch that right off the list. This is a reel that best performs on larger baits, lures and heavier rigs sometimes used in saltwater while bottom fishing. The large capacity spool and oversize handle are just two attributes in this baitcasting reel that will have you adding it immediately to your arsenal.
Let's Talk Spool and Drag
The spool on the MegaTron is a lot larger than a standard size 100 reel, which you would expect. The reel can hold 130 yards of 17-pound mono and lock down with a drag pressure of 28.6 pounds. Want to target big northern muskies, the MegaTron will whip them easily. How about some of those deep diving crankbaits – you know the 20-foot deep models… no problem for this baitcasting reel. But let's not stop there. I feel this reel is perfect for a lot of inshore saltwater fishing too. Want to grad some lead around the bottom for striped bass, fluke, sheepshead and others, this reel can handle it.
Staying Low for Comfort
While the new MegaTron 200 casting reel features a larger frame and higher line capacities than normal baitcasting reels, they are still designed with a low-profile shape for comfortable, all-day fishing. This is a key ingredient in today's fishing. Anglers are on the water for hours at a time, whether they are tournament fishing or just out having fun with friends and family. Fatigue should never come into play, and with the MegaTron's low profile build, you will be comfortable all day long.
The frame and side covers are made of lightweight and durable graphite that is carefully designed to fit comfortably in your hand. A wide, 105 mm aluminum handle arm and beautiful 3A Cork knobs ensure you are always in control. The wide handle also adds to the power of the reel as well.
Tough as Nails
Advanced performance and durability of the new MegaTron 200 baitcasting reels are second to none. The reel offers 7+1 double shielded, stainless-steel ball bearings. This will ensure a smooth and efficient retrieve under load with consistent performance in either freshwater or saltwater environs. A precision machined brass main gear and brass pinion gear provide exceptional strength plus durability.
The new KastKing MegaTron 200 baitcasting reel is made for big fish, big baits, and tough conditions. KastKing always goes above where strength is concerned in my opinion. For the MegaTron baitcasting reel, they designed a triple disc, carbon fiber drag system that is not only strong, it's exceptionally smooth. When you need extra drag power for a big fish or powerful hook sets, you will have over 28.6 pounds of fish stopping drag power at your fingertips.
Casts Great
Like any reel, anglers will always want to be able to make long casts with minimal backlash issues. Nothing is more frustrating when a reel has an inferior braking system and backlashes are virtually uncontrollable. With the new MegaTron baitcasting reel this will never be an issue. The MegaTron 200 baitcasting reel's nine-level adjustable braking system is driven through an internal eight-button magnetic system that can virtually eliminate overruns while maximizing casting distance.
In closing, I have played with this reel for a short period of time but already have made it one of my go-to reels. Whether I am using lead, big baits or targeting bigger fish, I have the MegaTron 200 ready to go. If you are looking for a slightly larger baitcasting reel to target bigger fish in saltwater or freshwater, or a reel with a high line capacity, then this is a reel you must have.