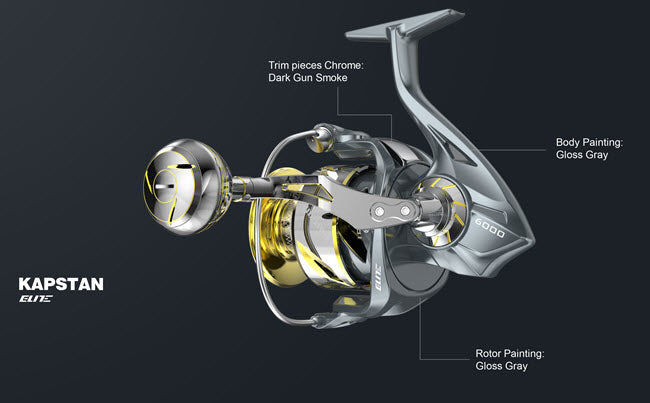 KastKing Saltwater Fishing Gear Options
There has been a lot of talk on the KastKing forums about saltwater rods and reels. There are two answers for this, with the short version being all KastKing rods and reels could be used in saltwater. Even a non-saltwater reel has close tolerances on the side plates and main shaft to protect gears and water intrusion. The biggest key with any reel or rod is how "you" take care of it after using. Just because I use a lot of my gear in freshwater, does not mean it never gets rinsed off and wiped down. Some anglers have asked if the rods are saltwater suitable. I have a Speed Demon Punchin' 7-foot, 11-inch stick that could easily double as a great blackfish or sheepshead rod. It offers a fast taper and strong backbone to easily whip either of these two tackle busting fish. Throw a Kapstan 300 baitcasting reel on it with KastKing 13X Finesse Braided Fishing Line and I guarantee you it will be saltwater worthy. But again, "you" still need to care for it.
As for saltwater options in the KastKing lineup, you might want to start acting like the young boy waiting for his birthday to come as the newest edition will not arrive until Late Winter 2022. Trust me, the wait will be worth it. Way more than worth it.
Do any the KastKing fans out there remember the Kodiak spinning reel series? This spinning reel was a badass and has held up great for me, for years. It was durable, drag is as smooth as silk today as it was when I first received it, and I have had zero issues. Not to mention I have had bluefish to 10 pounds, fluke to 5 pounds and a plethora of other gamesters.
KastKing Kapstan Elite Spinning Reel
Coming in late Winter or early Spring of 2022 is the newest edition to the KastKing Fishing Reel Family -- the Kapstan Elite Spinning Reel. This spinning reel will be a game changer in the saltwater fishing world for KastKing anglers.
The reel will be offered in five sizes – 3000, 4000, 5000, 6000 and 8000. The largest of the five will have a drag offering of 55 pounds, and hold a whopping 425 yards of 65-pound test KastKing 13X Finesse Braid (my new favorite). Want to battle some tuna offshore on spinning gear? This reel can handle it. How about plying the backwaters with an Estuary Rod for reds, snook, stripers or blues; the 4000 will be a perfect fit.
You wanted waterproof characteristics. You got it. The Kapstan Elite is IPX6 rated, which is equivalent to a lot of high-end reels out there. The one that comes to mind quickest is the Penn Slammer, which has an MSRP around $250 to $350! You know the Kapstan is going to come in a lot less than that based on all of the other KastKing lineup being very affordable. Add in the all-aluminum body of the three larger ones (5000, 6000 and 8000) and the aluminum body/graphite rotor of the two smaller ones (3000 and 4000) and you have a reel that is super light and strong. To round out the reel, KastKing put in a CNC machined 7075 Aluminum Main Gear, which is stronger than zinc, and much lighter. Just so you don't down-play aluminum over brass or zinc gears. Aluminum 7075 has a tensile strength somewhere in the 75,000 plus area! Keep in mind that 7075 aluminum is often used for gears in automobile engines and transmissions.
I can tell you this; as soon as this reel is available, I will have several of them. There is no doubt in my mind this reel will blow away the discontinued Kodiak Series, which I felt was a solid saltwater reel option. And, if it does, KastKing saltwater anglers will be thrilled beyond their wildest dreams.
Add this spinning reel to the already stellar round bodied conventional Rover and ReKon, and low profile Kapstan baitcasting reel line-up and there is nothing you can't battle in the salt.
"Okay Tom, we have the new reel, but what about the rod to go with it you say?"
Like I said earlier, all KastKing fishing rods could be used in the salt, but the new Estuary Series is a top flight option for the new Kapstan Elite. But hold on, the KONG Rod Series is back, and for those that already have one, you know these are saltwater worthy. And, the KONG Series will add a few new ones to the line-up.
The Kapstan Elite looks and has the components and make-up to be a great addition to the already stellar KastKing lineup. And, this reel is saltwater ready with an IPX6 waterproof rating. 
Bring On The KONG Rod Series
The original KONG Series had one spinning rod of 7-6 available, and it was rated for 15-40 pound test line and a lure weight of 2 to 4 ounces. They also had four casting rods, with the heaviest rated for 50 to 100, but it was a short stick of only 6-6. This was a perfect deep water rod for tilefish, cod and halibut in my opinion. The 8-foot model was slightly lighter and longer, so it could have been used from the piers as well.
The basic KONG Series was back in stock in the Fall of  2021 and there are a lot more models being added later. They are keeping the original four casting rods and one spinning rod, but adding in four new spinning rods ranging from a smaller 7-footer rated for 10 to 20 and 1/2 to 2 ounce baits. This will be a perfect rod for the Kapstan Elite 3000 or 4000 for casting soft plastics to redfish, blues, or striped bass. On the opposite end of the spectrum the new 10-foot rod will offer a rating of 10 to 40 pounds and baits/lures of 2 to 8 ounces. This means that if you want to make long casts from the shore or the pier, KastKing has you covered.
On the spinning rod side, along with the new 7 and 10 footer, plus the original 7-6, they have added what I believe will be my favorites for the boat/shore – two 8 footers. The 8 footers will be rated for 10 to 20 and 15 to 40, with lure weights in the 1/2 to 2 and 2 to 8 ounce range. In my opinion, these two rods will fill the need for most of your saltwater game plan. They could be used from the dock, shore or boat. They are not too long, but long enough to flip a sinker away from a party boat rail, or cast a chunk of menhaden from the shore. 
On the casting rod side, they added a sweet 7 footer rated for 10 to 20 pound test. This is the perfect summer flounder (fluke), weakfish, sea trout, porgy, and sheepshead rod for inshore angling. It is not too stout, but has the backbone to whip any gamester.
With the exception of the 6-6, all the rods are two-piece construction. The rods did not change and are still made on a powerful S-Curve, 100 percent graphite blanks reinforced with advanced Nano-Resin technology. This combination offers amazing strength and lifting power but are still incredibly light and sensitive.
The Kapstan 300 and Speed Demon Punchin 7-foot, 11-inch rod, along with this Tommy Togs jig will get used a lot on the saltwater sea bass and cod grounds.
If saltwater is your game, the new updated KONG Series and Estuary Inshore rods and Kapstan Elite Spinning Reel, Kapstan 300 baitcaster or any of the KastKing Rover or ReKon reels will have you slaying the beasts in your home waters in seconds. As I said, any of the KastKing lineup could be used in the saltwater environs, but now we have a bonafide saltwater line-up to choose from as well.
---
Tom Melton is an expert in all aspects of inshore saltwater fishing and freshwater fishing. As an authority on angling he strives to excel while teaching others, and in his own outdoors adventures. Whether it is a freshwater bass fishing tournament, or recreational fishing with family, his skills and knowledge always shine. Tom has been an outdoor writer for more than three decades.