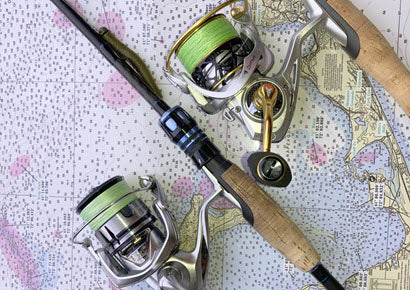 KastKing VS Abu and Shimano Fishing Reels
In fishing circles, there will always be the angler that states "his" favorite reel is the best ever made. Although his statement may be true, I am sure the debate could go on for quite some time why "my" favorite is much better. Some anglers will swear by a certain reel for various reasons, some of which include weight, gear ratio, quality in workmanship, longevity and more. 
At KastKing, they make their fishing reels to last a long time, by using quality workmanship, high end bearings and light weight and strong metals to ensure "you" are happy, and the fishing reel holds up while fighting your trophy. The one killer among fishing gear is failure. If a product fails due to workmanship or materials, KastKing offers a full 1-year warranty to get it replaced.
Without comparing every reel on the market to the KastKing series of fishing reels, let's take a look at a few to get an idea of the quality and functionality. For this mini- comparison, let's take a look at how new KastKing ReKon 20 baitcasting reel and Abu Garcia 7000C baitcaster stack up against each other, then take a look at the KastKing Zephyr 4000 spinning reel and the Shimano Stradic 2500HG.
REKON VS ABU GARCIA 7000C
For the first part, let's look at the KastKing ReKon 20 and Abu Garcia 7000C. These two reels are work horses in my opinion, with both offering very low gear ratios to winch in your favorite species with ease. Although the ReKon is touted as a trolling reel, I feel it can also double as a great reel for inshore gamesters from bluefish up to smaller size tarpon.
THE SPECS
The KastKing ReKon baitcasting reels are designed for tough trolling conditions and uses the best components. For smooth and trouble-free operation KastKing uses three double shielded, stainless-steel ball bearings in high stress points plus the instant anti-reverse bearing. KastKing ReKon main gears and worm shafts are made of precision machined brass. Its pinion gear and line guide shaft are high quality stainless-steel. The line guide is synchronized with the spool, which means when line peels off, the level wind moves with it.
The Abu Garcia 7000C, which I have owned several of for almost 35 years, is also a reel built to last. Abu fishing reels are made to perform, and to last. The 7000C has a synchronized level wind, which means the level wind moves back and forth as line peels from the reel. The updated extended bent handle with power knob gives anglers an edge by increasing torque and aligning the cranking hand closer to the reel for more efficient fighting power. The smooth and consistent multi-disc drag system delivers pressure throughout the entire drag setting. Each 7000 fishing reel is constructed with a corrosion-resistant instant anti-reverse bearing, Duragear™ brass main gear, and a four- pin centrifugal brake for controlled casts.
EYE TO EYE
There are pros and cons to both reels. I like the new handle design on the 7000C as it definitely adds torque, but more importantly, keeps your hand more centered. The ReKon also has a power handle, but it extends out, which to some may be uncomfortable at first. After you get used to it, as I have, it is comfortable, and is quite powerful.
The synchronized gear was always something that I did not care for in the Abu as I used to use the reel for casting from the beach, and from the top of Long Island bridges to striped bass in the shadows. The Rekon also offers this feature. The synchronizing keeps the line lying on the spool more evenly, so in the long run it helps eliminate line cross-over.
Both reels come with a 1 year warranty, which in my opinion is long enough. These reels will take a beating, and if the materials and workmanship stay strong for the year, they will last a long time, as long as the angler cares for the reel as well.
The KastKing Rekon is a slightly larger profile reel than the 7000C, but on the other hand it is lighter. When I weighed them both on the KastKing Digital Scale, they came in at 16 ounces for the ReKon and 21 for the Abu.
The bottom line, in my opinion, is the Rekon will serve your fishing needs equally to the Abu Garcia. I will say however that based on years of service, the Abu will probably outlast the ReKon. Then again, the Abu is also almost 2-1/2 times the cost. And, like I have always maintained…if you take care of your reels, they will last a lot longer than expected.
SPINNING REEL
Some may say, "Come on Tom, you are trying to compare a reel that retails for $200 against a reel that retails for $80." Just because a reel retails for a lot higher, also does not mean it is "that" much better. Remember, KastKing's philosophy is based on making fishing fun, and less expensive. After reviewing, which you will see below, there really is not that much difference.
THE SPECS
The Shimano spinning reel comes in at just under 8 ounces, while the Zephyr comes in at just over 8 ounces, so it is basically a wash. Moving to drag pressure, again it is basically a wash at 20 for the Stradic and 22 for the Zephyr. On the line capacity side, the Zephyr can easily hold more line, but what is more important is the depth of the spool, which will come into play on the casting end. The Stradic spool is a shade deeper, and will probably mean slightly longer casting.
When we move to the analytical side, they both have superior body designs, with quality bearings and three washer drag systems. The bail system on both is super strong and lightweight, with the Zephyr a slightly heavier wire design. The only advantage to this is if you step on it, it might hold up better.
I have fished both these reels extensively. They both, in my opinion, have super qualities. I really do not feel one has an advantage over the other and feel both will give you years of service. In my opinion, and for the money, KastKing has a winner in the Zephyr, that I feel will hold up for the long run. For me, I go with the KastKing Zephyr.
Tom Melton is an expert in all aspects of inshore saltwater fishing and freshwater fishing. As an authority on angling he strives to excel while teaching others, and in his own outdoors adventures. Whether it is a freshwater bass fishing tournament, or recreational fishing with family, his skills and knowledge always shine. Tom has been an outdoor writer for more than three decades.