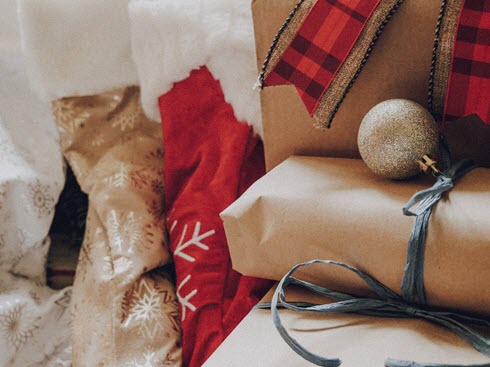 Extremus Holiday Gift Guide
The holidays are here, and winter is right around the corner. Are you a winter-type outdoorsman or outdoorswoman? Do you thrive in the cold and look for adventure during the winter months? How about a little camping, or even a jog around the block to keep that firm look you worked so hard to get? If so, the Extremus lineup, a sister brand of KastKing, has got you covered. Let's take a look at what's new, and see if we can add a few items to your holiday shopping wish list!
EXTREMUS SKAGIT GLOVES
These gloves are a great addition to your morning workout or to just head to the local store for milk and bread.
The offer a special warm and soft Dralon 4-way stretch fabric, which has a touch screen-friendly thumb and index finger because God knows we go no where without a cell phone these days. The no slip palm also makes sure the phone remains in your hand in the rain or snow. The moisture-wicking and breathable fabric will keep your hands warm while wicking away moisture.
Don't you just hate it when after wearing a pair of gloves several times, they are stretched out and now too big for your hand? You don't have to worry about this as the Extremus Skagit has a four-way stretch material that has good recovery after being stretched-out. Stretching can actually make your gloves fit better! The built-in touch screen conductive material on the thumb and index finger allow for smartphone use, where you may need to effortlessly zoom in and out on maps while on a trail. The reflective Extremus logo makes nighttime cycling or workout safer.
These lightweight gloves are great for running, biking, fishing, photography, or driving in early spring or late autumn. You also can use them as a liner in extreme cold conditions. If you plan to do anything this coming winter or beyond, these are must have additions to your bag.
EXTREMUS LEG GAITERS
If you do any kind of hiking, or for that matter hunting, skiing or snowmobiling, you need a pair of leg gaiters! Leg gaiters will not only protect you from the weather elements, but also from nasty insect invasion, thorn and thickets, rocks and light snow.
The gaiters weigh in at a mere 3.6 ounces, ensuring you won't even know you have them on. The upper parts are made of premium three-layers 8000 g/㎡ breathable and 8000 mm waterproof fabric. The three-layer fabric is constructed by an exterior durable, waterproof Taslon fabric, laminated with a breathable TPU membrane in the middle, and reinforced by a pliable, comfortable poly tricot to insure an excellent waterproof function, wick away sweat, and maintain breathability.
And, add in the choice of amazing Prym1 camo designs or black outer covering and you have a winner in my book. The lower part is made of thick, durable, windproof composite fabric. The exterior is abrasion-resistant 1000D nylon fabric for waterproof and tear-resistance in extremely wet and rugged conditions. The Interior is 400D nylon to increase comfort and provides extra wind proofing. The fitted design makes it fit the shape of your leg better. A two-inch wide seamless high-quality Velcro© closure from top to bottom prevents rain and snow from entering.
The gaiters are easy to put on and take off. The sturdy, adjustable double-layer TPU instep strap is triple stitched with a buckle that adjusts to your shoe size; an additional tab holds down the front opening. A top clasp with adjustable webbing holds to the lower leg tightly and prevents slipping.
Are you heading into the outdoors this winter or spring season, you must get yourself a pair of Extremus Leg Gaiters.
EXTREMUS MILKRUN SKI GOGGLES
Ski googles or fishing goggles is my question? The way I see these goggles is yes, they will make great ski goggles, but I also feel they can double as a great eye shield when running my Javelin down the lake at 60 mph.
The Milkrun Ski Goggles offer an ultra-lightweight design, and fit over most glasses (prescription). The fog-free, dual lens design. Complete with a UV400 sun protection just adds to the greatness. The Italian made inner lens is manufactured with an anti-fog coating and a two-way perimeter frame ventilation design on the top and bottom for increased air flow and fog-free vision in all conditions. Its superior fit triple layer foam cushion keeps snow out and gives a comfortable fit all day long during high speed skiing, snowboarding, and snowmobiling
Let's not stop there as these goggles also offer an impact resistant double injected frame. They are helmet compatible, meaning they fit over most helmets, and the strap is a non-slip type, so they will stay put.
Have you ever had a pair of googles just basically disintegrate in cold weather? Well, that won't happen with the Milkrun Ski Googles as Extremus uses tough, yet flexible Thermoplastic Polyurethane material for superior cold weather durability. These extremely lightweight fatigue reducing ski goggles weigh under 5 ounces and the frames are highly stable and impact resistant for many years of reliable use.
EXTREMUS BLAZE 360 CAMPING LANTERN AND CAMPING LIGHTS
Whether you are camping, on the beach fishing, working in the garage or want something when the power goes out, you must have a good light! After seeing what the new Extremus Blaze 360 offers, this is the light no one should be without.
It is powered by AA batteries or the rechargeable lithium-ion. The unit is IP44 waterproof and dustproof. IP44 translates to complete submersion up to three feet, and splash resistant from all directions.
In the lantern mode the Blaze 360 emits 350 lumens of light in all directions to light up your camp, tent or camper. To use as a flashlight, collapse the body and grab the carry handles on the side of the housing to direct the beam of light where you need it. The magnetic base can be used to mount the Blaze 360 to any metal surface.
The versatile Extremus Blaze 360 has four different light modes. The lantern mode provides light in all directions, the flashlight allows you to direct light where it is needed, flashing red light for a warning, and a red SOS light for emergency situations.
EXTREMUS SNOW HELMET
I remember growing up without the protection of a helmet in any activity I took part in for the most part. Heck, I even played ice hockey until I was almost 40 and never wore a helmet. Well, times have changed and the old noggin really needs to be taken care of a lot better these days. With that in mind, the new Snow Helmet is the best available.
The Extremus Snow Bound ski helmet is built with a super-light shock-absorbing Polycarbonate material shell and filled with impact-absorbing EPS foam (EPS foam is made in the USA). This ski helmet is 20 percent lighter and 30 percent tougher than other same style helmets and protects your head from impacts. Now you can enjoy all types of winter sports with peach of mind.
Comfort and functional are key factors in the Snow Helmet. They feature 10 well-positioned 3D vents to prevent overheating and deliver a fresh feeling to any outdoor activity. The lining combines soft mesh with soft padded material for improved comfort.
Extremus snow sport helmets have a size adjustment dial that allows you to tighten or loosen the built-in helmet framework for a perfect, custom fit. They have a detachable anti-slip chin strap with a soft liner and a goggles strap on the back of the helmet that helps you hold your ski goggles in place. These are meaningful features for snowboarding and other winter sports.
The soft liner, ear pads, and anti-slip chin strap on the snow helmet are removable for easy cleaning to remove sweat and keep it odor-free. An important plus for a skiing helmet. Extremus ski helmets come in a variety of color options to match your snow skiing apparel. Look your best and keep you safe while staying and playing on the slopes.
EXTREMUS ICEKAP BALACLAVA
Keeping your head and face warm will go a long way in keeping you outside in brutal cold conditions. The Extremus IceKap Balaclava was designed to do just that!
Extremus uses a breathable, moisture wicking polyester-elastane material to draw out moisture and dry quickly to help keep you warm. The soft, comfortable and light-weight material also delivers maximum breathability during strenuous activities.
The Extremus IceKap is fleece lined inside with a long-contoured neckline to keep you warm in the most extreme conditions. This 4-way stretch fabric offers a snug, comfortable fit that will not restrict movement during outdoor activities. Like snapping your neck when that big buck struts past your tree stand.
Don't worry about size as they are one-size fits all. You can also wear the IceKap balaclava multiple ways for the ultimate in versatility. Wear the IceKap as a full head covering for protection from the snow and wind, or as a neck gaiter to cover only your neck. This contoured design is also helmet compatible, perfect for skiing, snowboarding, snowmobiling, or motorcycling.
Last but not least is it comes in some great color options, one of which I am sure will be appealing to all. KastKing is proud to partner with Stacie Walker a wildlife artist and founder of Prym1. Stay protected from the elements in style with the Extremus IceKap Balaclava.
EXTREMUS BUCKWELL HEATED GLOVES
There are two things I hate when going outdoors, and one of which I cannot tolerate anymore. I hate getting wet, but can deal with it, but cold fingers and hands will put an end to most trips. When I heard about the new Extremus Buckwell Heated Gloves, I had to have a pair!
I have seen heat packs for gloves and even battery operated ones, but I had, up until now, never seen one that heats the fingers too. Each finger is individually wired for warmth. Battery life is 2.5 to 6 hours depending on the level selected. Rechargeable lithium-ion batteries are included. Extremus heated glove liners are filled with top quality warm, thick and breathable 3M Thinsulate EC150 insulation with a soft fleece liner. Outer materials are polyester and PU imitation leather. Fingers have soft PU that allows for easy phone use. Charging cables are sewn inside of this winter glove's waterproof pockets. The on button is color coded for heat level and indicates how much power is left.
Don't suffer with cold hands and fingers. These heated gloves are easy to operate and easy to recharge. Feel like you're sitting beside a cozy fire with winter gloves that begin to heat up instantly with heat ranges of:
Low Heat 40℃/104F up to 6 hours of heat; Medium 55℃/131F up to 3.5 hours of heat; High 65℃/149F up to 2.5 hours of heat. 
Extremus winter gloves are heated ski gloves with sizes that include: small, medium, large and extra-large.
EXTREMUS MITTENS
As much as I love the Extremus Buckwell Heated Gloves, the Extremus Mitten, in my opinion, is the way to go for fishing, hunting or any other outdoor activity where you may need the dexterity of open fingers from time-to-time.
Extremus Ice fishing mittens, with four-layer construction are breathable, waterproof, and windproof. An elastic wristband holds the convertible mittens in place while a one-hand operated elastic cord seals the top of the fingerless convertible mittens to keep out snow and cold air. Extremus mittens are fleece lined with 40 grams of 3M Thinsulate for superior warmth, comfort, and moisture absorption, making these ice fishing mittens a good choice in place of ice fishing gloves. Add in the synthetic microfiber palm and polymer printed pattern on these waterproof fishing mittens to ensure an abrasion-resistant, which improves your grip in slippery conditions.
The feature I like is the pull-back style to expose your fingertips. They quickly convert from cold weather mittens to fingerless gloves. Built-in magnets hold the thumb and finger flaps back and out of the way for free finger movement for using your phone or camera. These are great gloves for ice fishing, photography, hunting, or any activity where finger dexterity may be needed. The design print is "Be the Predator" with American born Prym1 Camo that are inspired by nature and have different colors to match your outdoor gear.
EXTREMUS OUTLOOK PEAK PUFFER VEST
I like vests as they do not restrict your arm movement at all, which to me is important while fishing.
The Extremus Outlook Peak Winter Padded Vest weighs a mere 14 ounces, which is critical in the comfort factor. The vest, which can be worn as a stand-alone garment, has a full zip and stand-up collar to keep you warm in the harshest conditions. Add a few layers underneath, and this soft, comfortable vest has got you covered. The vest is also machine washable, making caring for it a breeze. 
The exterior fabric is polyester and treated with water repellent to help protect you from light rain or snow, and quilted seamless stitching technology provides a seamless seal that eliminates cold spots along seams.
There is an internal zippered chest pocket that can be used for your wallet, phone, or open it to use as a storage bag that fits the entire vest inside. It is sewed into the vest so you will never lose it, and has a loop to hang anywhere.
Cold zippers against your chin are no problem here as the zipper garage at the chin keeps the zipper off your skin. A locker loop on the inside that allows for easy hanging, and zippered hand pockets offering a place to put your hands or other items for comfort and security.
The vest is offered in different sizes, and either black, solid blue and Prym1 nature-inspired colors, along with vibrant orange contrasting lining. For the holiday season, this vest makes for an excellent gift for people who like fishing, hunting, hiking or other outdoor activities.
EXTREMUS PUFFER PADDED JACKET
I love this jacket! I know, I know…"You just said you like vests Tom!" I still like vests, but this jacket is the one that gets me to the fishing grounds or a hike through the woods.
The Extremus outlook peak winter padded jackets with hoods are filled with higher quality original polyester. It has a full-zip front, stand-up collar, and hood that will help you keep warm. The seam quilting prevent the polyester lining from leaking out. The comfortable elastic wrist cuffs and inner elastic waist draw cord closure help seal warmth in, and zippered hand pockets offer you a nice place to keep your hands.
The vest was light, but the jacket is light too. Weighing in at only 1.1 pounds, you won't even know you are wearing it. The internal zippered chest pocket can be used for your wallet or phone, or open it to use as a storage bag that fits the entire jacket inside, similar to the vest.
The exterior fabric is polyester with a water repellent treatment to help protect you from light rain or snow. Prym1 patterns with vibrant orange contrasting lining makes these great jackets for fishing, hunting or hiking.
The Puffer Jacket comes in black, solid blue and Prym1 nature-inspired color patterns. Along with other Extremus outdoor and ski products, these padded jackets make excellent ski gifts.
The Extremus lineup offers a ton of excellent products. Although I only gave you 10, check out the website for even hotter Extremus gift giving ideas. Have a safe and happy holiday season.
Tom Melton is an expert in all aspects of inshore saltwater fishing and freshwater fishing. As an authority on angling he strives to excel while teaching others, and in his own outdoors adventures. Whether it is a freshwater bass fishing tournament, or recreational fishing with family, his skills and knowledge always shine. Tom has been an outdoor writer for more than three decades.