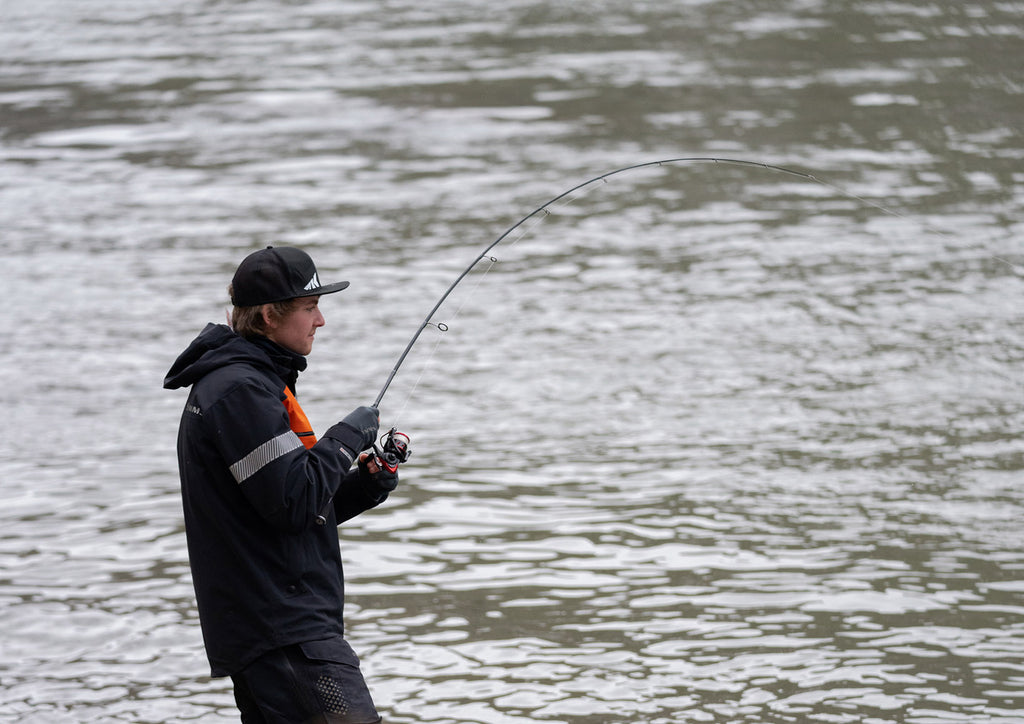 Medium vs Heavy Baitcaster Rods
Fishing is a great way to spend time with friends and family, but it can be hard to know what kind of rod and reel you need for certain situations. Baitcasting is one type of fishing that uses a special type of reel called a baitcaster. If you are new to the sport of fishing or just getting into baitcasting then this article will help explain the differences between medium and heavy baitcaster rods so that you can make an informed decision about which one is right for your needs.
Medium Baitcaster Rod 
Medium baitcasting rods are the most common, and they are best suited to lighter fishing situations. If you're a beginner, then a medium baitcaster rod is essential to have in your equipment locker as they are great for casting small, light lures and soft plastics. With incredible flexibility being their primary advantage, you can make it easy to set the hook on light bites or feel whenever a fish is tugging on your line.
With this flexibility and sensitivity, medium baitcasting rods are great for beginners. Simply, they're more forgiving than heavy baitcaster rods – you can cast lightweight lures with them, and still achieve great casting distances.
When Should I use a Medium Baitcaster?
If you're fishing for live bait, a medium-weight rod will help you keep your hands from cramping up and help prevent back pain from overloading the rod too much. Additionally, because of its flexibility and lightness, it's easier to use a medium-weight rod when fighting large fish since they won't cause as much fatigue or damage if they decide to break free of your tackle box!
A medium baitcaster rod should be used when casting lightweight lures, such as 1/8-ounce spoons to ½-ounce crankbaits. Light lure weights can usually be cast 40-60 yards with this type of rod, depending on factors such as wind and your experience level.
Our Recommendation: KastKing Perigee II Fishing Rods
As medium baitcaster rods are aimed towards those anglers that are after lighter lures and are most likely less experienced than those using heavier baitcasting rods, we've decided to recommend the Perigee II.
At just $55.99, it is one of the most well-priced rods on the market. Its incredible features include:
AMAZING QUALITY CARBON FIBER BLANK - constructed with Toray 24-ton carbon matrix KastFlex blank technology for power, strength, and accuracy.
PREMIUM COMPONENT - World-renowned Fuji O-Ring line guides, tuned ergonomic graphite high-strength reel seats, high-density EVA grips, Saf-T Keeper hooker holder, the finest sensitive "bare and beautiful" finish carbon fibre for light weight rod blanks, a
SMOOTH POWER - KastKing PTS (Power Transition System) hybrid spigot joints in Perigee II 2-pcs rods transition power smoothly throughout your fishing rod blank
Heavy Baitcaster Rod
Heavy baitcasters cast bigger baits with a heavier rod action these farther than what you would expect from a medium action rod because they don't flex as much at impact with the water.  
When you're able to cast those bigger lures, the stiffer backbone of the rod is essential in keeping those huge trophy fish from throwing your bait before you're able to set the hook.  
When should I use a heavy baitcasting rod?
A heavy baitcaster rod should be used for medium to heavy-weight lures. Heavier lures will require more power from the reel to throw them further, so you'll need a heavier rod to cast farther without losing control over the fish. You will also need strong line guides and butt guides for your line not to snap under the strain from these heavier baits.
While heavy rods are typically tougher and more durable, they also have a larger margin of error than medium rods due to their flexibility, so if you are just starting with fishing or just getting into baitcasting in general then start with a medium rod before diving into a heavier one.
Our Recommendation: KastKing Blackhawk II Telescopic Fishing Rods
Our heavy baitcasting rods are perfect when having to deal with those hard-fighter fish that refuse to give up a fight. With more power, heavier rods are able to cast heavier lures. For those fish that need something a little extra, use a heavier rod to ensure that you reel in a winning catch.
Our recommendation for a heavy baitcasting rod is the Blackhawk II Telescopic Rod which is only $59.99. Its features include:
SOLOSCOPIC PERFORMANCE TECHNOLOGY - KastKing KastFlex Toray 24-Ton Carbon Matrix blank and solid glass tip section deliver unmatched durability, sensitivity and performance
MULTIPURPOSE - available in 14 lengths and actions in travel spinning rod and casting rod models.
SUPERIOR QUALITY - you can leave the reel on the rod, line through the guides and fully rigged.
QUICK ASSEMBLY – Extending the rod starts at the tip section
The difference between medium and heavy baitcasting rods
When it comes down to it, there are a few key differences between medium and heavy baitcasting rods:
The amount of force required when casting is greater with a heavier rod than with a lighter one
This makes sense because the heavier models have more power behind them! You can use them in strong winds or when casting larger lures over long distances (which may require more effort). But keep in mind - this doesn't necessarily mean that all medium rods are easier to use than all heavy ones! It's all relative depending on your personal preferences as well as what kind of experience level you have with different kinds of material used during the manufacturing process such as carbon fibre vs graphite will affect performance too).
Cover more ground with a medium baitcasting rod
When fishing for bass, a medium baitcaster rod is much better than a heavy one. This is because it provides more flexibility and casting distance to help you cover more water as you search for your prey. For example, light lure weights can be cast 40-60 yards with a medium baitcaster rod whereas the same weight would only go 20-30 yards with a heavy counterpart. This means that you'll be able to cover more territory while looking for fish and won't have to go back and forth repeatedly to retrieve your lures.
In addition, it's easier on your arm when trying to cast farther distances with lighter line weights than heavier ones due to less strain being placed on them during each throw of the line or lure - so if you're looking for something that doesn't cause too much stress on your body despite lengthy outings then this type would probably suit well!