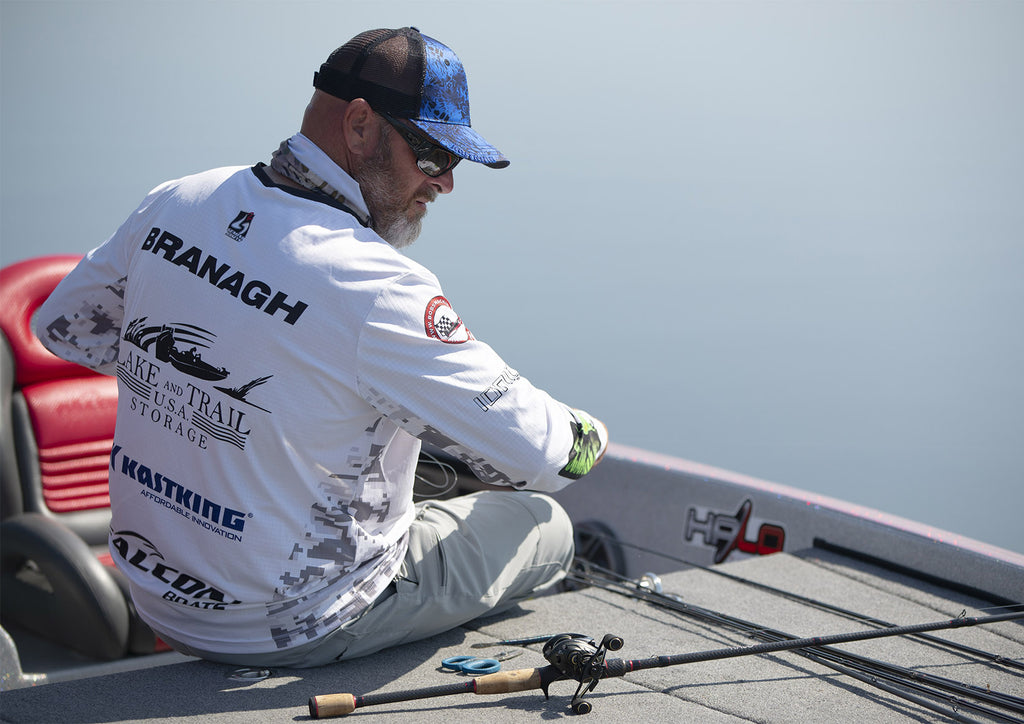 Black Friday Shopping Guide 2022
It's time to start thinking about the coming year and what you may need, want, or just have to have where fishing tackle, rods and reel is concerned. With Black Friday on the horizon, now is the time to begin writing down your Black Friday fishing gear shopping list for 2022! I'll help you get started by offering up seven of KastKing's top fishing gear gift ideas for the coming year.
KastKing Speed Demon Elite Deadbolt Baitcasting Reel
This reel is a game changer where baitcasting reels are concerned. Every reel out there has a drag, which under certain circumstances will drive you nuts, and occasionally cause a lost fish. Drags slip at times, and some instances need "zero" slippage. The KastKing Speed Demon Elite Deadbolt has "no" drag. That's right you heard me right, "no" drag. With the help of Major League Fishing Pro Angler and KastKing Pro Cliff Crochet, the Deadbolt was born. Now anglers can fish the heaviest of cover where 60-pound braid and heavy weights and lures are used with no worries of the drag slipping. If you fish heavy cover, you "need" this reel on your Black Friday shopping list.
Solid aluminum frame and carbon fiber side frames for zero flex
7 ounces
10 double-shielded, stainless-steel bearings including two, free-spin super speed spool bearings
Centrifugal breaking
Fine-tuned Demon Eye for precise management of overruns and backlashes while still delivering long, accurate casts.
KastKing Speed Demon Elite Spinning Fishing Reel
In tournament angling, speed getting your lure back to the boat to make another cast is super critical. There will be days of 100 casts or more, with each one having the ability to land the fish that will land you ion the winners circle. The Speed Demon Elite Spinning, with its 7.4:1 gear ratio and line pick up at a rate of 38.6 and 42.1 IPT on the 2000 and 3000 size reels respectively, your lure will be boat side in a flash. And. Getting your bait back to the boat is not its only advantage. This reel will allow you to work lures faster too. Speed cranking across the tips of milfoil and other grasses or snap popping a popper are just two ways speed gives you an advantage.
CNC Machined aluminum body
7075 aluminum main gear, carbon fiber rotor and CNC aluminum handle with EVA handle knob
6 pounds of super smooth carbon fiber drag
10 + 1 double shielded stainless steel ball bearings, stainless steel hardware and all of the corrosion resistant components needed for saltwater usage too
KastKing Speed Demon Pro Tournament Series Fishing Rods
I have been using this line-up of rods for over two years. They are super light, balanced and powerful. With a wide range of weight classes and lengths, these are the top of the line choice rods that every angler can afford to have in their arsenal. This line-up offers anglers 19 different options with 14 of the casting variety and five spinning rods. And, to make it even easier, there are 15 lure type specific rods. If you want a rod that won't break the bank and give you that high end quality you may have only dreamed about, you have to have a few of these! A solid fishing gear plus for your Black Friday shopping spree.
Carbon blanks that utilize Carbon Nano Tube resin technology to reduce weight
30-percent stronger than standard graphite blanks
Fuji LN and LV guides with alconite rings
Fuji reel seats
Three S-Glass and high modulus graphite rods for theta soft tip crankbait rod
WINN golf style grips that provide comfort and a sure grip in all conditions.
KastKing Destron Braided Fishing Line 600 yards
Another game changer for the coming year is the Destron Braided Fishing Line… and it comes in a fat 600 yard spool which I love! And, we all know that line is a critical part of your fishing gear. Made from 2nd Generation MultiTuf Fiber, the MultiTuf fiber is an enhanced ultra-high molecular weight polyethylene material that provides extreme tensile and knot strength. The fiber's best-in-class weight-to-weight ratio is 10X stronger than steel so that you have complete confidence in your fishing line under extreme conditions in both fresh and saltwater. Another key feature is the line is 75-percent thinner than monofilament giving the angler more power, more line and zero stretch. You'll feel more bites and generate solid hook sets with Destron Braided Lines. I used this line on my 11-foot surf rod this past fall on large stripers. Throwing heavy plugs was a breeze and I out-distanced most casters using standard braid. Another great addition to your Black Friday wish list.
Diamond Weave" process, the Destron fiber strands maximize tensile strength and toughness of the line creating a superior braid
CFT Color Fast Technology with UV-resistant pigments for zero fading
Destron 4 carrier braid for long and smooth casting
Available in 7 colors
KastKing IceRiver Fishing Gloves
Do you plan on fishing in the colder winter months this year in an ice hut or on a party or charter boat chasing cod and pollock? Keeping your hands warm while using fishing gear is something that will keep you fishing all day long, not hiding near the heater! The new KastKing IceRiver fishing gloves are 100-percent waterproof too, making them the best choice for cold or rainy conditions where keeping warm is paramount. Although not real cold by me, I used these one night in the fall while striper fishing. My hands were actually too hot! I cannot wait to use them this winter while cod fishing.
The 2.2mm neoprene palm is design with an embossed non-slip pattern that provides additional gripping strength in any weather conditions
Material remains pliable in extremely cold weather conditions – Stylish Prym1 Camo color pattern
100 percent waterproof
1mm layer of polar fleece to provide extra warmth in extremely cold and wet conditions
KastKing WideView Floating Waterproof Digital Scale
Have you ever fished a tournament and had your scale fall overboard and sink? Have you ever had a fish that was too large to keep due to regulations but really wanted to know what it weighed? These are two solid reasons why every angler should carry the KastKing WideView Floating Waterproof Digital Scale! This scale is easy to read and super accurate. As you get older and the old "eyes" begin to let you down, nothing beats a large 2.5 inch LCD display when trying to read the weight of your trophy catch. Even younger anglers will appreciate the large screen.
Waterproof Floating Design – never lose another scale
5 inch LCD display
Durable ABS handle is strong, light weight and features TPR non-slip sides which give you a firm grip when weighing your catch
Store and Sum up to 9 weights
No-Puncture Lip Grip or Standard hook (depending on the model)
KastKing Bait Boss Fishing Tackle Backpack
Whether you love camping and fishing or traveling to remote destinations and want your fishing gear with you at all times, the KastKing Bait Boss Fishing Tackle Backpack has got you covered. This back pack has so many compartments you may need an index card to remember where everything is stored! I added this to my Black Friday gift giving list for my son-in-law who is an avid back packer and loves fishing the Colorado streams and lakes.
Waterproof and Durable - high-density Oxford fabric for exceptional long-term performance and reliability
20 Multi-function storage pockets
34-litre storage compartment to hold 4 tackle boxes (3600) or gear
Cushion padded back support – no fatigue on longer hikes
Versatility – Camping, fishing, hunting, traveling and more
With Black Friday fast approaching, now is the time make up your fishing gear wish list, and to garner ideas for that favorite angler in your life. These seven fishing gear items will please any angler – especially the one reading this!