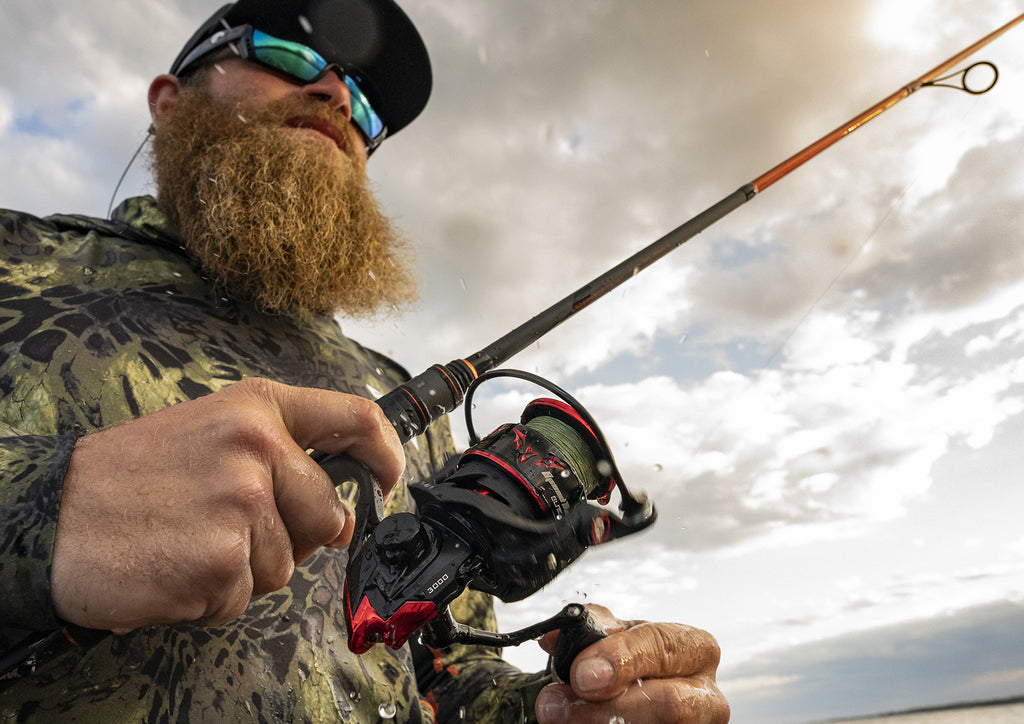 So, you're in the market for a new fishing pole, and not sure which one to get?
Unfortunately for you, there is an abundance of fishing poles to choose from and if you're a newbie, it can be incredibly difficult to filter through all the best fishing poles and decide. 
In our minds, there are two main categories that a fishing pole must fit into to be considered the best:
Price
Strength & Durability
There are plenty of rods out there with sky-high price points that many of the professional casters use. Without a doubt, they will promote their product to all of their fans that follow them around the globe to compete in competitions.
Whilst that rod may be a great selection for regular casters that want a professional rod with incredible durability and strength, it is going to cost them a dime. That's not to say that it isn't worth it, because they are, but you need to decide what you want out of a rod.
On the other end of the spectrum, you don't want to go too cheap, because the rod won't be reliable, strong and you'll find yourself on a fishing trip with a broken pole and wanting to go home.
So, let's fix this issue by recommending 3 fishing poles:
The best budget fishing pole
The best durable fishing pole
The overall best fishing pole
KastKing Blackhawk II Telescopic Fishing Rods
When you're kept on a slightly lower budget and can't quite afford the higher-end version of fishing poles, the Kastking Blackhawk II Telescopic Fishing Rod is guaranteed to bring your success.
Whilst it isn't aimed solely at beginners, newbie casters would love this rod as it brings durability and strength, as well as ease of use at an affordable price point.
Coming in at just $53.99, the telescopic fishing rod is littered with incredible features that have allowed this rod to become a fan favourite.
Some of the reasons why it is so good:
Soloscopic Performance Technology
Multipurpose
Convenient
Superior Quality
Quick Assembly
Its blank and solid glass tip ensures maximum durability, constructed from KastKing KastFlex Toray 24-Ton Carbon Matrix. Its design allows not only for the best durability but also allows the rod to be sensitive to your needs, giving you the best performance.
Whilst it is made from 6 pieces, don't let that fool you. Its six-piece design matches any 1-piece rod performance, with floating line guides as an additional feature to improve casting performance.
The Blackhawk comes in a variety of different sizes and lengths – 14 in total - making it one of the most multipurpose rods on the market. Its ability to work as both spinning and casting rods makes it the perfect tool for any caster regardless of your preference.
Some of the incredible materials used for added durability and strength:
Stainless steel line guides
Graphite reel seats
EVA handles
With all of these features jam-packed into a budget-friendly rod, you'll be sure to find pleasing performance without breaking the bank.
KastKing Speed Demon Pro Tournament Series Fishing Rods
If you have a little bit extra money to spend then the Speed Demon Pro is certainly a great catch.
However, with its premium features comes a premium price: $129.99.
We wouldn't recommend this rod to newbie casters without much experience as you won't be able to get the maximum performance that it was designed for. Instead, this is a recommendation towards those with more experience, perhaps entering competitions or simply having the money to spend.
The Speed Demons' speed, strength and durability are what give them their name. Here are a few reasons why:
Elite Carbon Blanks & Nano Resin Technology
Fuji Guides/Reel Seats & Winn Grips
15 Technique Specific Actions & Lengths
Lightweight Composite S-Glass Crankbait Rods
True Tournament Performance Rod
Designed with power and performance in mind, these rods are crafted with elite carbon blanks that can utilise carbon nanotube technology. This technology alongside the carbon blanks allows for the rod to be lightweight, whilst increasing braking and lifting strength.
Not only do the carbon blanks allow for an increase in strength, but you'll find that they also add to the sensitivity of the device. The Speed Demon is known for being one of the most sensitive on the market, allowing professional anglers to utilise this to their advantage.
KastKing has used its network of experienced anglers to its advantage when building the perfect rod. With 15 models available including 4 spinning and 11 castings, this one-piece rod design will fulfil your potential.
KastKing Royale Select
The KastKing Royale Select is a happy medium between incredible value for money and great performance.
Here's why:
Sensitive & Strong
Variety in Lengths
KastKing Power Transition System 
Quality
With the well-renowned KastFlex fishing blanks including the Toray 24-ton carbon matrix, you get an incredible balance of performance, weight and sensitivity.
Whilst it was initially developed with Bass anglers in mind, you can use this rod no matter your preferred technique. Its 2-piece design gives it its great performance, matching other 1-piece rods on the market, especially at its price point.
KastKing will always endeavour to use the best products on the market, ensuring that the price doesn't exceed the typical market value. With this product, you get the perfect blend of smooth performance, sensitivity, and great durability all with a great price attached.
Summary
If you're on the market for a new fishing rod, we'd urge you to seriously consider the three on a show for you in this article.
All of the options give a variety of performances based on your needs, whether you're a professional, experienced angler or a complete newbie looking for their first fishing pole.
Whether the price is a serious factor in your decision making, or you want the strongest fishing pole on the market, these three give you everything you could need.
KastKing always offers products that are centred around excellent build quality. From rods to reels and even fishing lines, you can grab your complete set-up from KastKing.com.