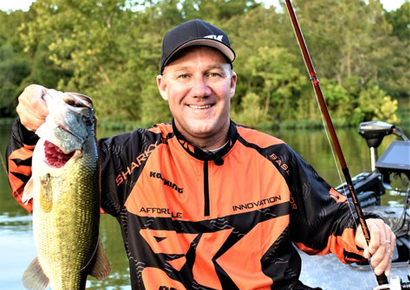 What Are The Best Bass Fishing Rods From KastKing?
The opinion of the best fishing rod is very subjective. If you were to ask five different anglers what the "best" rod for fishing was, you might get five different answers. Instead of asking what is the best bass fishing rod KastKing has, ask yourself "What is the best to fit my needs and style of fishing?"
The Methodical Detailed Angler
Most fisherman I know a very detail oriented. Many to the point that they want a fishing rod that has been designed for each specific bass fishing technique and situation. If you are that type of angler than the Speed Demon Pro Series is your best option. They have 20 technique specific rods that will ensure you have the best chance at landing that fish of the lifetime or winning that tournament. Every detail from the rod length, rod butt length, action, power and components have been designed using a combination of decades of experience and input from top Pro's in the industry. The Speed Demon Pro Fishing Rod Series uses Fuji Guides with Alconite rings, Fuji Reel Seat, Winn golf style grips, Toray carbon rod blanks and nano resin. All those components combined create some of the lightest and most sensitive rods on the market. If you are on the water all day then every ounce takes a toll on you. If having a well-balanced, light, sensitive and dependable rod matters the most, then the Speed Demon Pro Fishing Rod is the best bass fishing option for you.
The Power Fisherman
Do you cover a lot of water with moving baits? Does flipping and pitching or punching heavy cover get your heart racing? If that's your bass fishing style then look no further than the KastKing Spirale Fishing Rod Series The spiral wrap of the fishing line guides allows the power to be evenly distributed throughout the fishing rod blank instead of on just on side. They are made for power fisherman that fish fast and set the hook with authority. Even though they are made for power fishing, they are also designed to keep weight down and keep the angler connected with increased sensitivity. This is accomplished by using some of the most innovative components on the market. The KastKing Spirale Fishing Rod Series is available in powers that range from medium heavy to mag heavy. The rods come in either a proprietary 70/30 complex composite blank or an IM8 High Modulus Toray carbon. These rods feature American Tackle reel seats with American Tackle Microwave guides and AAA cork handles.
It's Your World
The beauty of KastKing is that they make equipment with the best components on the market at affordable prices. That's great for a lot of anglers like myself that don't have a specific style of fishing, so I can purchase rods from both series without breaking the bank. What are the best bass fishing rods from KastKing? The question should be "What is the best bass fishing rod that KastKing has for my style of fishing?"
- By Jose Cinco