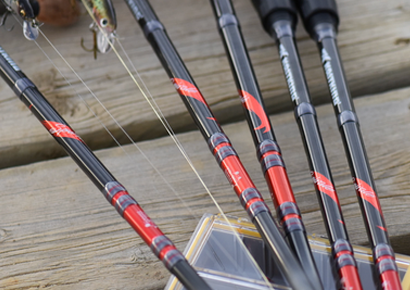 What KastKing Fishing Rods Use American Tackle Components?
KastKing Fishing Rods use some of the best components on the market. Award winning companies like American Tackle have dominated the tackle industry and it was only a matter of time until KastKing started utilizing their components.
Why KastKing Chose American Tackle
If you have been online in the past few years you might already know that American Tackle has reinvented fishing rod guide design. They are most famous for their Microwave Line Control System. The Microwave Line Control System is the most awarded technology in the fishing industry. It has won a total of six worldwide industry awards to include two ICAST awards. ICAST is the most recognizable amongst most anglers.
Benefits of the Microwave Guide System
The Microwave Guides provide a lot of benefits. By having total line control your fishing rods will perform much better. Total line control means they tackle coiling-memory issues and oscillating line. What does that mean? Look your regular spinning rod setup. Have you even noticed how much the fishing line whips around while casting? By controlling the line, there is an increase in casting distance, accuracy and overall performance. Plenty of times I have had to deal with wind knot tangles on my setups. This comes from using braid in windy situations. The Microwave Guides eliminate wind knot tangling. That alone is worth it in my book.
What KastKing Rods Use American Tackle Components?
KastKing Resolute Rods were the first KastKing fishing rod to utilize the American Tackle Microwave Air Guides. The rods are an Ultra-sensitive IM7 blank, with golf style super polymer grips and use the American Tackle Bravo Reel Seat. The Resolute series has 27 different models that can handle all fishing situations. Everything from targeting crappie, bass fishing and trout fishing plus added lengths and actions to handle inshore fishing.
KastKing Estuary
inshore saltwater fishing rods are another in the KastKing lineup that utilize American Tackle Components. These rods use a Toray Carbon IM7 blank and were designed specifically to go fishing for striped bass, fluke, tarpon and other inshore saltwater species. KastKing Estuary rods use the Microwave Air MW20 and MW12 model fishing line guides. They are made of 316 stainless steel that have added corrosion resistance and more strength for saltwater anglers. They also use American Tackle G2 Apex fishing reel seats for the spinning rod models and AT G2 Edge seats for the casting rod model.
KastKing Spirale Rods - the latest KastKing rods to use American Tackle components were designed along with Major League Fishing Bass Pro Tour professional, Cliff Crochet. KastKing Spirale Series Casting Rods are built to compete against the best anglers in bass fishing tournaments. Crafted using two different blank types, the KastKing Spirale Casting Rods use either a Toray high-strength IM8 blank or a proprietary 70/30 composite blank. Taking the next step in performance, the KastKing Cliff Crochet Spirale Series Casting Rods are fitted with spiral wrapped American Tackle Microwave Air Guides. To keep reels firmly in place, Spirale Series Casting Rods are fitted with American Tackle G2 Edge reel seats.
 -- By Jose Cinco