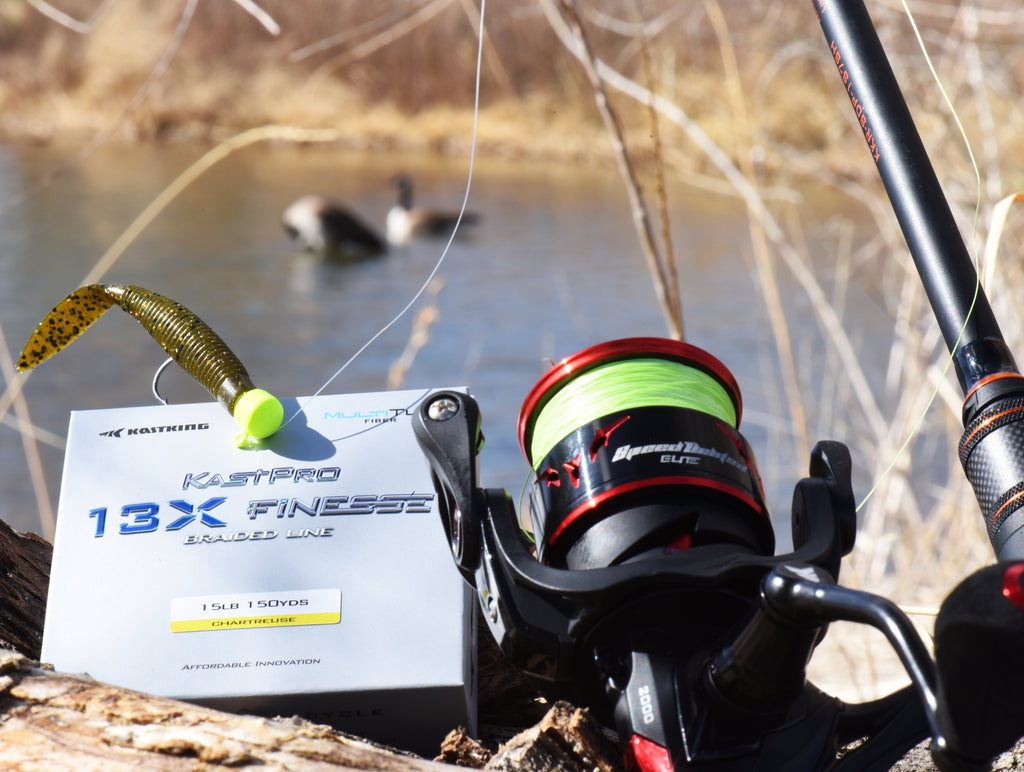 KastKing Answers Braid Fishing Line Trend
Will KastKing have a repeat best-selling braid fishing line?
As KastKing followed the trends in professional fishing tournaments, it was becoming more evident that many anglers were switching to finesse fishing tactics and spinning gear to up their game. KastKing is not slow to latch on to trends. Given the brands long-lasting success with the best-selling braided fishing line on e-commerce, and a truckload of expertise to rely on for manufacturing braid line, they set out to conquer the finesse fishing line market, in an innovative way. KastKing did an exhaustive study with pro tournament anglers and professional fishing guides. They knew they would need a line that was extremely thin yet have outstanding breaking strength, abrasion resistance for the bottom fishing often employed by finesse tactics, and be the supplest line available. KastKing already understood a drawback for braid lines on spinning reels was the inherent stiffer properties of braided line, which doesn't allow the line to flow freely off the spool. Spinning reels are typically the weapon of choice for finesse techniques like Ned Rigs, Drop Shots, Wacky Rigs, Neko Rigs, and other light bait fishing techniques. 
To achieve their goal, KastKing combined a proprietary, hybrid UHMPE (Ultra High Molecular Weight Polyethylene fiber) with the most exacting braiding process to wrap their new product 36 times per inch at a painstaking slow rate that takes one hour to weave 15 feet of the new braid. The result was a spectacular 13 carrier (strand) braided line that is unlike anything else in its class and at a price that is below anything that comes near it. The new KastKing braided line was named KastKing KastPro 13X Finesse Braid. At the same time, KastKing created an 8-strand braid with the same qualities as the 13X Finesse using only 8 carriers that resulted in a lower priced companion product; KastKing KastPro 8X Finesses braided line. Its lower price is due to a somewhat quicker weaving process and five less strands than the 13X product. Although, 8X Finesse also uses all of the technology and the hybrid fibers used in 13X.
KastKing feels they struck gold with their 13X and 8X braid lines that work equally well on spinning reels or baitcasting setups. They deliver incredible casting distance, extremely sensitive strike detection, smoothness, limpness, and without "fuzzing" of the line due to the tight weave. Even with its super-skinny profile it has off the charts straight line and knot breaking strength numbers.
With its small diameter (15 lb. test is .0079 inches in diameter and has an actual breaking strength of 29.9 lbs.) and the smoothness to slip through line guides like it's been greased, it is a perfect matchup for BFS (Bait Finesse System) setups. BFS is another area where KastKing has invested in inventory of BFS baitcasting reels and SFS spinning reels. The KastPro finesse series of braided lines allows anglers to get more than enough line on BFS spools that have low line capacity for faster spool startup. Once again, KastKing had their noses to the wind.
As mentioned, KastKing didn't push forward on the project until they had consensus and endorsement from some well-experienced pros. After two-and-half years in secret development and lab testing KastKing turned the KastPro Finesse series lines over to several pros to give it an on the water workout.  14-time Bassmaster Classic Qualifier, Bassmaster AOY 2012, Bass Pro Tour and Major League Fishing Angler Brent Chapman said about the 13X, "KastKing KastPro 13X Finesse line is amazing! It's the smoothest most sensitive line I've ever used, plus I can cast it a mile. This is going to give me a competitive advantage!" 
Blake Sylvester, 2021 BassMaster Classic Angler said, "This stuff is super strong and extremely thin in diameter. It's amazing how quiet it is going through guides, and the castability is unmatched! From skipping a wacky worm in the thickest brush to drop shotting in open water, the new X-Finesse braid by KastKing has really made it easy in boosting my confidence on the finesse side of the game."
Like any new product, only the test of time will determine the outcome for its long-term success. Has KastKing hatched another perennial best-seller with their KastPro X-Finesse braid line series? Only time will tell.