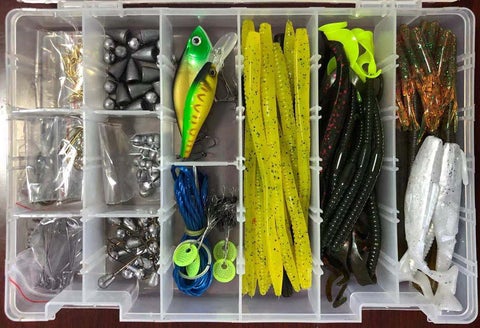 Meet The New Player In Fishing Tackle
MadBite  - A Madly Different brand of fishing tackle.
Eposeidon, the parent of sibling fishing and outdoors brands KastKing, MadBite, and Extremus has gone off the charts with the introduction of high piece-count species specific fishing tackle kits and terminal tackle kits. 
Al Noraker from KastKing talks about the MadBite bass fishing tackle kits, he says, "For years you've trusted KastKing for affordable quality fishing rods, fishing reels fishing line, fishing tools and accessories. Almost everything you needed for fishing, but what we haven't had was bait and terminal tackle. Brand new to the KastKing family of brands is a new brand called MadBite." 
Now you can complete that fishing experience by having all those things that you need to tie onto the end of your fishing line to actually go catch fish. And you can get them all at the same place you get KastKing fishing tackle from – kastking.com MadBite will start with some species specific fishing tackle kits, and these kits are designed for trout fishing, bass fishing, crappie fishing and panfish fishermen. 
These high piece count kits include all that terminal, tackle and baits and lures that you need to actually go catch fish. So you're also going to see MadBite come out with fishing lures, soft plastics and other terminal tackle items. 
All of the MadBite tackle kits have supporting fishing videos that teach you how to fish and use everything in kit. The videos walk you through everything that's included in the kit and show you exactly how to rig it, how to tie it on your line and what fishing knots to use, how you use jigs, how you use bait setups, and everything you need to know to actually go be successful at fishing. 
The new tackle kits have hand selected baits and terminal tackle, soft baits and lures, fishhooks, swivels, snaps, sinkers and weights, all chosen for each kit specifically for a species or fishing technique.
For example the new MadBite bass fishing tackle kit includes 187 pieces of the most important terminal tackle and bass lures for giant bass fishing. You get a wide assortment of weights, including worm weights, drop shot weights and split shot. There are 65 different fishhooks, including round  bend worm hooks, EWG (extra wide gap) worm hooks, bait holder fishing hooks and drop shot hooks. All of the fish hooks are high quality and sharp.
 In the bass fishing tackle kit you also get  two crank baits, a lipless and a medium diving crank bait. There's also: worm stops, jig hooks, including tube jig style hooks and round ball head jig hooks, tube jigs, swim baits, curly tail grubs, and a wide assortment of plastics, including two different size of creature baits and finesse worms. 
A great feature of all MadBite tackle kits is that they come with a reusable plastic tackle box that holds everything you need to go fishing.