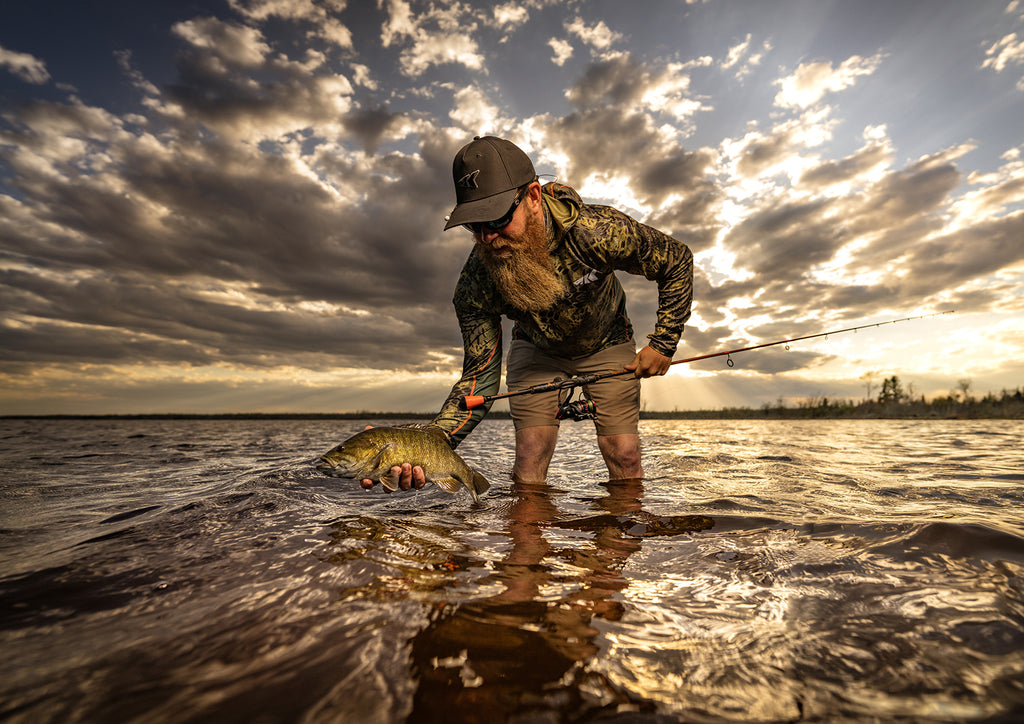 What Are The Different Types of Fishing Reels?
If you're trying to decide which fishing reel to buy next, you have come to the right place! Whether you are an experienced angler or brand new to the fishing world, it can be challenging to know which reel is right for you. 
While there are many fishing reel types, there are three main reels: spinning reels, spincast reels, and baitcasting reels. Keep reading to learn more about these three types of fishing reels and when to use them. 
Spinning Reel
Spinning reels are likely the most popular type of fishing reel. This kind of reel offers versatility, allowing you to jig or cast. Featuring an open-faced design, spinning reels include a metal bail that will prevent the line from unspooling. You can use your finger to hold the line against your rod, releasing the bail by either casting the line out or dropping it to the bottom. 
The reel attaches to the rod from below, which provides excellent balance and a natural holding position. Most anglers have at least one spinning reel in their collection due to their efficiency and durability. 
Pros & Cons
Spinning reels have many benefits; they offer more control than other reels, providing versatility, power, and value. These reels are appropriate for all skill levels, allowing beginners to learn how to cast with accuracy and distance while also being a staple in any experienced fisherman's collection. Whether you need a reel for light jigs or a heavier lure, a spinning reel is a fantastic investment. 
While spinning reels are generally an excellent reel for any fisherman, you must be careful when handling the bail. The line can quickly get some hard-to-manage twists, tangles, and knots. Spinning reels can also decline in performance with extremely heavy lures and lines, so you might be more limited to lighter gear. 
Spincast Reel
The spincast reel has a simple design and is easy to use, making this an excellent choice for beginners. These reels are made with a metal nose cone that hides all of the components and features a button on the back, allowing you to throw your cast and let the line out. You can press the button again to stop the release. There is also a drag adjustment mechanism, usually located on the side of the reel, that can help you control how much resistance the fish feels when pulling the line. 
Pros & Cons
The spincast reel's design makes it extremely simple to use and almost impossible to tangle, perfect for children or those lacking experience. In addition, this reel is usually quite affordable- sometimes as low as $20! 
However, as your skill level increases, other reel types may suit you better. Spincast reels generally lack durability, have less casting range, and have limited accuracy. The closed-face design can collect water and debris inside, causing wear and tear over time. Therefore, these fishing reels may need to be replaced more frequently. 
Baitcast Reel
Baitcasting reels are often used by more advanced anglers and fishing masters, so this is definitely one of the more challenging reels. Even though learning how to use this reel requires a learning curve, it is well worth the time investment. The baitcaster's power and precision can exponentially uplevel your fishing game.
This reel sits on top of the rod handle, featuring a semi-enclosed design. The build is very durable, and the drag mechanism sits next to the handle. Unlike many other reels, the baitcaster comes with a spool tension knob and a braking system. Both of these mechanisms control how fast the line moves from the reel. These features will help you throw the line at an unmatched level of precision, at exactly the distance needed. You can also prevent the spool from turning faster than the line is moving, resulting in a massive mess called a "bird's nest." 
Because baitcasting reels don't have a bail, you will need to press your thumb against the spool to stop the line from spooling. You can do this as the line is in mid-flight if necessary, allowing for more precision. 
Pros & Cons
The main benefit of baitcasters is that they are the most powerful reel in existence, effectively handling heavy lines and producing a significant amount of pulling power, making this a perfect option when catching large fish. This reel is also highly customizable and an excellent tool for all your fishing needs. 
Unfortunately, baitcasting reels are one of the most expensive options, usually running from $100 to $500- although most fishing pros think it's worth the investment. Baitcasters also require a learning curve and some getting used to. The different weights of lures require different settings for the braking system and spool tension. Because you have to adjust the settings every time you change the lure, this is not a good option for beginners.
Frequently Asked Questions 
What kind of fishing reel should I use?
It depends on what you need! Beginners should stick with spincasting or spinning reels as a general rule of thumb. Spincasters are best for small baits and lures, while spinning reels are more versatile. For those who want a reel that can handle large fish, baitcasting reels are usually the best option.
What is the most popular type of fishing reel?
Due to their efficiency, durability, and versatility, spinning reels are the most popular fishing reel type. From beginners to fishing pros, this is a must-purchase item for anyone who loves fishing.
Are there other fishing reel types?
Besides spinning reels, spincast reels, and baitcasting reels, there are a few other lesser-used fishing reel types, including:
Fly-fishing reels:These are designed to cast lures with very little weight and effectively handle thick fly-fishing lines.
Offshore reels:Comprised of extra powerful and durable large spinning reels, these are usually some of the most expensive reels you can find.
Trolling reels:Used for offshore trolling for big game fish.
Surfcasting reels:Usually made of a spinning reel or baitcaster reel modified to have long-distance casting performance.