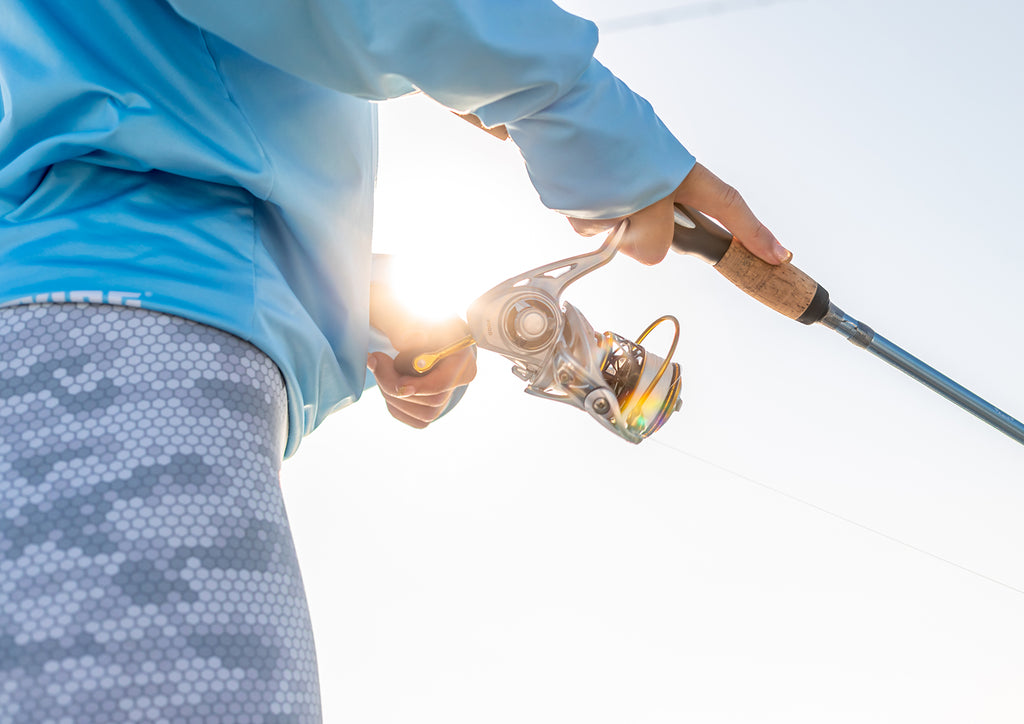 Explain The Different Types of Fishing Reels
Unless you're using a bamboo pole with an attached length of string, you will probably need a fishing reel to hold your line and help pull in that catch. Modern fishing tackle offers a wide range of options when choosing a reel. For the benefit of both those new to fishing and those considering expanding their repertoire, let's review the different types of fishing reels. 
Keep in mind that each type of fishing reel has its advantages, making it more suitable to certain types of fishing. Also, different types of reels are matched to, or fit, different types of rods. Suitability for styles of fishing depends as much on pairing of rod and reel. 
Spinning 
Spinning reels feature a fixed, vertically oriented spool to hold line and a thick wire bail to guide line back on to the spool as it's being reeled in. To cast, grab hold of the line with your index finger, flip open the bail so that the line is free to come off the spool, and swing the rod, letting go of the line mid-swing.
Spinning reels are meant to work with spinning rods, where they hang below the rod during use, and the line passes through guides also on the underside of the rod. 
Most modern spinning reels employ a front drag system, where the resistance to a fish pulling out line is controlled by a dial on top of the spool. A few employ rear drag, where the dial is at the bottom of the reel. Some, such as Kastking's Sharky Baitfeeder III spinning reel, have both and a lever to quickly switch between the two settings. This dual drag setup is particularly beneficial when fishing with the rod left in a holder, such as is often done with live or dead bait. The lighter rear drag setting may be enough to set the hook but keeps the fish from pulling or breaking the rod, while the stronger front drag is engaged when fighting the fish. 
A spinning reel is generally simple to operate. Settings are few and casting is relatively easy. The orientation of the reel and line makes a spinning rod and reel combination particularly well suited to lighter lures and subtle presentations. However, an appropriately sized spinning reel is certainly capable of fighting larger prey, such as with deep sea fishing or big catfish. 
Another benefit of the spinning reel is that, typically, they can easily be reconfigured between left and right-hand retrieve, simply by unscrewing the handle from one side and screwing it back on to the other side. 
Take caution, however, when putting new line on a spinning reel. Some lines, such as monofilament and fluorocarbon, have a kind of memory. You'll want to wind line on to the reel in the same direction it comes off the packaging spool to minimize twists and knots developing during casting and retrieving. 
Casting 

Casting reels are built around horizontally oriented line spools. They sit on top of a casting rod, with the line coming straight off the spool and out through the guides over the rod. This configuration, along with the fact that casting rods are typically sturdier than spinning rods, means that casting reels pair well with larger, heavier lures, as well as lures that require a strong hookset. 
With a casting reel, the spool spins freely to let out line during the cast. This contributes to an advantage in accuracy but also presents a challenge for beginners. Casting reels are prone to backlash and tangled line inside the reel (the infamous bird's nest). Apply pressure with your thumb directly to the spool, gently during the cast to prevent backlash, and more forcefully to stop the cast with precision. While this process may seem intimidating at first, practicing the skill is well worth the effort. 
The type of casting reel most often used for bass or inshore saltwater fishing is a low-profile baitcaster. It is light in weight and excels at delivering highly accurate casts. To take advantage of the benefits in accuracy, while limiting backlash, baitcasting reels feature tension adjustment knobs and breaking systems. For example, the Kastking Bassinator Elite uses a centrifugal braking system, while the Kastking MegaJaws Elite employs a patented auto-adjustment magnetic braking system. 
A newer variation on the baitcaster is the BFS (or bait finesse system) reel. These work the same as their larger cousins but are designed specifically to bring the benefit of casting accuracy to lighter lines and lures. 
Before purchasing, it is important to note that casting reels come in separate models for left and right-handed retrieve. Typically, a right-handed person who fishes mostly with baitcasters, will use a right-handed retrieve reel (that is, the reel's handle is on the right), while a right-handed person fishing with a spinning reel will assemble it for left-hand retrieve. In truth, though, it's really a matter of personal preference. You choose what's most comfortable for you. 
Conventional
An older style of casting reel, but one which is still in common use, is called a conventional reel. They are larger, more cylindrical than oblong, and generally built with the sturdiest components for the largest fish, deepest water, and toughest conditions. Though a conventional reel has the same general configuration as a baitcaster, you're unlikely to find on it tension control or breaking systems. What you will find is extra-large line capacities, the heaviest-duty drag systems, and corrosion-resistant parts. 
Spincast
Generally thought of as a reel for beginners or children, spincasting reels suffer in reputation from an abundance made at extremely low quality. Good spincasting reels, however, do exist and benefit from being compact, light, and simple to cast. All it takes is the push of a button (or pull of a trigger) when swinging the rod. 
Most spincasting reels are pushbutton operated, with the thumb, and are designed to sit on top of a rod, casting style. Some feature a trigger operated with the index finger. These hang below the rod during use, spinning style. 
All spincasting reels have a cone-shaped cover that is integral to the process of winding line back on to the internal spool. They will not function with the cover removed (though removing the cover is necessary to spool up new line). 
Because of their design, with internal spool and cover, spincasting reels have relatively lesser line capacities and shorter casting distances. Thus, they are better suited to lighter lures (or bait) and smaller fish. The quintessential application of a spincasting reel is fishing for sunfish at the local pond. 
Ice Fishing 
For ice fishing, many people just use a small-sized spinning reel. Line capacity isn't a significant issue as the lure is not cast so much as dropped straight down. 
An alternative is the inline ice fishing reel, which as the name suggests, features a line spool inline with the rod. The primary benefits of this style are fewer places for ice to form and faster switching between dropping and retrieving line. The latter is important for jigging and the subtle bites that fish take in the winter. 
Fly Fishing 
Fly fishing is very different than other kinds of fishing, and while fly fishing reels can be very expensive, they really are the least important part of an overall fly fishing setup. Mechanically, a fly fishing reel is little more than a spool with mounted handle, oriented inline with the rod. Many fly fishing reels have a drag system but rarely is the reel used to fight a hooked fish. Except for the largest and strongest fish, where the assistance of drag is essential, landing one's catch on a fly rod typically involves pulling in the line by hand. 
All types of fishing reels can be mastered. It only takes practice and to have fun getting there.