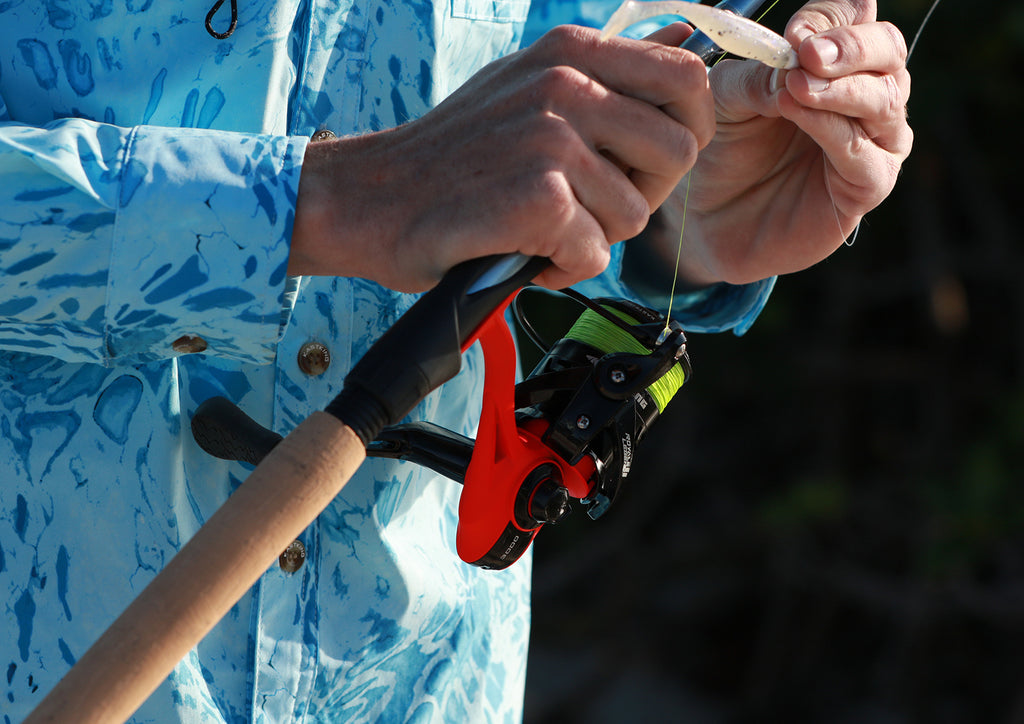 What Is The Difference Between Mono and Braid
I have heard a lot of anglers ask different questions regarding line. The biggest question I hear however is; what is the difference between monofilament fishing line and braid fishing line? I could get into the exact properties of the two real fast, but the main difference is one stretches and one really does not. Monofilament fishing line (Mono) is made from a single fiber of plastic whereas braided line is constructed from many fibers of a material. Picture a plastic bag – you pull on it from end to end, and it stretches really far before tearing. Now grab a piece of cloth and do the same. It stretches minimally before tearing. That is mono and braid.  
History Lesson
After inventing nylon in 1938, DuPont followed it up a year later by marketing the first nylon fishing line (mono). Even after the first mono was introduced, heavier woven braided Dacron was still more popular for the next 20 years. Early mono line was stiff and wiry, but was also less visible and was very good where knot strength came into play. In 1959, DuPont introduced Stren, and it soon became the go-to mono line for anglers across the globe. It was soft and thin, and anglers loved it, especially on the new spinning and spin cast reels introduced in the era. 
Braided fishing line was really the first fishing line made. They were originally natural fibers such as cotton and linen, but most natural fiber braids have long since been replaced by braided or woven fibers of man-made materials like Dacron, Spectra, dyneema, or in the KastKing world of braided lines, UHMPE, the fibers in the 13X braided line. Braided line differs from mono line is that it has virtually no stretch, is extremely thinner and usually breaks at a much higher test than the actual rating. 
The Mono Advantage 
There are a lot of anglers that feel braided line is the only way to go these days, but that is the furthest thing from the truth. Mono line has a strong place in the fishing world, and has some advantages that braid cannot offer. 
Mono line is very good at resisting abrasion. In my earlier years, fishing the famed Montauk Lighthouse from the surf, we had to encounter numerous rocks, and all loaded with barnacles and sharp edges. What did we use you ask – 15-pound test Ande Monofilament fishing line. Why you ask – because it held up to these obstructions, plus had the stretch needed to "pop" a lure off a rock, or resist the cut off of a sharp object. 
Another big advantage of mono line is it is a lot less visible in the water column than braid. Although not as invisible as fluorocarbon, it is nearly invisible. Fish, especially in clear water can be very wary at times of a bait/lure. Fishing mono gives you that little bit of an edge. 
The last advantage of mono line is the stretch. There are times, especially when crankbait fishing the stretch will actually get you better hook-ups by allowing the bait to be sucked in, rather than jerked right out the fishes mouth. 
With mono being fairly invisible in the water column, it is definitely one to use in clear waters and around wary fish.
Why Use Braid? 
Okay, if mono line is so good, then why do I need braided fishing line? In spite of mono having some serious attributes that appeal to anglers, braid has equally as many, if not more.
When braid first came out, I remember the first time I spooled up with PowerPro line. I was using 30-pound test on my 11-foot surf rod. On my first cast the lure sailed farther than I had ever cast before. I was simply amazed as not only did it cast farther, it was twice as strong as my 15-pound Ande mono line. 
Braid is also really good while finesse fishing as it allows the angler to use slightly heavier line. When I am drop-shot smallmouth fishing, I use 10-12 pound test braid, which has the diameter of about 4-pound test mono. Okay, I do use a fluorocarbon leader Thinner diameter also allows for longer casts with lighter lures as well. Braided line also floats, making it a great line for using any topwater bait/lure. 
The lack of stretch on braided line is a great advantage for jig, frog and Texas rigged worms being dragged through heavy cover. The braid can actually cut through the grass or pads, making it easy to land a fish once it is hooked. 
Another highlight of braided line is hi visibility lines that can used for "seeing" the bite in windy conditions.
In Conclusion
The bottom line is you "need" both lines. 
Braided line will give you super long casts, no stretch – instant hooksets. The braid makes ripping baits through heavy cover extremely easy. On the beach/pier side, braid will give you long casts, while on the boat, lighter jigs and sinkers can be used due to the braids diameter seeing a lot less resistance in current. 
For mono, the invisibility is the huge advantage. Mono is very invisible in the water column compared to braid. Mono floats well, and with its stretch, makes a great leader material. Mono is very tough around sharp edges like rocks, barnacles, piers etc. 
Pick the line that is going to best suit your angling needs. Whether you want super long casts or a line that is somewhat invisible for wary fish, braid and mono need to have a place in your fishing arsenal. 
Whether you use mono or braid, making sure you choose the one for the application intended, one is not better than the other.
Author's Note
I have also heard of wicked wind loops by anglers using both lines. Bear in mind, wind loops are caused by line lying to loosely on your spool. Always make sure your line – braid or mono – is tight on your spool. We can get into this a little further down the road.