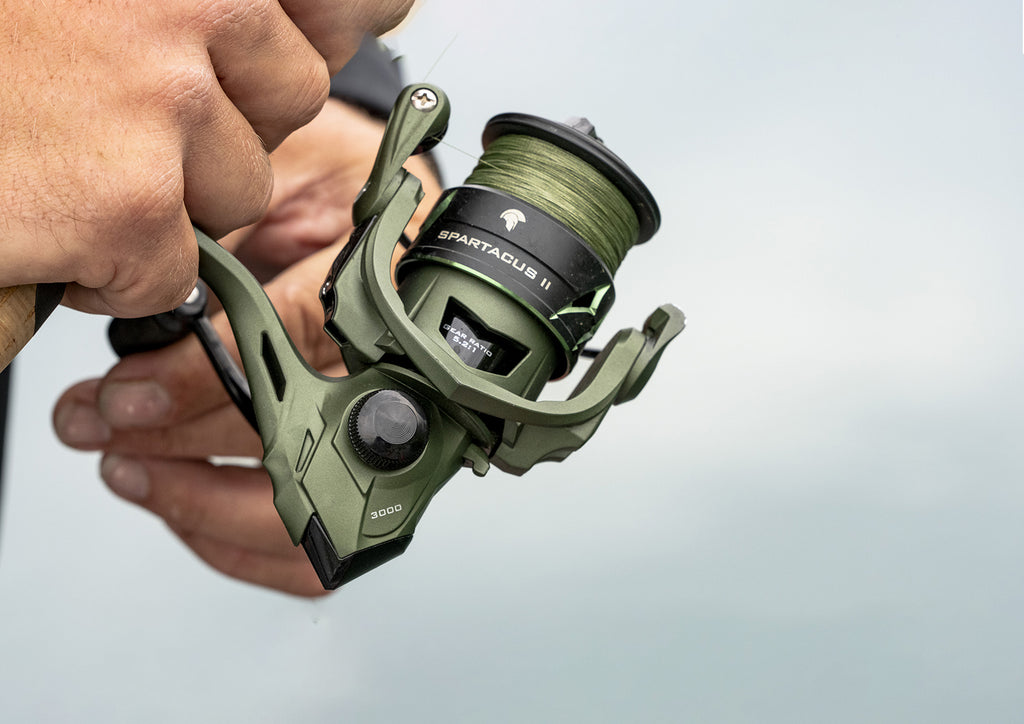 What is the Best Bass Fishing Spinning Reel?
KasKing has so many options for spinning reels, it can very confusing and intimidating to anglers looking for their first or next reel. The great thing about KastKing is that they make options for every budget and style of fishing. In this article I will cover my recommendations for different situations and hopefully make your next purchase decision much easier.
Beginners Reel
Just starting out and getting a feel for fishing is a great position to be in. When starting out I would never recommend going out and buying the most expensive top of the line reel. I always recommend something that is great in performance but also easy on the wallet. For the beginner I recommend the Lancelot 3000. At under 30 bucks there isn't a reel out there that is stronger or better looking in that price range. The Lancelot is strong, lightweight, and rugged. It features a stainless-steel main shaft, brass pinion, and zinc alloy drive gear. I have personally beat the heck out of my Lancelot landing a 5-pound largemouth and an 8 pound hybrid striper on it. It has held up more than I could have asked for and continues to be a work horse. 
Next Step Up
Maybe you are an angler that wants something a little stronger and a little more durable. If that's the case. Look no further than the Spartacus II Spinning Reel. I personally think it is one of the most underrated reels in the KastKing lineup. Many fishermen look past this reel as it comes in under 50 bucks. This reel should not be overlooked! This reel is super smooth and reliable. It features 7 + 1 ball bearings and triple disc carbon fiber drag providing 22lbs of fish fighting strength. The durability is stepped up with a brass pinion gear, ceramic line roller, oversized stainless-steel main shaft and our innovative S.S.R technology (Sliding Stabilizer Rod). All of this in a very attractive package. It definitely worth looking at if you are wanting to stay under 50 bucks. 
Best All Around
This next reel is something that nobody can go wrong with, It combines the perfect balance if high end features and over all affordability. This reel is our bet selling item, the Sharky III. One quick internet search and you will see why it is our number one selling reel and referred to as the Peoples Champ. When the Sharky III came out it took the industry by storm. It is lighter, smoother and stronger than the previous Sharky models and is extremely high efficient. The reel provides up to 39.5 pounds of drag with a triple disc carbon fiber drag system. It also features 10+1 double shielded ball bearings in a fiber reinforced body. My favorite feature on this reel is the braid ready spool. The braid ready spool eliminates the need for backing and prevents braid line from slipping. With the successful yet valuable experience we accumulated with the first two generations of Sharky, we upgraded the Sharky fishing reel series to the next level. Now the outstanding KastKing Sharky III is the real versatile warrior that can handle any monster from river to the ocean.
Superior Upgrade
Many want the most technologically advanced items out there and I can totally understand that. If you want something that pushes the limits of technology, then look no further than the KastKing Zypher Spinning Reels. KastKing Zephyr Spinning Reels are made of technologically advanced high percentage carbon infused nylon frame, body cover and rotor for lightweight and strength. This gives you the benefit of these two materials greatest features. Zephyr Carbon fishing reels utilize KastKing's newest DSSR (Double Sliding Stablizer Rods) system. With 10 MaxiDur double shielded stainless steel ball bearings + 1 instant anti reverse bearing, this setup will give you supper smooth operation and all-day hassle-free fishing experience. 
All Around
Most of the beginners that I talk to want an all-around rod. They do not have the desire or need to have multiple rods for different species and techniques. The best all-around Rod from KastKing is the Perigee II Twin Tip Spinning Medium / Medium Light, Fast action rod. When I say twin tip, that means I comes with two different tip that allow you to change the power characteristics of the rod. That's like getting two rods for the price of one! The Medium Light tip allows you to chase smaller fishing at your local pond or use finesse techniques like Drop Shot and Ned when fishing for bass. The Medium tip allows you to fish a Texas Rig on plastics and even small ball head jigs. It also has enough backbone to fish for catfish if needed. Zephyr Carbon has a new design braid-ready two-tone anodized CNC machined aluminum alloy spool for outstanding casting performance. Zephyr's spool prevents braid fishing line (KastKing recommends KastPro 13X Finesse Braid Line) from slipping under pressure. For one less thing to go wrong and even spooling, there's no need to add monofilament backing or tape to your spool. 
For the Tournament Angler
KastKing has grown so much over the past few years that our Pro Angler team has grown to incredible group of hardcore fishermen. When tournament fishing you push yourself and your equipment to the limits every time you are on the water. If you are that person, no better spinning reel than the MegaJaws Elite Tournament Spinning Reel. This reel is the best that money can buy from KastKing and has many features that are industry leading. The MJE Spinning Reel has precision cut gear that are made of hardened aerospace aluminum that is 15% stronger than Zinco-Alloy. This reel was designed with an ultra-smooth drag system that has zero hesitation to protect light lines while providing 15.4 pound of stopping power. The rotor is aerodynamic and light weight which helps with lowering rotational resistance. The bail is once piece made of never rust seamless aluminum with advanced MaxiDur 10+1 stainless steel ball bearings. While it only comes in a 2500 size, the spool is shallow not wasting line and allowing the control and flexibility of a smaller reel with the power of a larger reel.
Conclusion
While I gave a lot of options for your next purchase, it comes down to price and use. If you don't have a large budget, its okay because the Lancelot and the Spartacus II are there! If you want to spend a little bit more the Sharky III is the true people's champ! If you want technology, then the Zypher carbon spinning reel is the reel for you and if you are a tournament fishermen the MJE Spinning reel is your best shot in our lineup. 
 Jose Cinco is a freshwater kayak fisherman located in Central Oklahoma. While normally targeting Largemouth and Smallmouth Bass, he also travels across the nation to hunt for Trout and Catfish. When traveling on the west coast, saltwater sand bass and hybrids are his targeted species.