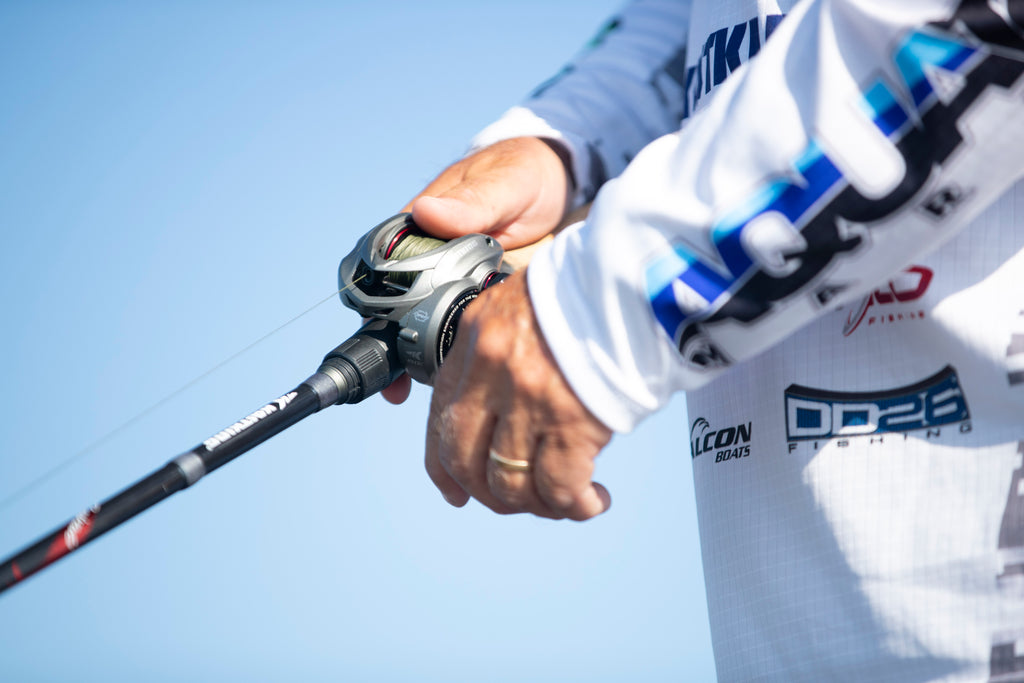 Best Fishing Rod(s) for Finesse
Are you ready to enter the world of finesse fishing with specialty gear? Then before you get going, you need to have the best fishing rod(s) for finesse fishing. Finesse fishing with specific spinning and baitcasting reels requires a specific type and weight fishing rod to achieve optimum results. I have been using several KastKing fishing rods – baitcasting and spinning – for finesse fishing the past 6 months. Let's take a look at what I feel could very well be the best fishing rod(s) for finesse fishing.
KastKing Perigee II KRDCSTPG2-67ML1
Although most Perigee II rods are two-piece models, which is not a bad thing, this rod is a one-piece rod. Rated for 6-12 pounds, thus rod pairs very nicely with the Zephyr BFS clicker model. What I liked best is the rod is extremely light, yet has a little bit of length – 6 foot, 7 inches – to allow longer casting with super light baits. This rod is great for throwing micro crankbaits and small finesse style swim jigs of 3 inches or less on 1/8 ounce heads. 
Toray 24-ton carbon matrix KastFlex blank
Fuji O-Ring Guides
Big Bang for the Buck! 
Bottom line is this rod is well made, very light and cost under $50. The rod will handle most finesse baits, but will work best with smaller cranks and swimbaits. It also is rated ad fast action, which will have you whipping those light baits a good distance if needed. A true best fishing rod for finesse fishing. 
KastKing Wide Eye Walleye KRDSPNWE-62PJML1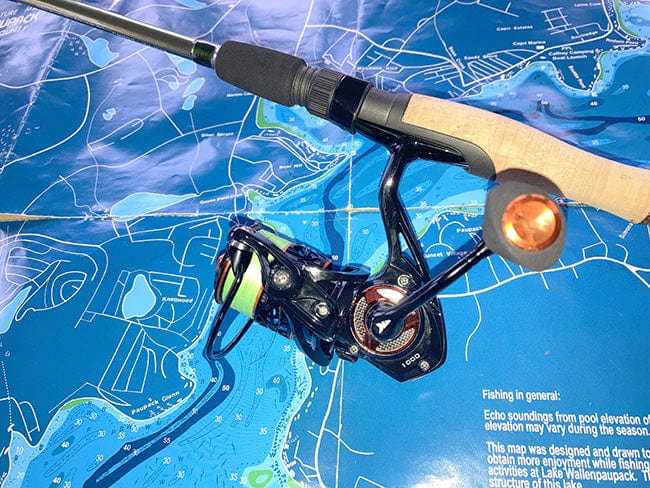 Don't be fooled by the name thinking this is just for walleye as it will work well on a multitude of species. However, if you want to target walleye using small jigs, even the better. This rod is a beast in a small package. It's an extra fast, 6-2 spinning rod, rated for 4 to 8 pounds. Match this up with the Zephyr SFS and you have a winning combo for throwing small hair jigs and micro grubs. 
Toray IM9, 640K strain rate Nano-Resin blank
Fuji Reel Seats and Guides
Super Light to Reduce Fatigue 
These rods are so light, you could fish all day and make a 1000 casts and have zero angler fatigue! The rod will toss small in-line spinners and spoons a mile, plus land any size fish you encounter. The rods come in at just under $100, but well worth the investment. 
KastKing Resolute KRDSPNRT-60UL2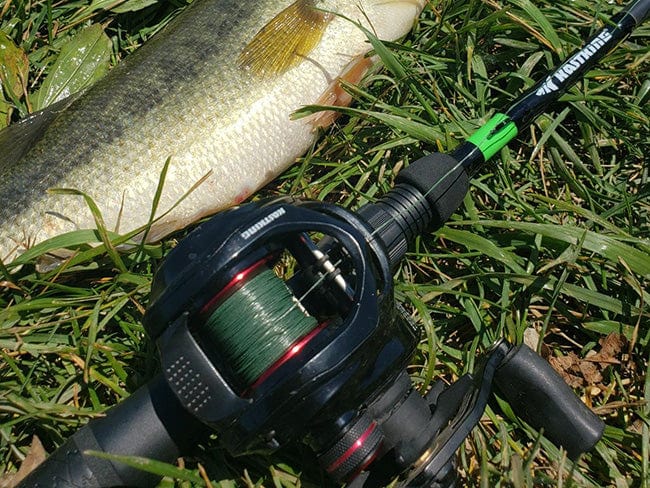 Another super light spinning rod that pairs well with the Zephyr 1000 SFS Finesse reel. This rod, which is a 6-0 ultra-light, rated as moderate/fast with a line rating of 2-6 pounds. This is another rod that will work well on smaller hair jigs and lighter spoons and in-line spinners. The rod is two-piece, making for an easy packable rod to carry into your favorite honey hole. 
IM7 Kastflex Carbon Blank
American Tackle Micro-Wave Air Guide System
American Tackle, Bravo Two-Piece Reel Seats. 
Price wise, the Resolute falls in between the Perigee II and Wide Eye Walleye. The two-piece construction is a good choice to make for ease in traveling or walking/biking/hiking into the fishing spot of your choice. This rod can easily make quick work while throwing baits in the 1/32 to 3/16 ounce range. Easily one of the best finesse fishing rods around. 
KastKing Speed Demon KRDCSTSDP-610JB1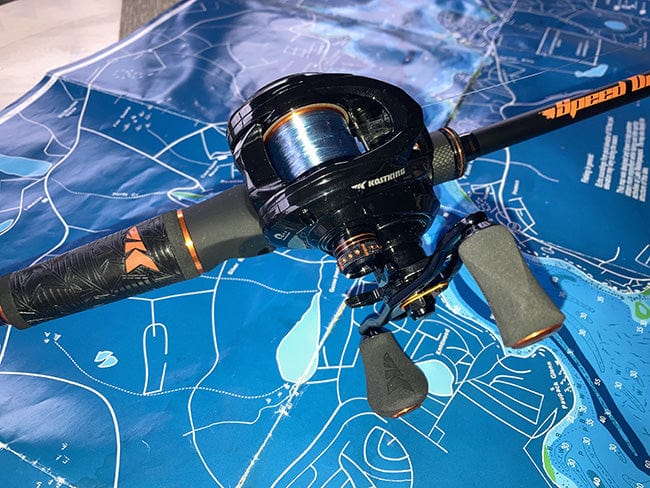 The last two rods I like for finesse fishing are in the Speed Demon line-up, which is the top-of-the-line KastKing rod. The first is a little deceiving as it is rated for 10-20 pounds. Some may not classify this as a finesse rod, but the make-up of this rod with its fast action and medium build make it the perfect finesse rod for slightly larger baits. 
Golf Style Butt and Main Grips
Elite Carbon High Modulus One-Piece Blank
Fuji Guides and Reel Seats 
This rod will go well with the KastKing Zephyr Bait Finesse Casting reel. This set-up will be awesome for those days when you have some wind as the fast action will allow you to break through the wind with superior casting and accuracy. Baits in the 1/8 ounce and larger are easily used with this pairing. 
KastKing Speed Demon KRDSPNSDP-610DS1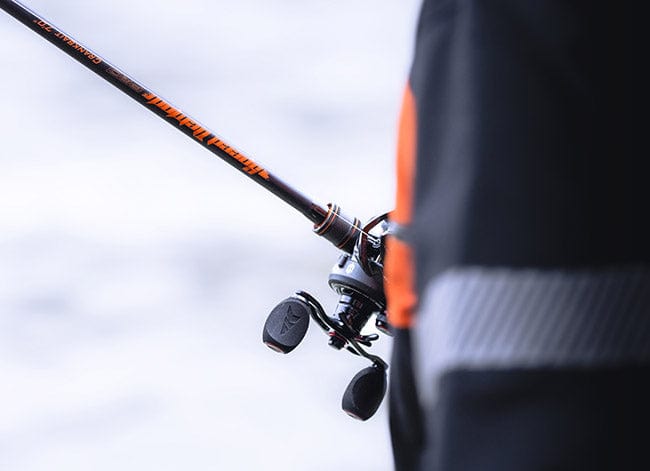 Another top performer in the Speed Demon line-up is the drop-shot spinning rod model. This rod weighs a mere 4.1 ounces and the matching KastKing Zephyr SFS Finesse Reel weighs only 6 ounces. That means you have a combo weighing in at 10 ounces, which is unheard of in today's world. 
Carbon Nano Tube – Reduces Weight, Increases Lifting Strength by 30 percent over standard graphite blanks
Elite Angler Input equals Uncompromising Performance
Tournament Performance Rod
The bottom line with the Speed Demon series is they are just the best around, especially for the finesse angler. The two rods will easily be the best finesse fishing rods on the market today. 
In Conclusion
There are many KastKing rods that will fit the bill when the question comes up as to what is the "best finesse fishing Rod(s) for today's anglers. The five above, in my opinion, are the best five I have used. I am sure there are several more that will suit your finesse fishing needs. The key with finesse fishing is matching the rod to reel, utilizing the lightest line available, and the ability to throw smaller baits accurately.
As far as I am concerned, KastKing's line-up; especially these five are the "Best Finesse Fishing Rods" around.