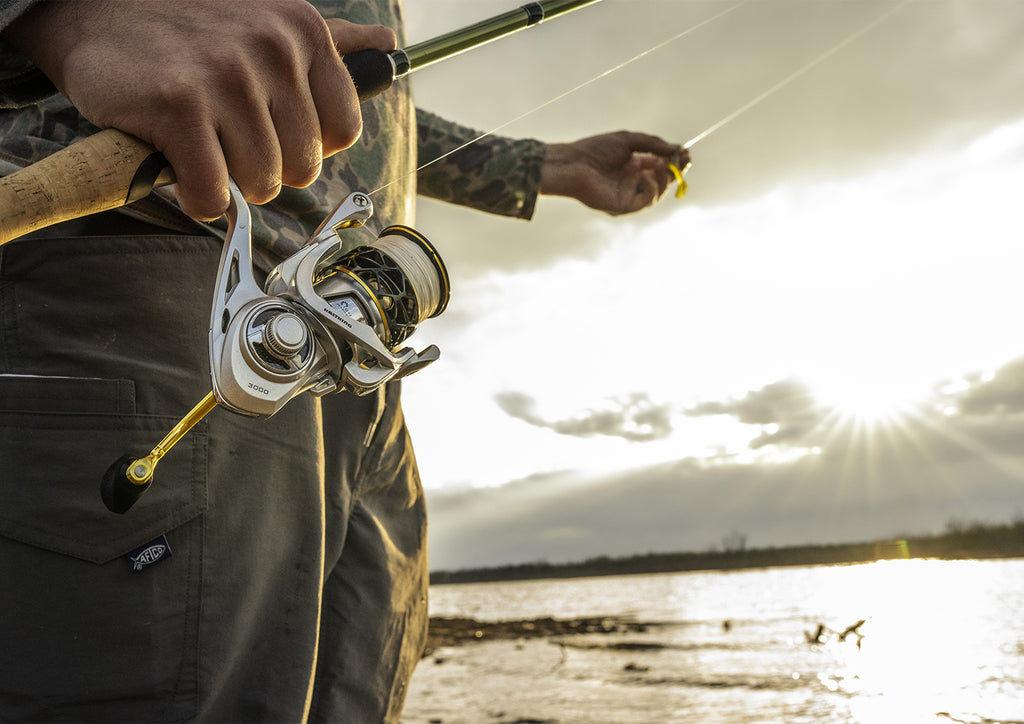 Best Braided Line for Spinning Reels 2022 Review
Braided fishing lines have risen in popularity throughout recent years, mainly due to their casting performance outlasting that of other line materials such as Fluorocarbon, Mono or fly.
We know that braided fishing lines are perfect for low-visibility water conditions. When you need a lot of line of your spool to be able to perform deep dropping strategies or want precision jigging, a braided line 
To read more about different fishing line types, click here. 
The polyethylene material helps to strengthen the line's properties including its thin diameters; a braided fishing line is considerably thinner compared to other lines on the market, such as monofilament lines. Not only is it incredibly strong, but its lightweight properties allow it to be one of the more popular lines in modern times. 
Typically, a braided line contains 4-16 strands, with those on the lower end of the spectrum more resistant to abrasion while those that have higher strands tend to be thinner. The free feeling due to its lack of kinking surprises anglers and the fact that it doesn't stretch means that you can throw your line with expert accuracy. 
So, with all these positive attributes in mind, it makes choosing a braided line slightly challenging. 
We've done the hard work for you and selected the Top 3 Best braided Lines For Spinning Reels 2022. 
KastKing SuperPower
KastKing KastPro Braided Fishing Line (150 Yds)
KastKing KastPro 13X Finesse Braid Fishing Line 
Let's find out why. 
1. KastKing SuperPower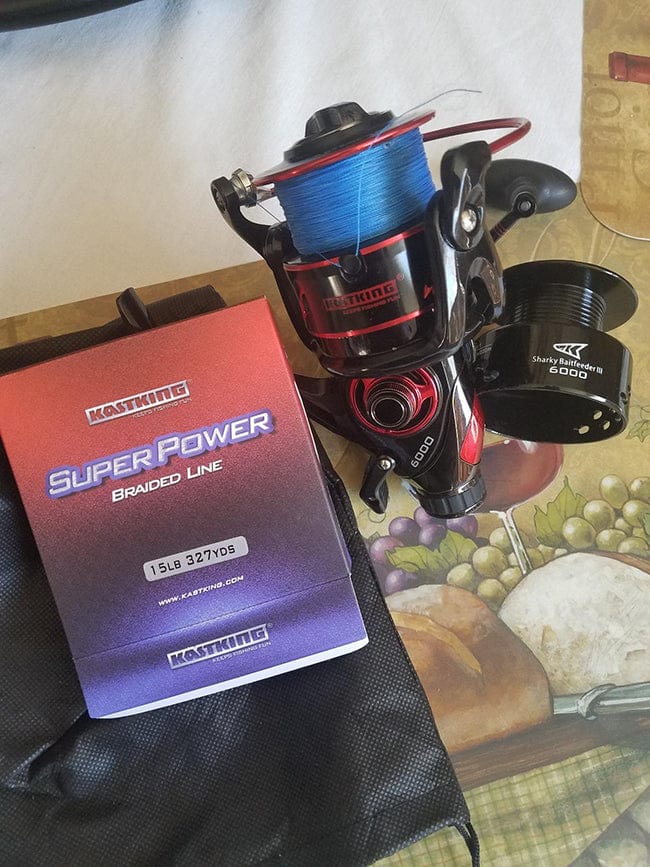 Firstly, KastKing is a leading brand within the angling community. You can't go to a meetup with some friends, family, or colleagues without seeing a KastKing product. 
Why? 
Well, we may be biased, but we think they're great. 
The KastKing SuperPower is an extremely durable braided fishing line made for those experienced and inexperienced fisherman who are living on a budget. This cost-effective braided line does not only hold great strength but its strength to diameter ratio is incredible for the low price on offer. 
The SuperPower line is one of the best KastKing offers. Its ability to neglect line memory allows your purchase to last for at least 2-3 seasons without being affected by wind knots. 
It contains either 4 or 8 Dyneema fiber strands landing it as one of the most resistant to abrasion on the market. So, when you cast your line, you don't need to worry about catching it on rocks or nearby debris. 
Not only does this restriction of line memory allow for longer distanced casts, but you'll also find that you become more accurate and comfortable. 
But by far one of the most outstanding features of the SuperPower is its fantastic knot strength. With dynamically incorporated strands, you can tie a solid knot, and tie an improved clinch knot. 
2. KastKing KastPro Braided Fishing Line (150 Yds)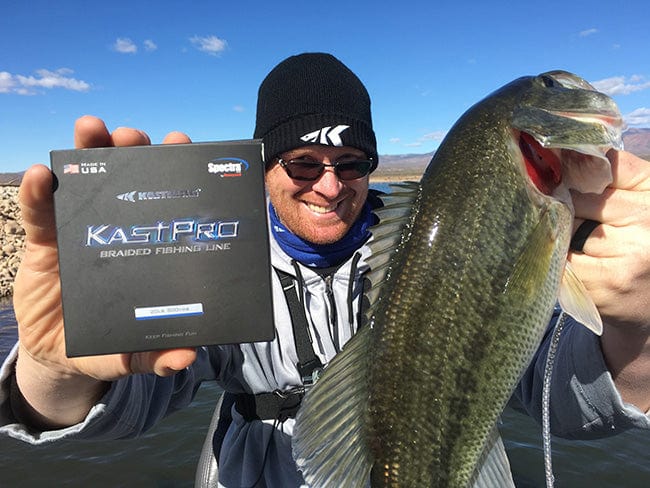 Not only is the KastPro manufactured in the ISO 9001 and Aerospace AS 9100 facility in the USA, it has proudly been approved by many anglers including Bassmaster Elite anglers, professional fishing guides, Team KastKing Pro Staff. 
Whilst it is a thin line (giving it a good strength to diameter ratio) it is incredibly strong. Known around the world as having a 'diamond weave' its resistance to abrasion and generally toughness is a unique asset to have on the water and camping trips away. 
Some brands will use a water-based coating on their lines which tends to rest on the surface of a braid line as it is repelled by the material. In the long run, this will lead to color fading and its resistance to abrasion will diminish over time. 
However, the KastKing KastPro is specially coated to include bio solvents which seeps into and wicks into the braid allowing for a more universal coating leading to better color longevity and abrasion resistance. 
3. KastKing KastPro 13X Finesse Braided Fishing Line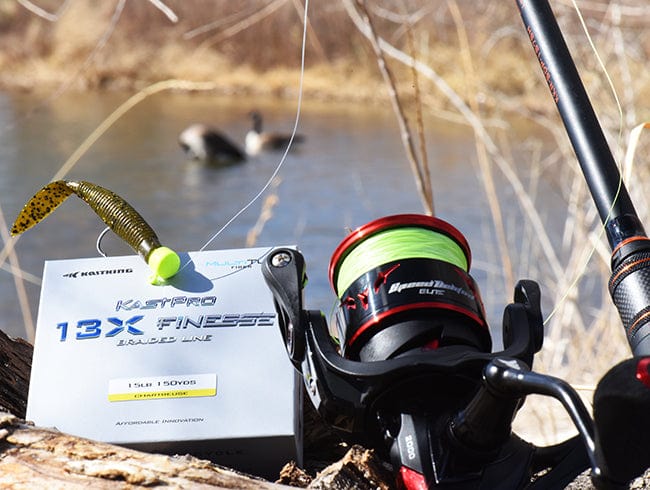 Whilst on the more expensive end of the list, the KastKing KastPro 13X Finesse holds 8 strands of ultra-high molecular UHMPE fibers with a PPI of 26. 
It is 75% smaller in diameter compared to other monofilament lines which allow you to have greater strength and most importantly, increased abrasion resistance.
Be confident in setting the hook hard with a fantastic line to leader and li9ne to lure knot strength. This strength and sensitivity ensure that you feel even the lightest bites. 
But by far the most stand-out feature of the 13X Finesse is the Ultra-High Molecular UHMPE fibres. Its strength to weight ratio allows it to be an unprecedented power – over 10x stronger than steel. You can go anywhere with the Finesses Braided Line knowing that it will keep up with whatever you throw at it. 
Feel comfortable throwing this line around trees, rocks and pretty much any structure that is in your field of view whilst out on the water. Its sheer strength and incredible abrasion resistance make it one of the strongest braided lines on the market.
If you're an experienced angler or even a beginner looking to get a high quality line and are not afraid to pay a much higher price, then the KastKing KastPro 13X Finesse Braided Fishing Line is right for you. 
But Which One Should I Buy? 
All of our fishing lines are catered for different uses. Whilst the 13X Finesse is most definitely the strongest braided line, it certainly comes with a cost. The ultra-high molecular UHMPE fibers keep their strength intact for longer meaning you don't need to worry about any breakages caused by abrasion. 
On the other hand, the KastPro, as you can tell from its name, contains many of the same characteristics as the Finesse, but with a lower price point. Of course, you'll be missing out on a few of the features, but it still includes features such as its bio solvent coating to maintain abrasion resistance, a great strength to diameter ratio and its manufacturing in the USA facility. It is not surprising many experienced anglers use the KastPro braided line, including many of our professional staff.
However, If you're in the market for a new braided line for a spinning reel, our recommendation would be the KastKing SuperPower. 
It says it in the name. This braided line is one of the strongest on the market, and at a relatively budget-friendly price. Its durable line made with experienced anglers in mind means that it can tackle anything that it comes across. It has fantastic knot strength and its lack of line memory keeps it in good condition to avoid those pesky wind knots in seasons to come. 
Its incredible strength and cost-cutting price makes it a great addition to newbies, amateurs, and even experienced anglers.
Get your strong, durable and cost-effective braided line here.