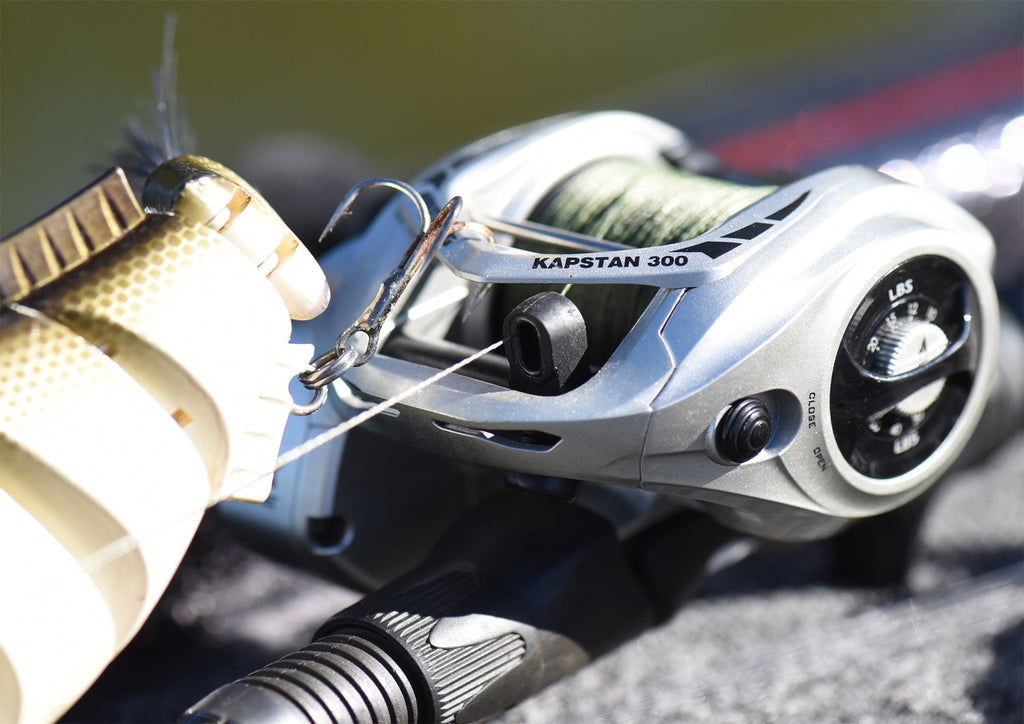 Baitcasting Reel and Rod Buyer's Guide
Spring is in the air and summer is right around the corner. What that means to most anglers is the height of our fishing season is upon us. And, what better time than now to look at a few combos for our baitcasting reel and fishing rod buyer's guide. After checking out these baitcast reels and rods, your arsenal will be even better than you can imagine! The price point for these combos will vary, but I will bet you will not find better baitcast reel and rod combos anywhere for the price point. These are just a few of the many KastKing has to offer, however, I feel these three will round out anyone's arsenal and make it stronger than ever.
KastKing Kapstan Elite 300 and Speed Demon Rod and Kast King Speed Demon KRDCSTSDP-711PC1 Rod 

If you do any type of light saltwater fishing to heavier freshwater fishing, then this baitcast reel and rod combo has got to be in your back pocket. Okay, I know, it won't fit in your pocket, but it needs to be in your truck, car, boat or whatever transports you to the fishing grounds. 
This combo is a pure beast that can tackle a plethora of species from inshore saltwater to freshwater heavyweights, or freshwater heavyweight tactics. 
Let's look at the baitcast reel first – the Kapstan Elite 300. This reel is designed for competition and engineered to ensure victory. It boasts a large capacity spool enabling longer casts with heavier lines – monofilament, fluorocarbon or braid fishing line. 
The triple disk carbon drag system can put up to 35 pounds of pressure on any fish you target. That is ultimate stopping power for saltwater species like bluefish, tarpon, drum, striped bass and more. And, if you want to bottom fish, sheepshead, blackfish and even cod don't stand a chance due to its 5.4:1 ratio giving you the cranking power to lift a beast from the deep. Add it all up and this is easily a top reel in the baitcast and rod buyer's guide. 
But let's not stop with saltwater. This baitcast reel is perfect for throwing heavier baits/lures for largemouth. Do you use an Alabama or YUMBrella rig? How about heavy lines for throwing frog baits in amongst the heaviest lily pad fields you can find. This bait cast reel is perfect. Some like a fast retrieve when throwing these baits, but for me, the gear ratio and power outweigh the speed.  
This top-of-the-line Speed Demon baitcast fishing rod is a perfect match in my opinion to the Kapstan Elite 300. To start off, the Speed Demon baitcast rod offers elite carbon blanks that utilize carbon nano tube resin technology to reduce weight, increase breaking and lifting strength by over 30 percent compared to standard graphite blanks. Fuji guides and reel seats. Plus Winn grips round out the business end of the rod. 
What I like about this rod is the length. At 7-11 it gives me enough for long casts. The rated weight of 12-25 pounds also adds to its value. The power of this rod is unreal, and can lift a damn house if you wanted. It's a one-piece rod rated for up to 1-1/2 ounces, and a fast taper making it sensitive for bite detection. Last but not least, the rod weighs a mere 4.02 ounces! 
Pair what I consider one KastKing's best baitcast reels to the best KastKing baitcast rod and you will not regret the decision…I guarantee it.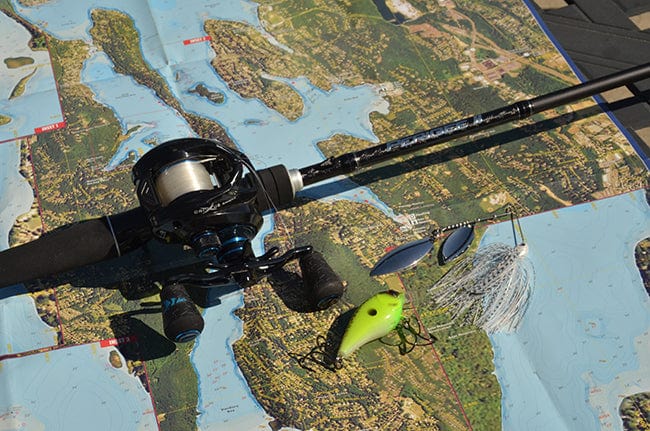 The Crixus is available in two retrieve ratios - 6.5:1 and 7.2:1, and in three colors – sea spray, glacier white and dark star. On the business end, the Crixus is a very affordable reel (under $60) and comes with a CNC machined aluminum U-Shaped spool for longer casts and higher fishing line capacity. The lightweight aluminum handle has comfortable, slip resistant Super Polymer grips for comfort while fishing all day long.
The carbon disc drag can put over 17 pounds or pressure on a fish, and with the 7 shielded, stainless-steel high quality ball bearings plus an instant anti-reverse bearing, you can expect a super smooth retrieve. Add in the proven magnetic braking system that has 8 magnets to give the angler a wide range of braking options and virtually no backlashes when set correctly.
What I really liked about this reel was its versatility. Either gear ratio gives you options to speed it up or slow it down. Spinnerbaits, crankbaits, worm fishing or even topwater baits can all be used, and perform well with this reel.
This rod matches up nicely. It is not too long, yet not too short to throw a multitude of lures. At 7-1 and rated for 12-20 pounds and lure weights from 3/8 to 1 ounce, it can handle most anything in your tackle bag. The rod features a medium/heavy build with a fast taper. By now you have to realize…I like fast tapers! This allows working baits and feeling subtle bites easy.
The rod is also made very well utilizing Fuji O-Ring line guides, tuned ergonomic graphite high-strength reel seats, high-density EVA grips and Saf-T Keeper hooker holder. The blank has a "bare and beautiful" finish carbon fiber for light weight, and outstanding cosmetics.
KastKing Speed Demon Elite Fishing Reel and KastKing Royal Select KRDCSTRS-73H1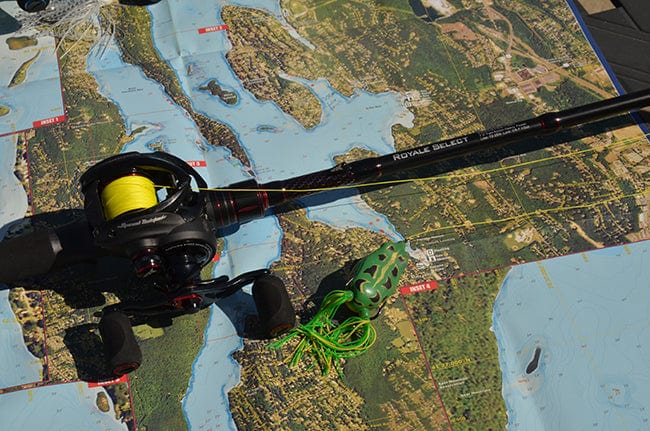 When KastKing set out to conquer the fishing tackle world with the fastest retrieve speed baitcasting reel made, they did more than make Speed Demon Elite baitcasting reels fast. Based on input from Pro anglers in MLF, BASS, FLW, and BFL, and scores of recreational fishermen, KastKing added unique and patent pending features.
I use this reel while throwing frogs. For the frog use, there are times when I like to have the speed available to me, rather than the cranking power of the KastKing Kapstan. If I am trying to cover water fast, which basically means my trolling motor is running and I am casting and moving quickly. With the KastKing Speed Demon Elite baitcast reel, and its 10.5:1 retrieve ratio, I can cast and retrieve and not miss a shot at a fish, all the time, while moving along at a brisk pace. 
KastKing used Hamai precision cut aerospace aluminum 44.3mm main gear and brass pinion gear for ultimate performance, 10.5:1 speed and an amazing 42 IPT for super-fast line retrieve. Add it all up and you have the fastest baitcasting reel on the market! 
Match this baitcast reel with the KastKing Royal Select below and the bass will be swimming in your live well before you know it. 
On the business end of the Royal Select, all the rods in the series are constructed with Toray 24-ton carbon matrix KastFlex technology blanks giving each casting rod incredible performance, sensitivity and power.
The rod I prefer is a one-piece design, but don't let a two-piece bring you down as KastKing's Power Transition System features amazing spigot ferrules which transition power smoothly throughout the fishing rod blank. Specialized computer-controlled wraps keep power flowing from the fishing rod tip all the way to handle. You won't even know you are using a two-piece rod. 
This rod offers the perfect balance of power in the 12-25 pound range, plus the extra fast taper allowing you to walk-the-dog like no other rod. To me, this makes it the perfect match for what I need. I am sure if you are throwing heavier swim baits, Texas rigged worms or frogs like me, this baitcast reel and rod combo is perfect. 
These are just a few of what KastKing has to offer anglers plying the saltwater or freshwater with baitcasting reels and rods for their favorite species. KastKing offers many more that are just as appealing, and will give you years of performance. The Bassinator Elite and "new" Mega Jaws Elite are top rated baitcast reels that will compare easily to high end reels on the market today.  
The baitcast rod line-up is just as broad as the reels, with so many to choose from, you would have to try, and buy them all, to be sure which rod is best. The WideEye Walleye, Kong, Resolute and even the Estuary are all great options.
The bottom line is the three above I have used extensively and love them all. Are they the best… quite possibly in my opinion. I will say one thing however, they have never let me down on the performance category, and I am sure they will do the same for you. These baitcast rod and reel combos are also very affordable, staying with KastKing's motto of "Affordable Innovation."