3 Top Lures for Summertime Bass Fishing
There is always discussion on what are the top three lures for bass fishing in the summer. Obviously, the best lures to use are the ones that get bit at that time, environment and location. All things to consider but what people often forget about is HOW people use their bait as it is equally as important as what is being used. With all that in mind, now the right bait will also depend on not just what and how it is being used but also the color of the bait is a consideration. "Matching the hatch" is a term used to try and analyze what you feel the fish is naturally eating where they are and matching the colors to that bait as best you can. When you balance all the factors, you can just do your best to find what you need but it is so important to remain humble and with that be flexible. If what you are using is not working, change it up, try new things and realize that what worked yesterday may not work today. All in all, let's go through what I consider to be the top lures for fishing bass in the summer.
Warm water temperatures normally mean that bait in the water is swimming and looking for food. The entire food chain is running around looking to feed from the smallest of shrimp to bait fish to aggressive target feeders. Warm temps also normally mean good visibility for the fish so whatever we can do to match the bait we should be using. One of the top lures is absolutely a crank bait, try using a medium depth lipped crank bait that matches the hatch and can swim with some nice action. Bait fish colors that shimmy to attract the fish and with some side-to-side action to help the fish locate the movement in the water. Swim it along and if you are not getting hit be sure to change the action on the bait along with where you are fishing. Consider pulsing it back and forth or using a counting technique of pausing in the retrieve for a few seconds.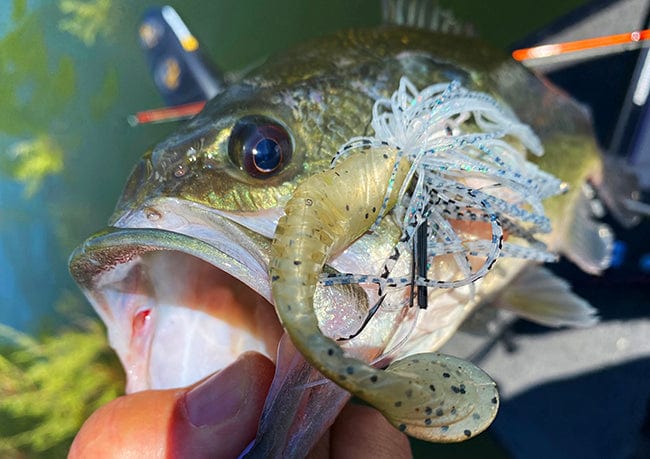 Another tried and true baits does not need much of an introduction in the world of bass fishing. The Senko worm is considered a standard with all of us. Rigged either in the nose with a Texas rig or wacky rigged, these baits sink and have an action on them that is unmistakable and irresistible to bass. I personally prefer wacky rigging my Senkos using a tiny gasket around the middle of the bait in a red flake green color and looping the hook there to prevent ripping my bait. I like a slow retrieve with a slight twitch then letting it fall again and just repeating that to bring it in. I feel that the retrieve imparts the action and the twitch helps "reset" the sink back down.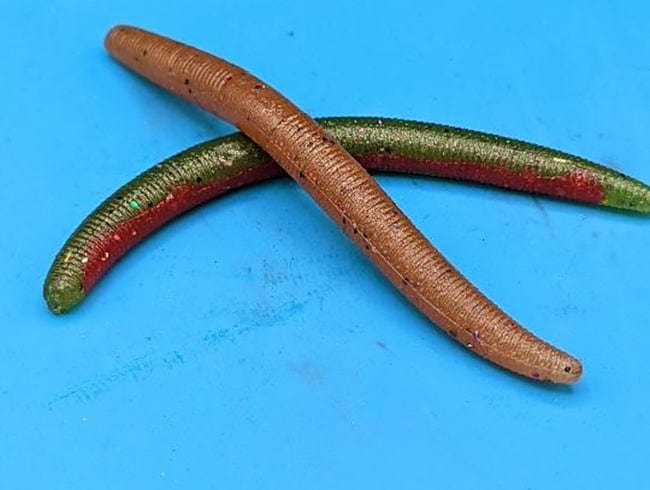 The last recommendation I have is really based on what I feel is another great technique for fishing many kinds of fish. I just do it a touch different. Fishing mostly saltwater I normally use dropper loops when fishing for yellowtail, rockfish or really just about any fish at depth. I rig a drop shot rig with a dropper loop about 6-8" off of my sinker with a wider gap hook. When tying my drop shot, the loop I use is just about 3-4" extended with being absolutely sure to not be so low that it could touch the sinker. I normally fish a nice purple flake worm with a tail that imparts a bit of action. I believe the fish really look for the movement along with the color just to see if it all makes sense. In other cases, the fish may just strike it as a reaction to wildly moving bait if in case the bait could get away from the fish and they just bite it to see what it is. Fishing these worms, you want to move at a speed that you feel is natural with the current you may be fishing in. I normally medium retrieve worms like this in the summer since I want to emulate a hurt fish still swimming at a depth but moving along at a steady pace.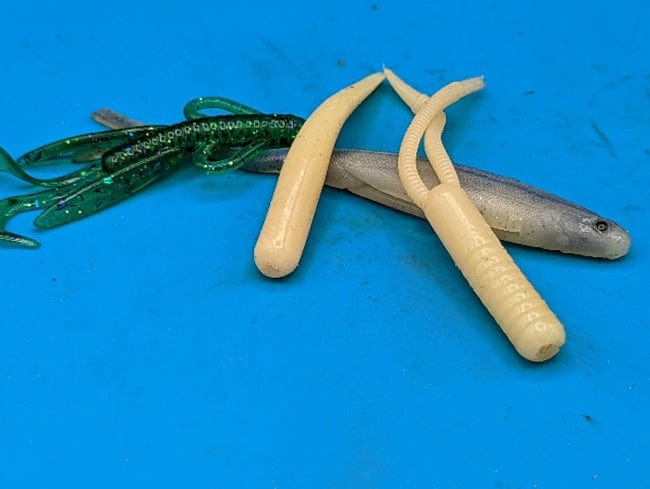 One thing I wanted to cover was not just the bait but also the line I use when fishing for bass. I like to use a soft, pliable line normally made for finesse type fishing with at least an eight-carrier count. I have had plenty of luck with KastKing Mega 8 but have since switched to the KastPro 13x finesse line. This way all the action that the bait is supposed to have will be uninhibited by a stiff line. Being in the summer with potentially light overhead I also recommend using a bit of fluorocarbon like Kastking Kovert, normally I am using about 5' or so tied directly to the braid and then to the bait. 15-20 lbs braid stepped to about 8-10 lbs fluorocarbon is my go to for the fishing I am doing.
Keep in mind that these baits are all what works where I am at. The right bait for you may also include what is accessible and within your budget. All of mine and other recommendations are really completely subjective but is what I have confidence in. I hope it helps and feel free to let me know how it all works out for you.