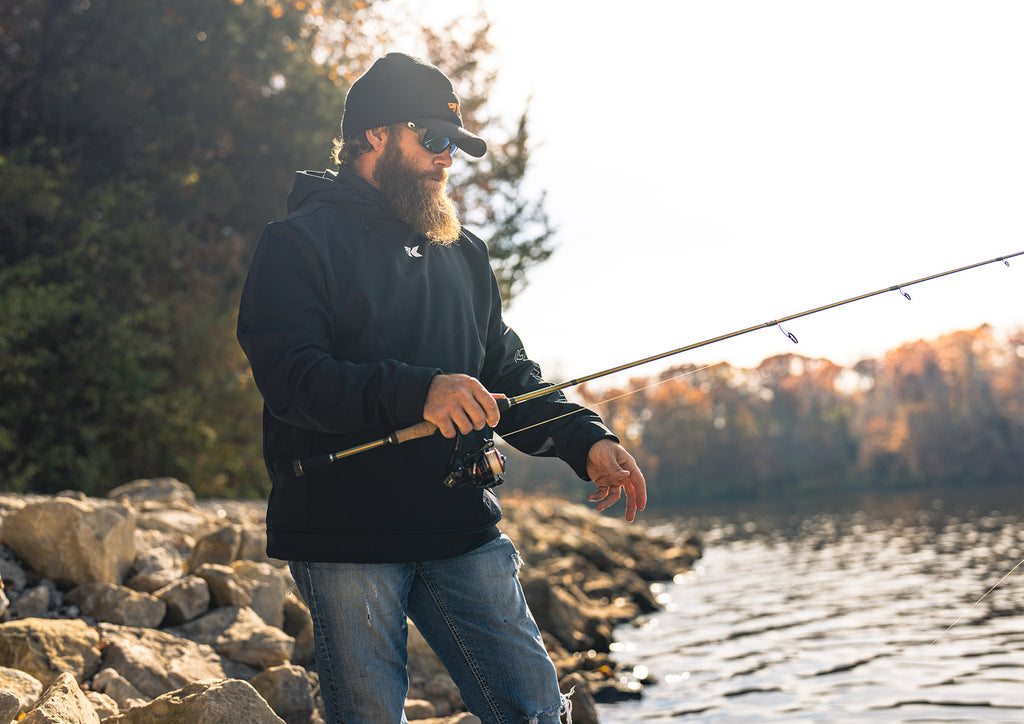 Bank Fishing Tips You Need to Know
When many of us started fishing, bank fishing was how it all began. I recall as a kid just heading over to a lake and never realizing that there were other ways to fish. As we grow, we realize that fishing from boats or kayaks provides us with even more opportunity to fish but many of us do not have access to a boat. Fishing from a bank is simply more convenient in carrying your gear and satisfies the urge to fish when we would like to go. Let's go over some simple tips to maximize your opportunity on the water.
Gear
The type of gear you are looking for greatly depends on the type of fish you are targeting. I am sure that many of us have seen what I call the "walkers". Bass fisherman casting out with their jigs working a spot for a few casts at different angles, called fan casting. If they don't get a strike, they just continue walking down the lake until they find a bass that hits. These anglers are normally using medium size rods up to 7' to cast out and present their baits to whatever fish may be out there. As far as the reel, they are normally using baitcasting reels like the KastKing Speed demon series or if they are doing more finesse type baitcast fishing, they may be stepping up to the new Kestral BFS reel which allows longer casts using very light bait. Other fishing from the bank like for catfish, carp or bait type trout fishing is a style of fishing where you cast out your bait and normally post the rod at an angle and leave it until you get a bite. Fishing in this style depends on where you are trying to cast it. I bring out a longer 7'6" KastKing Resolute paired with a Sharky III spinning reel for the longer casting areas. For shorter fishing closer to the bank, I have a 6' KastKing Perigee II rod paired with the Spartacus II reel that I absolutely love and believe that this combination is the best in class together.
Weather
I think it is well understood that the style of fishing you are doing depends alot on the weather and the temperature of the water. In the summer when the entire lakes eco-system is active I will present a totally different kind of fishing then in the winter. When we have a strong sun and the water is warmer, I will often bring out two rods to fish with. I really enjoy casting out and hunting for catfish and just bait and waiting the rod. For my second pole I bring a very short rod, like 6' UL like the KastKing Zephyr rod that is so brght the lake watches me from afar. I use a 500 size ice fishing reel and really enjoy catching all the crappie and bluegil close to shore with my son. Passing off a rod to a kid is so satisfying as they can enjoy reeling in a little active bugger themselves while simply walking around the bank. When we hit the fall or transitional weather I enjoy bass fishing more and trying to find holes and structure that I can reach with either a longer 7'6" rod if needed or skipping under docks using a nice 6-7' rod paired with a smooth baitcaster. In the winter, I will post up and fish spots looking for trout off the bank and once again, depending on the park or location I am fishing, I will change my style of fishind and ths the gear I am using. Winter to me is all about ultra light and finesse fishing so everythind I use is stepped down to 4 - 6 lbs braid and 4 lbs mono or fluorocarbon line. I will try and work areas that has produced for me in the past or be on the lookout for reports on where the fish were stocked to go and grab 'em up!
Terminal Tackle and Bait
Like I mentioned above in the winter, all of my gear is UltraLight and my fishing slows down and is far more focused on a finesse style. I personally use light wire hooks like mosquito type to present the most natural presentation possible. For trout I am using either a size 10 ultra light mosquito or a treble hook with dough baits. When fishing for bass or catfish, I can step the line up to 8 lbs but often use fluorocarbon leaders. For Bass, I want to reduce the opportunity of the line being seen in bright sun and top water fishing and for catfish I do not want their gritty teeth and death rolling to pose a risk of breaking off. Keep in mind that bass really love that structure so when hooked they will often turn and burn, meaning they will head right into a I am a big fan of circle hooks so will often be using 2/0 light wire circle hooks to give the bait the most action possible. For catfish I really like to use dough bait but will normally use it in combination with mealworms to get them over to me. I have been playing around with scents and UV baits for a while for bass and I don't see a noticeable difference in bites. Maybe just the fish I am going for in my area but for me, it's not worth it when it comes to bass.
Whatever kind of fish you are focused on, bank fishing can prove to be so satisfying. It would be difficult to argue that it is just the most convenient style of fishing and can be enjoyed by everyone with little to no investment. One final tip is that like all styles of fishing, time to explore the spots on the banks and understanding the way the bait and water acts is essential. There is no shortcut to experience and time near the water will prove to benefit you in the future.