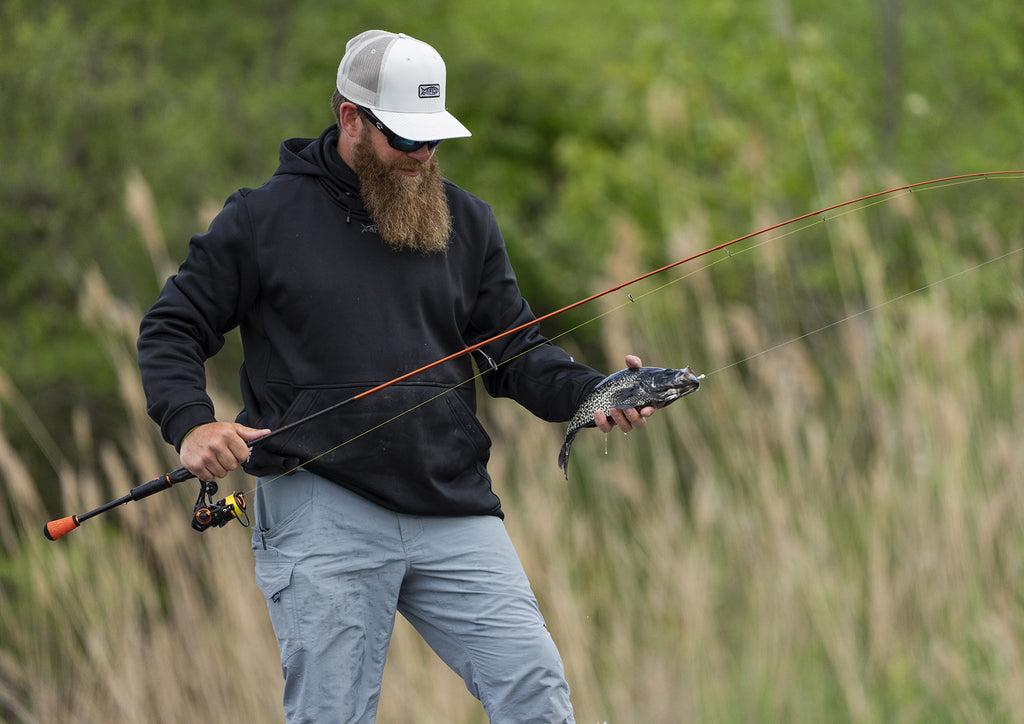 Crappie Fishing: A Beginner's Guide
Overall any panfish action can be some of the most fun anglers can have on the water, but crappie fishing can be downright awesome! They are easy to catch, taste pretty good in the frying pan, and most of all, put up a decent fight on light tackle. They also make for a great option if you want to get youngsters into the fishing game. We all know that kid's attention spans always require action, so catching fish-after-fish will surely keep them occupied. Although I have caught my fair share of crappie, I would no way call myself an expert. For this, I turned to two buddies of mine Alberto Knie and Jim Johnson (Last Cast Customs) for their input.
Before we get into the nuts and bolts on crappie fishing, let's look back at a famed day on Eldred Preserve in New York. I was invited up to do a little fishing on the ponds, and was meeting Alberto there. As always, Al was running a tad late, so I hit the water in the one of the boats. When All arrived, he was already making casts when I headed back to pick him up. On one cast a fish exploded on a small popper. I thought Al had a good largemouth, but low and behold, it was the largest crappie either of us had ever seen. The fish pushed past the 16-inch mark before quickly being released. The reason I mention this is because most anglers feel crappie are just small panfish, but in actuality, they fight hard, get to be a decent size and will hit a wide variety of lures and jigs.
Alberto and Jim's crappie fishing tips
"Crappies are by far my favorite panfish to target, and for many reasons. They make great table fare and are incredibly fun to catch. If you don't believe me, just watch any freshwater personalities targeting crappies and you'll seldom see any catch-and-release practice going on. In fact, crappies are often tossed right into the cooler."
Al has caught these feisty fish in a many states up and down the east coast. In some states they are referred to as paper mouths for their light and frail mouths. In the southern states, they are referred to as specks. 
According to Alberto, "The key to crappie fishing is light tackle and that tackle connected to fluorocarbon leader.  A simple live shiner with a float and split shot will do the work. They can also be caught on tiny soft plastic grubs and if you are a topwater enthusiast like me, you can easily fool them with tiny topwater poppers early in the morning. They like to hang out near just about any structure like rocky drop-offs, hanging trees, shady spots near shore.  The key to success is finesse and keep in mind these fish gather in schools and once you catch one....there is a high probability that you can fill your cooler."
Jim Johnson fishes for crappie mainly in the northeast, and has had his fair share of full coolers of these fish, especially while ice fishing. When I spoke to Jim he said, "Crappie fishing is not only fun but can be addictive because they are easily targeted in all seasons. The fish make a great way to get the kids started fishing, and keep them occupied as well."
Jim also went on to reinforce what Alberto said above. "Crappie are very structure oriented such as tree limbs, grass beds, brush piles or docks."
Catch 'em up
For crappie fishing, like both Alberto and Jim said, small soft plastic baits, small spinner type baits or live minnows are all optimal choices. And, like Al said, and proved on the largest crappie I ever saw, small poppers will get a whack too. For me, my largest crappie came on a crankbait meant for largemouths while fishing VIP Adventures in South Carolina. The bait was a larger 2.5 size, and the crappie didn't even think twice about hitting it. The point here is that although there are steadfast options for crappie like live bait, small jigs and spinners, they will hit just about anything, depending on when and where you find them.
As for technique, light tackle like the KastKing Perigee II Fishing Rods (Spinning / 6'0" / Fast-Medium-2Pcs) or similar, paired with a KastKing SFS spinning reel in size 1000 is a great set-up. For line, just to make the distance casting easier, go with 10-pound test 13X Finesse Braid Line with a Kovert 6-pound test fluorocarbon leader.
Crappie are school fish, meaning they run in pacts unlike some species that will roam by themselves. If you find crappie, you can bet there are more there, like both Jim and Alberto reinforced. Checking with local tackle shops and fishing reports for the area you live will give you the heads up as to the best bodies of water to target.
Crappie fishing is fun for young and old, so grab some gear and hit the water or ice for crappie fishing this winter and next spring.