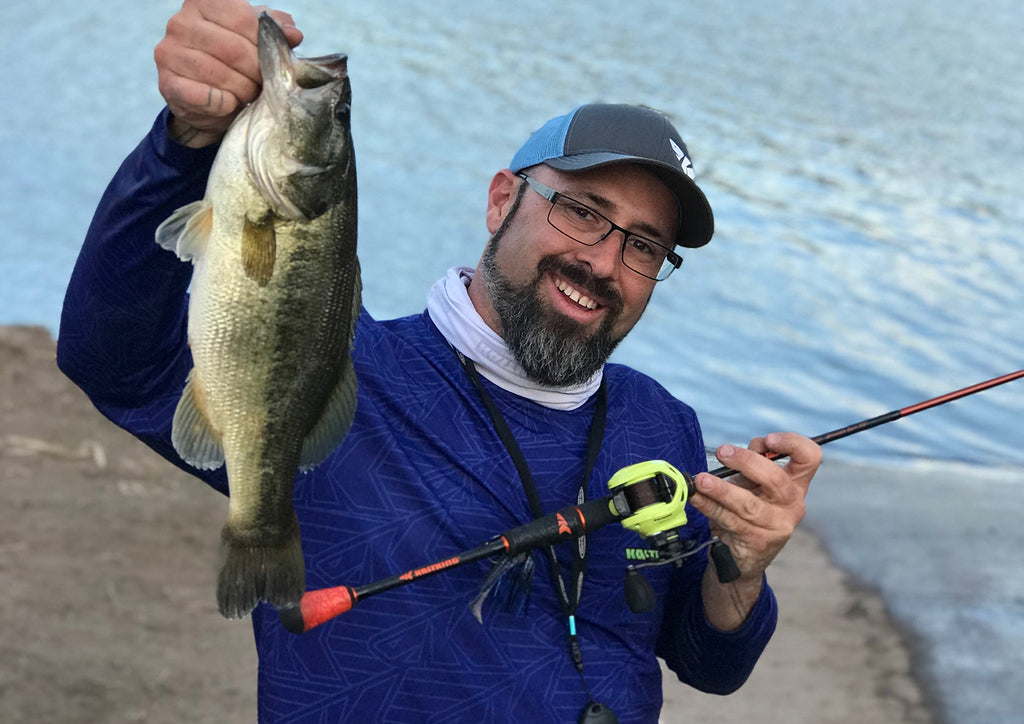 Freshwater Bass: Banging Cranks
There is no question in my mind what lure I throw more than any other in my bag when bass fishing – a crankbait. You can use crankbaits as search baits, run em deep, fish them shallow, and use them spring, summer, fall and winter. Bottom line…crankbaits can find and catch bass! For bass fishing however in particular, there is one way to use a crankbait that many anglers will overlook. Banging it off any structure or grass you can find, including stump fields, blow downs, lily pads or various other weeds.
This bass was caught by the author after his crankbait bounced off a tree limb in shallow water. 
Bang 'Em…but you may lose some
Banging crankbaits is not new, and in fact pro anglers on the bass circuit have been doing it, and writing about it for years. In one of the Bassmaster Classics I covered, Kevin VanDam walked away on top by fishing an area quite small, and within 50 yards of three other top competitors. He won by throwing a square-billed KVD/Strike King 1.5 and 2.5 crankbait in chartreuse with a black back. The other guys were throwing cranks too, how come he outdistanced them by 10 pounds at the final weigh-in? The main reason was his approach - banging and twitchin' it whenever it hit anything – rocks, wood or grass.
Why a lot of anglers shy away from this bass fishing technique is simple; you "will" lose lures and you "will" get hung up. Nothing is more frustrating than losing your favorite lure, or spending five minutes jerking and swinging, trying to free a stuck crank. And, once you bury a crank in wood, you can forget about a bass hanging around while you jerk, tug and pull.
In my opinion, while bass fishing, the best crankbait to bang off something is a square bill. They deflect better than all others, and come in a variety of sizes from deep divers to super shallow running. I use a variety of cranks, but for banging and deflecting, I opt for either the KVD 2.5 by Strike King in sexy shad, black back chartreuse or a bream/bluegill pattern I also use several custom cranks made for me by my buddy Jim Johnson of Last Cast Customs.
Deflection of the crankbait is something that triggers strikes by wary bass, or bass that are not actively feeding. It also will attract strikes from bass that are in an aggressive state as well. Bottom line is that a deflected crankbait will get hit.
The gear
For deflecting crankbaits, I use 12 to 17 pound test KastKing Kovert fluorocarbon line. Fluorocarbon sinks and adds action to a crankbait. The line stretches minimally and is great for ripping through grass as well while bass fishing.
On the rod and reel end, I like the KastKing Bassinator with 6.6:1 ratio or the Royal Legend II – 200 that has a ratio of 6.4:1. If your wallet allows it, opt for the Bassinator, but the Royal Legend will fit the bill as well. The Speed Demon jig/worm rod rated for 10-20 pound test is a good choice. Another option would be the KastKing Cliff Crochet Spirale Series in 7 foot length. This rod is rated for 10-20 as well, but the slightly shorter length and spiral wrapped guide design will aid in accuracy. When bass fishing, and banging crankbaits, accuracy can also aid in your success.
Catch 'Em Up
One of the biggest issues, and the reason I use fluorocarbon rather than braid while bass fishing, is you do not want to set the hook on the structure, thinking it is a bite. The KastKing Covert fluorocarbon is more forgiving than braid in this regard. Detection of the bite will get sharper the more you fish. A simple rule is do not set up too quickly, and try to sense movement on the end of your line, rather than the dull sense you get when hung up. A bass that has eaten a crank will usually head away the instant it grabs it.
One of the biggest keys to deflecting in my opinion, is the retrieve. Most anglers when using crankbaits use a high speed retrieve. For deflecting, you need to slow it up a bit. Although there are times when I am virtually crawling the crank, for the most part, it is a mid-range speed – not too slow, but not speed burning. By slowing the speed of your retrieve, the deflection will be enough to entice a bass, and enough to easily detect a "bite" rather than a "snag."
Banging crankbaits is a surefire way to entice a strike. It is fun, not that difficult to master, and will definitely add a technique to your arsenal, making for a more enjoyable day on the bass front.
Trees like this are perfect areas to "bang" a crankbait.
Next time you head out bass fishing, grab a few square bills and try banging them off some form of structure. I not only guarantee you will catch fish, I will also guarantee you will get hung up or lose a lure or two. Be patient, put in your time and the lost lure and snag will become minimal, but the hook up ratio will drastically increase!