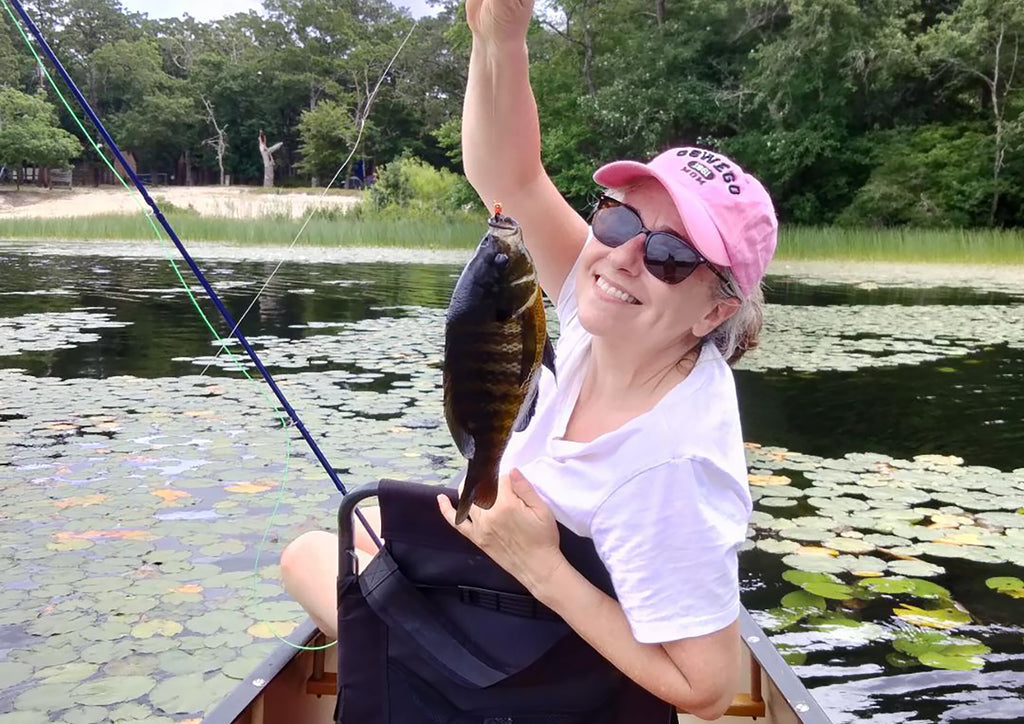 Fishing for Bluegill: Simple Techniques and Tips
Are you new to the game of freshwater fishing? How about trying to get the kids or better half into fishing? There is no better way I can think of then starting off with bluegill fishing. There are tons of fishing tips out there where bluegill fishing comes into play. Anglers can catch them on light tackle rods and reels or fly rods with small poppers and tiny flies. Bluegills cannot resist a live nightcrawler or meal worm, and absolutely love small insects. 
When I was a young boy, my first fish ever was a bluegill. My good buddy Steve Sundqvist and I fished a pond in East Islip, NY – Brookwood Hall. We had great shorebound access as Steve's dad did a lot of painting for families that owned houses. The families never minded Steve and I "cutting" through their yards to gain prime access. We would go there with live nightcrawlers, bobbers and small number 6 or 8 beak style hooks. We could catch a hundred a day without even trying hard. Most of our 'gills were released, but we always kept a few for my mom to fry us up for dinner. This same lake also accounted for my first ever largemouth bass!
Find the Beds
To find bluegills, the chore is easy. On virtually any lake they inhabit, you can easily spot their beds from the shore. They will look like hollowed out sandy circles close to shore in water depths usually under 4 feet deep. Depending on where you live, bluegills can spawn up top five times a year! The spawning process begins in spring, and can last right through the summer months. Due to the amount of bluegills available, fishing tips for bluegill will apply throughout the year. 
If the beds are being guarded, there will still be enough bluegills roaming around to entice into biting. Just like any other fish on a bed, a good tip would be to start your lure, fly, worm or other outside the area of the bed and move it onto the bed. Any fish guarding a bed will react to an intruder.
The Hot Baits/Lures
Bluegills feed on small insects and fry, and absolutely love raiding bass beds for eggs. With this in mind, one of the best bluegill baits is the Berkley Gulp Alive waxies, minnows and honey worms, and their Power eggs. I like bright colors so chartreuse is one of my favorites, with yellow or red a good second option. Another hot bait for bluegills is small nightcrawlers or pieces of nightcrawlers about an inch long. The last live bait I like is either crickets or grasshoppers, which can bought at most pet stores or some tackle shops depending on the time of year. 
On the lure end, small poppers and small spinners are a good options, with again, bright colors working well. If you plan on using a fly rod, small fly rod style poppers are the go-to. Another way to target would be the spin and fly or float and fly. Both methods are done with light tackle spinning rods. The set-up is a bobber about three feet away from the hook. Make your cast, then slowly reel in, with the occasional pop of the rod for action on the fly or popper. The bobber in essence is just added weight to able to cast the small fly or popper meant for fly rods. 
For the rod and reel, keep it simple. A light action 6 foot to 6-foot 8-inch rod rated for 2 to 8 pounds and a size 2000 reel is all you need. Spool up with 6 pound test monofilament line and you are good to go. On the terminal tackle end, stick with beak style hooks in size 8 or 6. I prefer 6 as it helps prevent deep hooking the fish. If you are fishing with kids, and the fish are on the small side, drop down to size 8 or 10. Bluegill fishing is also a great way to teach the kids catch and release as they will be catching quite a few fish. 
Fly Fishing Too!
I am not a big fly fisherman, but do know quite a few guys that love catching bluegills on the long wand. I recently spoke with Paul McCain of River Bay Outfitters in New York. I asked Paul, "Are bluegills a good specie to target on the fly rod?"
Paul replied, "Bluegills are one of the best fish on the fly rod for beginners. They are in a lot of waters throughout the states, eager to take a fly and fight harder for their size than some fish that are much larger. My choice of equipment would be a 9 foot rod in the 4 or 5 weight. Any reel would do as they don't pull line off, and the best line would be a floating line. You don't need to spend lot of money on a high end fly rod and reel as most of your casting will be done in a very close area. Any trout flies would work but I like to use small panfish poppers."
If you want a good fly rod and reel set-up, complete with all you need including a few flies that will work on bluegill as well as trout, check out the KastKing Emergence Fly Fishing Combos.
Bluegills are Fun
Bluegill fishing can be fun for the entire family. They are easy to catch and can be caught throughout the year in virtually every lake and pond. In fact, bluegill can also be found in some slow moving streams. For hard water ice anglers, bluegills are a mainstay in the winter months. 
Bluegills also taste great when fried up, but for this you want to target fish over 6 to 8 inches and larger for the best piece of meat. Last but not least, bluegills are the perfect fish to get the kids started and hooked on fishing.