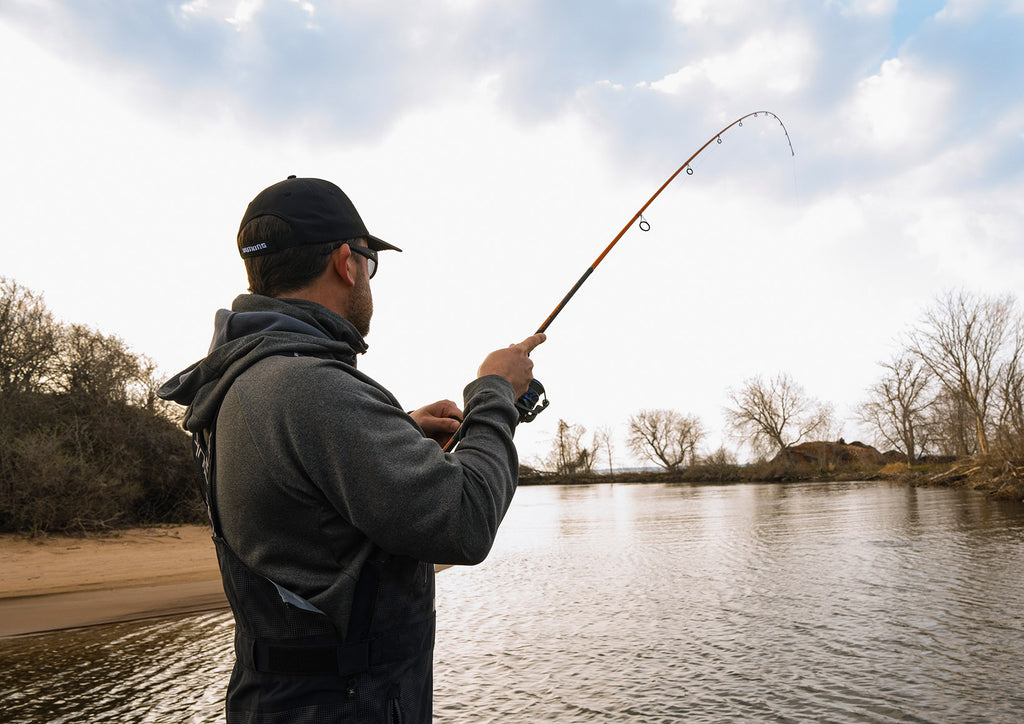 Patrol the Banks for Smallmouth Bass
It is no secret that I love bass fishing of all types – largemouths, smallmouths, spots, striped and especially those huge Florida strain big boys. But nothing is more thrilling than fishing the banks for smallmouths. We all know that smallies fight like mad and will keep fighting right until the very end! Fishing for smallmouths from the banks, especially river banks, lakes and feeder creeks is challenging and rewarding. If you love bass fishing, then bank fishing for smallmouths should be on your agenda this year. 
I remember fishing a tournament on Lake Lilinonah several years ago with my good buddy Rick Holmberg. We were staying at a motel that backed up to one of the creeks leading into Lili. Rick was telling me how the year before, when he had some time to kill he absolutely crushed smallies to 2 pounds in this dinky little creek that was no more than 20 feet wide. He said he bailed fish for over an hour, all on small swimbaits on a lead head. 
Location, location, location
Smallmouth bass can be found in a lot of rivers and lakes throughout the US. In the Northeast where I live it is smallmouth heaven with big fish and opportunities galore. My son-in-law lives in Colorado and there are countless banks to patrol in search of smallies. The Pueblo Reservoir comes to mind and is well-known. The south and west coast also hold a ton of fish. 
The key to smallmouth bass is finding what the best habitat for spawning is, and what kind of forage comes into play. Smallmouth will spawn on any hard surface – rock, gravel, logs, in lakes and reservoirs, and in rivers, will look towards marinas and boat canals to get away from strong currents. Identify these areas on any body of water and you can locate and catch smallmouths from the bank. 
Once you have arrived at the lake or river, scope out holding areas for smallmouths. In river systems look for eddies forming behind boulders. Bass will hold in this "quiet" water waiting to ambush bait. On lakes and reservoirs, look at the shoreline and find an area with a lot of rocks leading into the water. Crayfish – one of the highest food sources for smallmouth bass love to hide in the rocks. 
Pick Your Arsenal
Bank fishing for smallmouth bass means casting to objects and current breaks making sure your offering attracts the bite. There are a lot of different lures you can use but for me, there are really only five you need to score, and score well. 
Small swimbaits – small swimbaits like Keitech on a 1/8 to 1/4 ounce jighead can be bounced off the bottom, or slowly reeled in just above weed lines and structure.
Jerkbaits – Jerkbaits are deadly on smallmouths and can be cast and retrieved, or worked in a methodical – pause-jerk-pause retrieve. 
Drop-Shot Baits – small drop-shot style baits are great in current and along rocky bottoms and will always get bit.
Crankbaits – No question, to me, crankbaits are my number one lure for bank fishing smallmouths. I can work them in current, around structure and up and over rocks. Crankbait colors also mimic a lot of different baitfish.
Poppers – Last but certainly not least would be small poppers. Poppers fished around structure or in eddies on moving water are deadly smallmouth baits. 
Rod, Reel and Line
When I fish the banks for any species, I carry at least two different rod and reel set-ups. For fishing smallmouths however I carry three. I like a longer rod in the 7-foot 6-inch class like the KastKing Resolute Spinning Rod 7'6" (Fast-Medium Heavy) paired to the new KastKing MegaJaws Elite Spinning Reel. Round out this combo with 10-pound test KastPro 13X braided line and 10-pound test Kovert fluorocarbon as a leader. This combo is best used for throwing small swimbaits and poppers.
The next rod and reel combo is the KastKing Speed Demon Pro Tournament Series Rod Spinning 7'0" (Moderate Fast-Medium Light-Shakey Head) and the KastKing size 4000 Zephyr Carbon Spinning Reel. On this combo I use the same braid in 10-pound test but opt for 6-pound test Kovert fluorocarbon for the leader. This is my drop-shot rod and reel combo. 
The last rod and reel combo will double as the rod to throw crankbaits and Jerkbaits. Although the rod is a little shorter than what I would normally use for crankbaits, the KastKing Perigee Jerkbait rod (The new Perigee II Spinning 6'7" (Fast-Medium) is very similar) and the MegaJaws in 6.5:1 gear ratio. There are a lot of other reels that fit this category, so pick one you like. On this rod I use 12-pound test Kovert fluorocarbon alone. 
Close It Out
Like any bank fishing outing, you need to be prepared to walk. Utilize the KastKing tackle back packs or bags to make the trek around your favorite honey hole a breeze. These bags will also enable easily carrying several rods, plenty of gear, water, lunch and more. As for rods, I prefer one piece rods, which at times can be troublesome carrying into the hot spot. KastKing makes a wide array of two piece rods, especially in the Resolute and Perigee II lineup that will match my preferred rods. 
Bank fishing for smallmouths can be very rewarding, and in fact some real hogs have been landing fishing the banks of rivers, lakes and reservoirs.