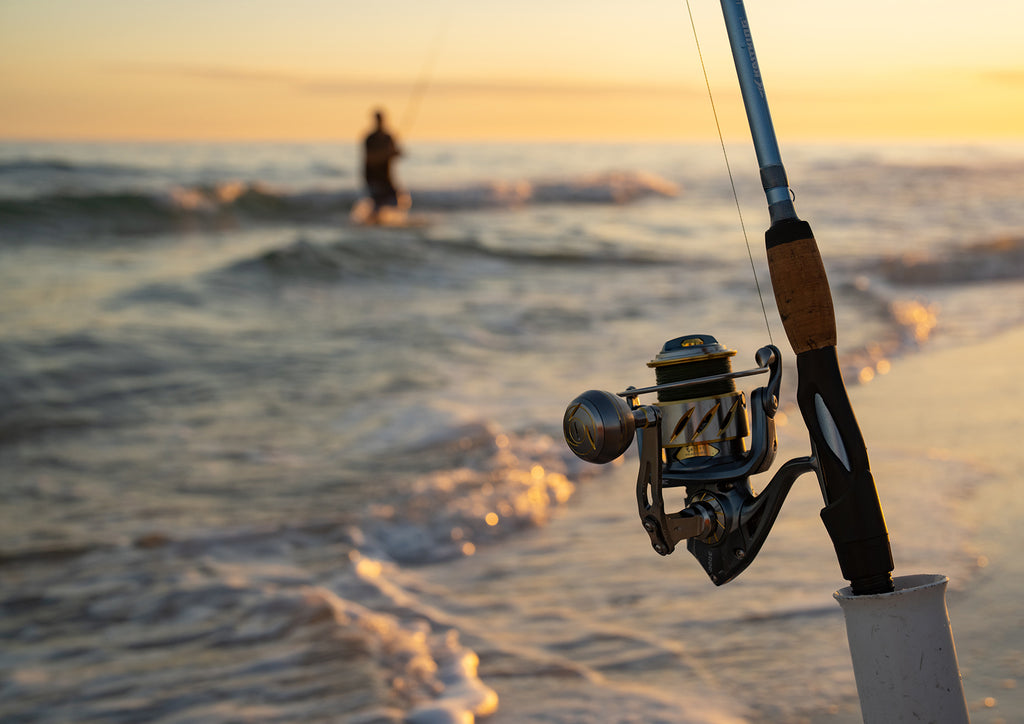 Fishing Tips: for Beginner Surf Fishing
I have been surf fishing the Long Island waters since I was 16 years old. And, although I fish all types, with a heavy play on the freshwater side, surf fishing has always been a fishery I loved most. Surf fishing is challenging to say the least and involves a lot of effort to locate fish, work the beaches and learn what it will take to score big time on striped bass, bluefish and drum from North Carolina to parts north, California corbina on the west coast or Florida's bonefish or sea trout. Surf fishing is challenging, but believe me, if you put in your time, the task of finding and catching fish will be easy to master. 
As I look back, my first striped bass was a fish of 28 inches long, caught on the back side of Shinnecock Inlet. I was new to the game, but had gotten solid advice from my mentor and good friend, the late Fred Golofaro. He had told me to get a red and white, 7-inch Bomber and head to Shinnecock. After an hour or so, and as the tide started ebbing, I cast my Bomber, then reeled ever so slowly as instructed. All of sudden, the whack was felt, I set the hook and played my first ever keeper size striped bass to the beach. One quick lesson, instructions followed and a bass caught!
The Gear
Before you can begin surf fishing, you'll need to get the proper gear. First off, you need a pair of chest waders and a good quality foul weather top. After donning the waders, with the top over them and "not" tucked inside, finish with a belt to secure and somewhat seal water from entering should you fall. I guarantee, at some point, you will. If you plan on fishing areas where there are boulders to climb onto or walk, then you also need a pair of Korkers for your waders. Rounding out the gear portion is a good pair of pliers and sheath for your wader belt and a surf bag. A surf bag hangs on your shoulder or is a smaller belt style. It is not a hand carry tackle box or a back pack. Many times while surf fishing you will be wading into the water, so having your bag with you enables lure changes and cut-offs to be taken care of without going back to the beach's shoreline. On the wader belt you want a good pair of pliers like the KastKing Cutthroat 7-inch stainless steel, complete with lanyard. 
The author, full rigged for rocky terrain – Korkers, waders, surf bag and foul weather top.
The Tackle
Depending on where you fish, and the species you plan to target, will determine what lures you will carry. Although surf casting can be done from the beach with cut baits, for this piece we will focus on artificial lures. I fish the northeast for striped bass, bluefish and weakfish. These are the three highly targeted species and most available. My surf bag will be made up for day or night angling, and cover a wide array of lures to target these three. Included in the tackle will be extra leaders of your choice – pre-tied – and ready to go. A leader wallet will also be on the wading belt or attached to your lure bag. 
The 10-foot Kong surf rod matched to a 5000 size KastKing Kapstan Elite Spinning Reel and braided line will have you catching your favorite specie. 
On the rod and reel end, you have to make sure you fit the rod and reel to your size and age. In surf fishing, casting is one of the items that is super critical, so having the "right" combo is paramount. For me, I use an 11-foot Lamiglas Super Surf rod and the new KastKing Kapstan Elite Spinning Reel in either size 5000 or 6000. On the other hand, my grandson Alex, who is only 7, would be better off with the 8-foot KastKing Estuary rod and KastKing Sharkey Baitfeeder III reel. For my area, and the type of surf fishing, I use 20-pound test KastKing Super Power Silky 8. Some anglers prefer 30-40-pound test, but in my opinion, the extra casting distance you can get with the 20 far outweighs the heavier test line. If you are worried about cutoffs due to sharp rocks or barnacles, a tight braid line in 20 or 50 will cut just as fast when rubbed. For leaders, I have been using Ande pink monofilament fishing line in 30 or 40 pound test since I began surf fishing. I use leader lengths of between 30 and 60 inches with a duo lock snap on one end and a black barrel swivel on the other. 
The Cast
It may sound a bit crazy, but learning how to cast is paramount when surf fishing. There are two vital instances where your casting ability will come into play. Even if you are the only one fishing, distance and direction will be critical. 
For distance, there will be times where fish may be off the beach a bit, or at the end of rip or sand bar. Reaching those fish with your lure could mean the difference between catching and just tiring out your arms casting. Direction is equally as important. You want to be able to put the lure in the "strike zone" or in a place where current will bring the lure into that strike zone. If you cannot precisely hit the spot – again there may be some tired arms and no fish. The only way you can learn the art of distance and direction is to practice. Go to the beach on a quiet windless day. Use a bank sinker of 1 ounce and work on distance and where you want the sinker (lure) to land. 
For the Northeast, the author's surf bag will include a variety of day and night fishing lures for all three species – stripers, bluefish and weakfish.
Baitfish
Depending on your area, baitfish will vary. In my area, we have larger baitfish in the way of adult bunker (menhaden), herring and mackerel. At certain times of the year, sand eels and spearing, or baby weakfish will be the food source, especially in the fall on large blues and stripers. Finding the baitfish is one of the most important factors to succeeding in surf fishing. Talk to your local tackle shop or hit the web and research the different types of smaller fish that migrate through your home waters. Once you home in on the bait, I guarantee, you will find the big boys. 
The Reward
Surf fishing, which to me puts the angler against the fish, is nothing short of exhilarating. You have to work different tide stages, wind and current to make the perfect cast to where baitfish may be getting hammered by large predators. In my neck of the woods – the Northeast beaches - fish like striped bass to 40 plus pounds, bluefish to 15 plus and weakfish over 10 pounds are all obtainable. 
Nothing is more rewarding than beaching a large bass, blue, drum, California corbina, bonefish or other species in the surf. You want a thrill? Then grab some surf fishing gear and hit the beach.