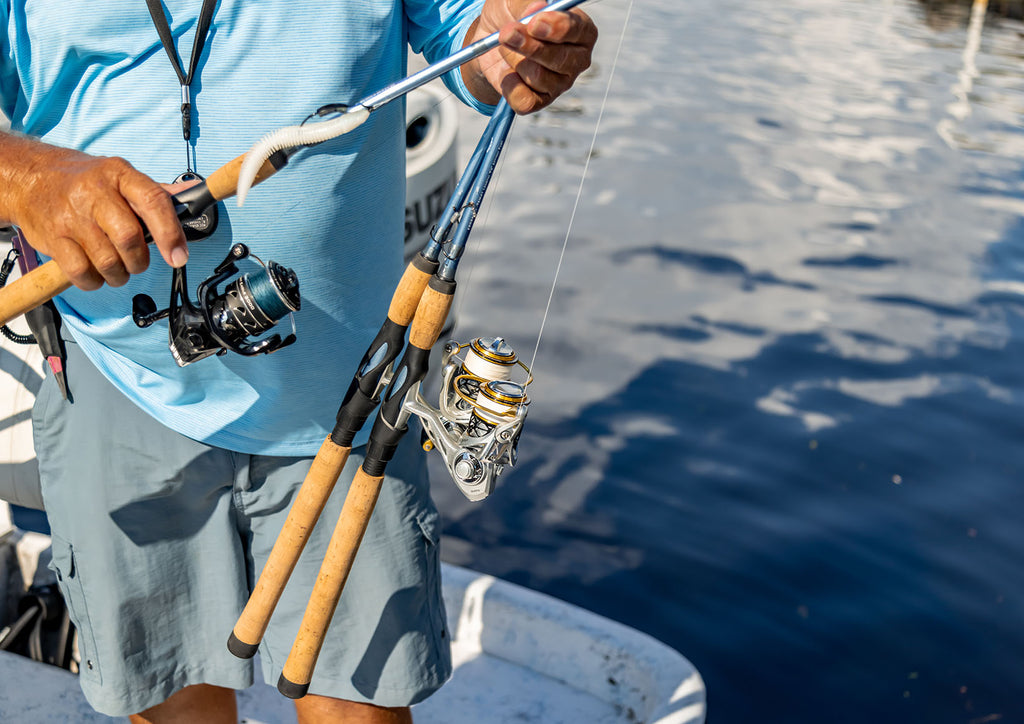 The Top 10 Tips to Keep Your Saltwater Pole in Top Shape
Saltwater fishing poles are incredibly rugged pieces of equipment. That said, they are not indestructible. Care should always be taken with fishing equipment, ensuring your gear's longest possible life span. A few extra minutes before, during, and after a fishing trip with these top 10 tips will keep your saltwater pole in top shape for many seasons to come.
Tip 1: Clean your saltwater fishing pole thoroughly after each use. After fishing, make sure to rinse your saltwater fishing pole with fresh, clean water. This will help to remove any saltwater residue that may have built up during your fishing trip. Make sure to use mild soap and warm water. Before storing, rinse all the soap off and dry the pole, especially the guides and line ties.
Tip 2: Inspect your fishing pole for any signs of wear and tear, such as fraying or rust. If there are any noticeable signs of damage, replacing the part before continuing to use the pole is best. Areas such as the grips and eyelet mounts are particularly important to maintaining the integrity of the rod.
Tip  3: Make sure to lubricate your saltwater fishing pole regularly with good quality, corrosion-resistant lubricant. The thin coat of anti-corrosion lubricant will keep the eyelets from wearing out and damaging your pole. The eyes are replaced with rollers for heavy trolling rods, where lubrication is even more critical. On larger rods where the reel seat is metal, this will ensure that your reel is mounted securely and can be removed without a hassle.
Tip 4: Regularly check the guides, line ties, and reel seat for any signs of damage or wear and tear. If there are any noticeable signs of damage, replacing the part before continuing to use the pole is best. Most of the parts of a fishing pole are easily replaced, and getting a jump on minor repairs is a far cheaper option than waiting for the whole system to fail.
Tip  5: If you are storing your saltwater fishing pole for long periods of time, make sure to thoroughly clean and dry it before putting it away. Store the pole in a dry, ventilated area away from direct sunlight. A damp fishing pole is likely to attract dust or corrode depending on the environment it's stored in. direct sunlight can damage the fiberglass that most poles are constructed with. In order to keep the fiberglass in peak condition, limited sun exposure is essential.
Tip 6: When traveling with your saltwater fishing pole, make sure to store it in a secure case. This will help to prevent damage to the pole and other equipment. For long-distance trips in a car or airplane, a lockable impact-resistant case will keep poles from being broken or crushed when mishandled. For shorter trips, a rod bag or rod sock is ideal for keeping your poles from becoming snagged on seatbelts, tree limbs, or other poles.
Tip 7: When you are out fishing, make sure to keep your fishing pole in the shade when not in use. While it may not be possible all the time, this will help to protect it from the sun's harsh rays and the saltwater environment.
Tip 8: Make sure to tighten the reel seat before each use. This will help to ensure that the reel is securely attached to the pole. A loose reel will cause excess torque on the pole as well as the reel seat. Making sure the reel is properly locked into place will reduce the stress on the pole and provide a far better platform to reel In big fish with.
Tip 9: A few times a year, apply a light coat of wax to the pole. This will help to protect it from the elements and will also help to make it easier to clean. Most anglers consider waxing a fishing pole to be a chore and skip this step; however, one group of anglers has made this chore a part of their gear maintenance to great results. The fly fishing community has committed to waxing their fly rods, and the result is anglers have been able to keep their poles functioning for their entire lives and sometimes longer. A waxed pole is also easier to keep looking new, and who doesn't like shiny gear?
Tip 10: Pay attention to where you place your pole. While this step seems obvious, we can't stress enough the importance of paying attention when putting rods away. Even if not storing them long term, such as moving from one fishing spot to another, it is critical to secure your poles correctly. Many rods have been lost to the sea because they were not properly stored in rod holders before starting the boat. While not total losses, a majority of damaged rods that repair shops see are from anglers closing the tips in dorrs of their vehicles when the trip is done. Taking an extra moment to inspect where the poles are can save you a trip to the repair shop.
None of the ten steps listed is anything exceptional. They are basic care ideas ranging from a few extra minutes of after-trip Maintainance to ensuring the resting places of these poles are safe. Simple or easy as these may be, by completing them, you are already well ahead of the average angler in terms of gear protection. These ten steps are all that is needed to keep your saltwater pole functioning in top shape for many seasons to come. Why take the chance of losing the fish of a  lifetime to busted gear when a few minutes each trip will aid in your gear lasting your lifetime?