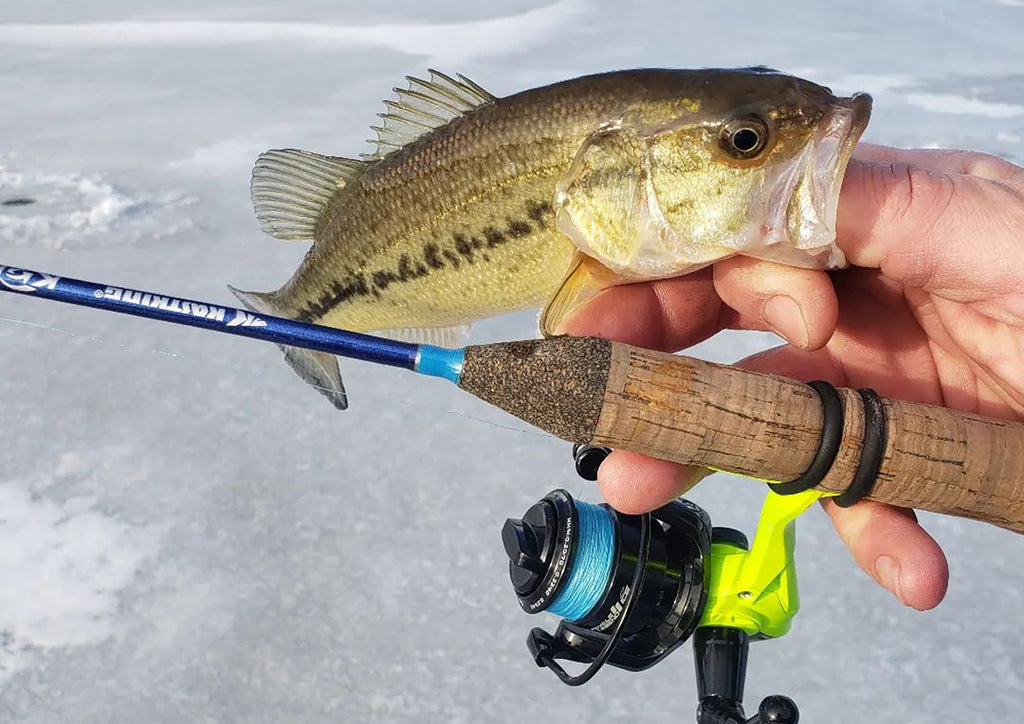 Ice Fishing: Everything You Need to Know
Many of you can share my excitement to head out and start ice fishing again. Winter is here and the frozen lakes will be ready to be fished, here are my tips to have a successful and fun trip on the ice. First and foremost I feel it important to address the very important safety concerns with ice fishing. I have been just a handful of times and have always been a bit apprehensive of getting on the ice. I am very much focused on how to be as successful as possible when fishing and but will emphasize the need for safety when ice fishing is concerned.. Please, please consult with your local tackle stores and community service groups to assure you have all of the safety protocols in place prior to going. Personal safety items such as floatation devices, ice spikes to walk and measuring the ice to reduce the opportunity of falling through should all be considered. With that said, I will move onto some ice fishing tips that I have learned when I have gone.
Gear
One of the most basic and unique items you will need when ice fishing is the fishing pole. Ice fishing poles are much shorter than many of the other rods you might buy since they are made for the angler to be right up next to the fishing hole they are at. Additionally, for those that are in tents or huts, you likely would not be able to fit a longer rod in the warmth and fish effectively if you did not have a specific ice fishing pole like the KastKing Konvert series. These rods are quite a great deal since much like the Perigee II line, they come with two tips so you can use them for different applications or fish sizes you may be focusing on.
As far as reels, I have always had good luck with a basic 500 series spinning reel like KastKing Royale Legend II. This reel was designed with a longer stem that allows the angler to keep their gloves on and still work the reel. A huge advantage for fishing in that cold environment. Since the depths you are normally fishing in are pretty shallow, the spool is also shallow so you can get plenty of low lbs test fishing line on it and still maximize the take up or Inches per turn (IPT) of the reel.
Tackle
I know that some anglers in different areas can fish up some real beasts while ice fishing. When I have gone, I am pretty focused on crappie and bluegill so everything I use is very small and light profile. Normally I have some basic mono line rated at 4 -  6lbs test and have tied on a low profile 1/16 - 1 /8 oz lead head with a size 8 hook. Tiny little gear will help keep everything natural and flowing in the currents below as lively as possible. Now you can try this with a lead head to fish on the bottom or you can add a float to the line to fish your hook from the top. Challenge here of course is knowing how deep to fish to present your bait in front of the face of the fish.
Another tactic is simply using a drop shot type rig by tying a loop and hook up from a suspended sinker from the bottom. In all instances, use the smallest and lightest hook you can get away with to emulate the most natural presentation you can.
Bait
Always trying to match the hatch of the area you are fishing will give you the best opportunity at enticing that bite. I have never had luck ice fishing with a neon or wild colored bait, that could be just where I have fished but I would always recommend taking a quick scan of the area you are in. Consider insects, critters and worms that fish might be eating and the colors those objects are when you are picking what you will use. My goto bait of choice has always been little worms like wax worms or spikes that seem to really attract the fish. These "worms" are really like maggots or larvae but seem to do well in getting the fish over. Not sure if the smell or that maybe they stay active in the cold that attracts them but they are always a goto bait for me. Another good bait to try that doesn't spoil, are the smallest plastics that are like worms with curly or flanged tails that help bring the fish closer to take a look. No matter which type you decide to  use I would always go with the smallest bait possible and work your way up. For color options, I always try using green pumpkin or brown to start with. If you are not getting bit try going a bit more flashy like chartreuse or reds. I normally drop a bait and work it  very slow and methodical. A slight twitch or reel can help draw attention but too much seems to really scare the fish away. Another tactic that does not seem to work well for me is additional scents. I am an avid user with many kinds of fishing but just do not find that it improves my catch rate with ice fishing.
However you fish just enjoy yourself and above all else, stay safe. Slipping on or falling through ice is never a good time and staying warm should be a key focus for you. Have a great time and relax a bit, best of luck!