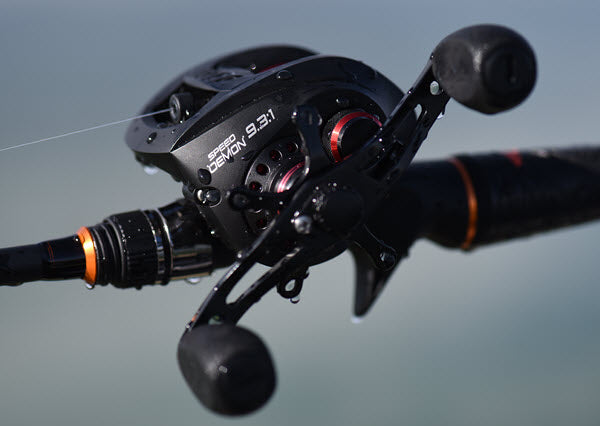 Drag Setting, Pressure and Gear Ratio
I am on social media a lot, with most of my time spent on fishing forums of all types. There is always a debate available to learn from and to shake your head from side-to-side wondering where these myths came from. One of the most intriguing things I hear is when an angler says, "Wow, that reel has 30 pounds of drag pressure available." You do realize that if you apply 30 pounds of drag pressure on a reel you should be using line in the 140-pound test class! Great news if I am offshore chasing giant bluefin, but not looking for cocktail blues, redfish or largemouths. What I will say however is that reels that tout high drag pressure availability are not trying to get you to lock it up, but are making you aware of the strength and engineering behind their drag components. With this being said, no one will probably use the max strength (more on this down the line) of a reel's available drag pressure, but rest assured, the higher the rating, in my opinion, the smoother the drag will be throughout its range. Another common post I see is that the reel has a gear ratio of 8.0:1 so I have the ability to apply a lot of pressure while reeling. Gear ratio has nothing to do with applying pressure, it is just a formula that puts the line back on the reel. Pressure on the fish comes from your rod and your drag setting. Gaining line on a tough battle can be made easier by lower gear ratios while a higher ratio is great for a speedy retrieve.  
SETTING YOUR DRAG
Setting up your drag properly is very simple and can be achieved using a standard scale like the KastKing Digital Fishing Scale. The proper drag will be a percentage of the breaking strength of the line you are using, with the percentage varying for different reasons. For monofilament fishing lines, the general rule will be anywhere from 20 to 30 percent, depending on what the line is rated for. From various different internet readings, talks with tackle shop owners and my own experience, 20 percent is good up to 20 pound test. For 30 through 50, we jump to 25, and then after that up to 130 the drag should be set at 30-percent of the fishing line breaking strength. A braided fishing line is a different animal however. With zero stretch, you will need to downgrade by about five percent from the monofilament settings.
Open water fishing, with no underwater hazards like rocks, tree branches, barnacles or bridge pilings in play, your drag can be set at the lower end, but if these line cutting nuisances are in play, you might want to increase the pressure by about three percent. Otherwise, the fish may be able to pull himself into the structure before you can tire him out and get to the boat or shore.
Earlier I said no one will use the max drag available on a reel, however this is not totally true. There are times when you may want no drag. "What are you talking about, we always need drag pressure," says my son-in-law Isa. For example; if I am fishing a lily pad field with a topwater frog and 50-pound test KastKing Cast Pro braided fishing line, I want zero drag available as I want to winch the fish through the pads if needed. There may be other instances, depending on your style and targeted specie where "locking" it up apply. Locking up your drag is not a good idea for the most part. You risk blowing up your reel or your rod, so if you choose to do this, make sure you know the limits of the tackle you are using, and if really needed, back off the drag.
For my Estuary rod and KastKing Sharkey Reel, the drag is set at 2 pounds for the 15-pound 13X Braided fishing line. At 15 percent, it should be slightly higher, but 2 works for me. 
The proper way to set the drag is by spooling your reel with your choice fishing line – mono, braid etc. Next, attach the scale to a loop about 18 inches from the reel. Gently pull on the scale until the drag begins to let loose. At this point, look at the scale to determine the pounds of drag. If I am using 10-pound monofilament fishing line, my scale should be at about 2 pounds. Remember, this is just a point of reference and not carved in stone. You may want a slightly tighter drag or even looser depending on type of fish, where you are fishing, and what kind of "line cutting" debris may be in your way. I have always used the feel method when setting my drag, and for the most part when I do check with a scale, I am usually on the light side. Believe it or not, and I urge you to check it for yourself, 2 pounds of drag puts a lot of pressure on the fish.
LET'S TALK GEAR RATIO
The biggest key with gear ratio is what do you want? Do you want to be able to get your bait back to the boat or shore quickly? Do you want to be able to fish a deep diving crankbait – you know the ones that dig hard up to 18 feet down – all day long without fatigue. Are you a speed demon that fishes every bait fast? Or, are you fishing the deep where a lot of lead may be used. A fast retrieve reel may get it back up quickly, but I guarantee your hand will be hurting after a short period of time.
What you really have to understand with gear ratio, is it is just that – a gear ratio which equates to how many times the spool will spin with one revolution of the handle. For power situations you want a lower gear ratio, which will aid in cranking. For speed situations you want a higher ratio to take up line a lot quicker with each turn.
Another way to increase a reels performance is a power handle, which many manufacturers offer today. On all my Abu Garcia 6500C reels, I have the power handle. This does not add gear ratio, but it allows me to crank a little easier and still get the bait or lure in without fatigue while using a slightly higher ratio than without the power handle.
When I fish rattletrap baits, I want a fast retrieve as I like to burn them through weedlines. The KastKing Speed Demon 9.3:1 fits the bill nicely.
 The large handle on the Recon 20 makes for easy reeling, especially with its low 5.3:1 ratio.
Tom Melton is an expert in all aspects of inshore saltwater fishing and freshwater fishing. As an authority on angling he strives to excel while teaching others, and in his own outdoors adventures. Whether it is a freshwater bass fishing tournament, or recreational fishing with family, his skills and knowledge always shine. Tom has been an outdoor writer for more than three decades.