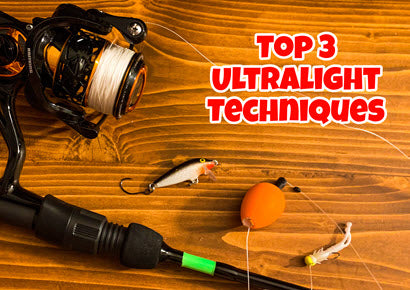 Top Three Ultralight Finesse Fishing Techniques
This Blog article is an excerpt from the KastKing video TOP 3 Ultralight Techniques Ft Hooked Up With Hunter Nodae. He explains the three best lures for light tackle fishing.
"Today we are going over the top three fall pan fishing techniques to help you get more fish in the boat this fall to winter transition. I'm currently in Florida and fall pan fishing is turning on hopefully we can go get on some today.
"I'm going to go over the top three techniques that I'm probably using today and as far as what I think is going to be working out there right now, and what I'm probably catching all my fish on right now. To begin with I think the number one thing for what I'm going to be using out in pretty much all situations, all seasons of the year, all time, but it's probably going to be the most productive and efficient lure today. I'm going to be using a soft plastic on a jig that's probably the most basic rig for fall pan fishing. But, let me show you guys real quick what I'm talking about. Lure number one is right here guys. This lure right here is that soft plastic jig that I'm talking about. You can really find any lures like these in pretty much all sorts of stores even Walmart probably has some lures like that. I mean brands such as Bobby Garland, Euro Tackle, things like that, you could probably find your different selection of jigs that will probably be perfect for what you're doing.
"The weights I'm probably going to be aiming for towards this fall are going to be your 16th to eighth ounce weights just because if I'm going say, for example, offshore I want to be able to find structure because essentially right now all those panfish are chasing down minnows and bait and that's kind of what I'm doing today. But today we're doing a little bank fishing so I'm probably going to use a little bit lighter weights because I'm in shallower water so 1/32nd to 1/16. Who knows I might even want to do something like that because really two techniques I'm going to be doing whenever I'm using a soft plastic jig on a jig head really what I'm going to start out doing is probably just throwing and casting kind of like a search bait just throwing and then just reeling it in. That's just a steady retrieve maybe a jig every now and then but nothing too, too fancy. I might even try on something a little bit different like a cricket creature style type bait just because I think that a lot of it sometimes if they're not feeding on bait they're feeding them bugs. There's only two things that bait fish like crappie or bluegill to keep beating on and that's minnows or bugs. So besides that whole swimming technique, whenever I use a lure like that creature bait I'm probably doing jigging.  Recently I had a friend who showed me essentially what he would do is he would cast out let it sink and he's practically doing something called yoyoing. Yoyoing is where you lift the rod and drop it and lift the rod and drop it and reel in the slack line so that's another technique I might try today.
"I'm going to go on to the next technique that's number one number two Number two is probably going to be a floating minnow style lure so kind of like this little Rapala balsa wood bait right here this minnow style looking lure. It's about roughly I'd say about two inches long. This is going to be essentially what I'm using this as is more of a top water than I am using it as more so a crank bait or anything like that. This top water what I like to do is I like to let it float up to the surface and what I'll do is I'll pop my rod down to get it to dive a little bit so this is kind of how I use it you can use these f5s or the f3s either one really works, but essentially that technique of using a hard body lure is probably my second go to because I can usually search out areas a little bit better. These two first baits are kind of more so search baits is what I would call them because I don't know where the panfish are going to be, especially right now because I haven't been out to here a little bit just because I don't really come out to this public water. Often it's really pressured and it's kind of hard to catch fish usually out here but this leads me to talking about my probably my the third lure that I would say it's probably going to be the most effective overall because when you find the biting fish this lure and rig essentially is going to help a lot.
"These are going to be really vital to use today. These are bobber stops. I believe the bobber stops probably pretty useful today as far as what we're going to find the fish with today because if we can find biting fish I believe we can probably find the fish in general. I don't know how I just said the same thing twice if we can find biting fish we can find the fish. Obviously we're going to find the fish, but whenever we find biting fish it's going to be used those bobber stops and these little tiny floats right here these floats are essentially tiny like probably only as big as my thumb nail floats and these are peg floats. What I do is I use that black piece and I point it up towards the rod tip and essentially I can use my bobber stops to set however much depth I really want to be using and fishing in. If I know where the fish are feeding obviously I can use this to focus more on what those fish going to be doing during that time. That's the three rigs that I'm using today. Hopefully we can get on some; hopefully we can catch a fish on each rig today. Focus is going to be find the fish first and also go and find some biting fish because if we find crappie I'm not going to lie, I'm probably going to see if I can bring a couple back, because if I find biting crappie I'm running back here going to get that cooler and bring it out there because I'm going to stay within regulation of course.  I really, really love catching and eating crappie so hopefully we can go find the crappie today guys.
All right guys, just going to show you a quick little overview of what I'm using today. Using the KastKing Zephyr with a KastKing Resolute rod and I think this is a six pound x13 Finesse Braid from KastKing. I think that's what I'm using and I'm going to start out with a soft plastic jig because I've been trying to target around these pads kind of just slow rolling near them and see what I can get and see if there's any fish hanging out around these pads hopefully find something.
To learn more about these three best techniques for ultralight fishing, please visit the video: