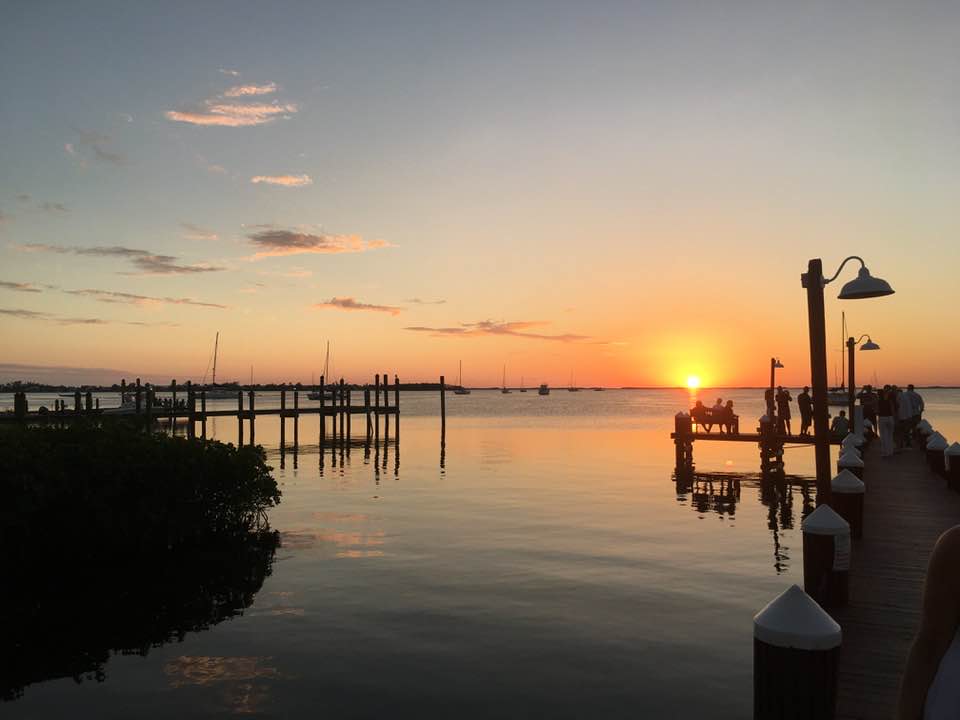 How to Improve Your Florida Keys Pier Fishing Game
The joy and excitement of pier fishing in the Florida Keys. There's nothing quite like it! Florida pier fishing is a relaxing and fun outing for all to experience. The Florida Keys is a great area for recreation and spending quality time with family and friends. There is so much to do and see in the Keys.
For the nature lover and photographer, there's plenty of Wildlife to encounter. Birds of many kinds are seen, like the Great White and Great Blue Herons, Egrets, different species of Sea Gulls and Pelicans, King Fishers and Ospreys. Some can catch a glimpse of a Majestic American Bald Eagle or the elusive American Crocodile, which are often spotted in the Florida Keys. The fishing piers are a great place to witness Sea Turtles, Sharks, Sting Rays and huge torpedo shaped Barracudas. Fitness enthusiasts and faith seekers often start their day at the pier to cleanse and nourish their physical and mental being. If people watching is your thing, don't despair, there are plenty of colorful and entertaining characters visiting the fishing piers as well. Most are there for angling. From the novice to the experienced anglers, all come to the fishing piers to have a fun filled day. The Florida Keys sunrises and sunsets are one of the most breathtaking sceneries to witness and cherish by all. Photographers of all levels are seen at the early hours to capture the amazing sunrise. As the day is coming to an end, photographers take a moment to stop by the fishing piers to seize the surreal image through the camera lens of the Florida Key's sunset. No matter what brings you to visit our Florida Keys Piers, one thing is for certain. The fishing piers in the Florida Keys are visited by all.
Let's talk about your next Florida Keys pier fishing outing and how to improve your Florida Keys pier fishing game. There are two ways you can go. You can go packed to the gills with fishing gear or go simple with just a fishing rod and fishing reel combo, some bait and a small cooler and make the day out of it.
 It really all depends. If you are a local and fishing piers are just a hop, skip and a jump from where you are, then fishing the pier works well for the minimalist angler who's just there for a lunch break or has a few minutes to spare. For those that like to catch the changing of the tide and try their luck by making several casts, then packing it up, I think that works well for the one rod and a handful of bait or lures kind of guy. If you are planning to spend a whole day on the pier, then the game changes.
There is a lot to plan for a full day of pier fishing. Learn and understand the elements of pier fishing.
First is weather. Always check the local weather forecast. The sun is extremely brutal at the piers. Sun protection is factor number one. Wear long sleeved shirts, hats, sunblock lotion or even take a canopy to set up and give you an area to be shielded by the unforgiving heat. Take a windbreaker jacket or rain suit with you when a storm passes through, there is no place for shelter. Even on hot sunny days sporadic storms and showers are common in South Florida.
The next thing to consider is a cooler. Most fishermen will take two coolers. One for their drinks and snacks, and another for bait and fish. Comfort is always welcomed and appreciated. Take along a nice comfortable chair to relax in and to take a load off your feet. You are probably thinking to yourself, "that's lots of stuff to take."  You can share the load with friends or invest in a cart or wagon. That way you can take many fishing rods and a lot of fishing gear along with you including the kitchen sink. Trust me, it will make a word of difference with all these necessities.
Let's get into the fishing gear. Realistically any medium, medium heavy or heavy action fishing rods will do. To my experience, and my preference, I like a Medium or Medium Heavy fishing rod for the piers. I always take along the longest rods in that action for this style of fishing. Why a long fishing rod? Most fishing piers in the Keys are concrete barriers and railings. Unless you are going to be holding your fishing rod all of the time, there's no place to set up a rod holder. Leaning the fishing pole on the concrete rail is common. The benefit of a longer fishing rod is that you can rest the rod on the rails at an extreme angle and have a better leverage and rod weight to keep your rod from going over the rails if a larger fish were to take off with your line. Also, a longer rod means that the tip of the rod is at a higher or farther distance away from the concrete. Many times I've seen short fishing rods leaning on the concrete rails with the tip of the rod exposed twelve inches or less away from the resting point, which compromises  the ability for the fishing rod to perform and causes rod tip to break or a fishing line to snap off if the fish is going under the bridge. If it's a short, heavier action fishing rod, the rod will just flip over and you lose a rod. Even when fighting a fish that's going under the pier. A shorter fishing rod can be difficult to keep the rod tip up and line tight. If the current is raging and not in your favor, and let's say you are hooked into a String Ray, Jack, or a good size Mutton Snapper, it takes every bit of effort  to make sure your line doesn't make contact with the bridge's foundation. Your line will snap off very quickly if it does make contact with the bridge's structure. Longer fishing rods in my opinion make a better choice for the piers. 
Think about why you are angling from the piers. To me, I go for fun and to make a day out of it.  I'm not there to try to land big sharks, monster barracudas or huge sting rays. Is it possible? Of course it is, but hooking into a fish like that in the piers can bring unnecessary injuries and stress to the fish, which most of the times will not recover if released. I see many pier fishermen with heavy duty fishing gear, you would think they are going to slam and power hoist a Blue Marlin or Sailfish over the rails. With all joking aside, take along a good set up for the type of fish you are going for. I expect to catch Mutton and Mangrove Snappers, Jacks and Blue Runners, White Grunts and maybe Spanish Mackerel and the occasional Puffer fish, Eel, and  maybe a Trunk fish. You never know what is going to take your bait. I'm not geared to purposely target those larger game fish, not from 35 feet or so over the rails. Some specialty pier anglers go for Reds and Snooks. I've seen these pros use a rope and sling to cradle a lager fish and gently hoist them up, unhook them, and with tender love and care hoist them back down to the water for a release. They are specialty pro anglers who love the challenge and are passionate about the perseveration of the fish they are targeting.
Fishing line spooling and fishing line pound test is also something to consider. I have seen anglers at the piers fishing with 50 to 80 pound test fishing line, pyramid lead sinker, stainless steel wire leader with large stainless steel hooks. Then they get their line snagged on the rocks pilings. Not able to break free they cut the line at the fishing reel spool, just to set up the same rig and repeat the process again and again until they run out of line. Please don't be that guy!  Conservation is everybody's responsibility.
Rock pilings from previous structures are prevalent around the piers in the Florida Keys. You want a rig that's going to be strong enough to land fish but, able to muscle and deliver a breakage at the fishing line knot or fish hook, which ever breaks first.  
It's never fun to get your line snagged in the pilings and it happens almost 70% of the time. So some changes must be applied. Start with wire leaders. If you want to catch the Mangrove and Mutton Snappers, wire leader are not good.
 If I am fishing with a 20 lb test fishing line I will tie a swivel of an equal to higher in pound test.  My leaders will also be equal or slightly higher in strength. My Leader of choice is the KastKing DuraBlend Monofilament Leader Line and the KastKing  FluoroKote Fishing Line. Both of these are great leader materials.
 The fish hook I use is nothing special but works wonders for this type of fishing, especially when there's rock pilings. They are 202 Gold Aberdeen Hooks. These hooks are thin, light wire construction with an extra width between the point and shank. These hooks are inexpensive, they will flex before breaking and the saltwater will eat up the wire and corrode to nothing with time. They are a great fish hook for baiting live and dead shrimp; the presentation to these fish is natural and will induce many strikes. If snagged on the rocks, you could put the torque on your fishing rod and break the hook, and if the fish hook doesn't break off, it will straighten and it will unsnag on its own. Almost a 100% effective solution. These fishing hooks are tough enough to bring up a decent size Mutton Snapper. Have I lost fish before because of the fishing hook straightening out? For sure! To me it's not about landing the fish. I'm happy to catch a glimpse of the fish that was giving me a good fight before the hook gave out on me. At least I know that the fish will see another day with a very minimal puncture because of the hook wire being so thin. I have to stress about more monofilament fishing line not being introduced to our Oceans. It's a win-win. 
 Avoid stainless steel hooks, unless they are very thin. Make sure that it's thin enough that with force it will bend. Thin Diameter Circle Hooks also will work. Also avoid heavy lead sinkers. You want the current to keep your line above the pilings, but not so light that the current is bringing your bait up to surface. Egg Shaped Sinkers are great for rock pilings. Better chances of it rolling out of rock's crevice and not getting wedged in if the sinker ends up dropping to the bottom.
 Longer fishing rods are a plus. 8 to 9' fishing rods, with 7' being a minimum. Some rods that have worked well for me are the KastKing  7' perigee II and the KastKing  KastKat rods spinning , 8' and 9' KastKing KastKat Catfish rod with a Capstan 300 bait casting reel. I love the idea of owning  a few KastKing Krome Salmon/Steelhead Fishing Rod in spinning 9'6 rod in Medium Heavy just for the piers. I would even use the 10' Medium Light for this. For the reel, I will add a  KastKing Sharky III  Baitfeeder in a 3000 or 4000 size and Sharky III 4000 and 5000 spooled with 17 lb test KastKing Masters monofilament fishing line.
 I guarantee if you apply all of this to your next pier fishing arsenal it will improve your pier fishing game. Whether you are pier fishing in the Florida Keys, or anywhere! You will enjoy your day better with lots more fish catching effectiveness and comfort. It works for me.  
By Gus Onebear Batista
 Gus Onebear Batista is a life-long South Florida resident and is a professional fishing guide in the Florida Everglades. He goes fishing in the Florida Keys regularly with his wife Kristy, who is also an avid angler.