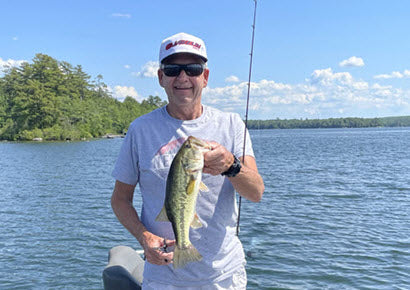 The Forgotten Spinnerbait - A Must Have In Your Fishing Lure Arsenal
Dialing back the time clock to the early 70s I can remember the first time I ever used a spinnerbait. I was at Blydenburgh Lake with a fellow angler I had met through playing ice hockey. He was throwing a purple jelly worm, and scoring quite a few fish. For some reason, I would not change. I do not know if it was the way the spinnerbait worked, the coverage I could get, or just plain…it's new, I have to stick with it. I caught a lot of fish that day, but he still out-fished me, and had a fat 4 pounder.
To this day, one of the first lures I use is a spinnerbait, albeit nowhere near as much as I used too. I would stay with a spinnerbait for hours, casting, changing colors, different blade configurations and retrieve. I have caught a lot of largemouths on spinnerbaits, and in fact, my largest ever was a brute of 24-1/2 inches on a 1/4 ounce chartreuse bait in Stump Pond, Long Island, NY.
I would say over the last 10 years or longer, the spinnerbait has been tucked away in most angler's boxes. I have seen this on the local bass tournaments and the professional scene. Anglers are now throwing paddle tail soft plastics, lipless cranks, chatterbaits, jigs and more way before taking out the old reliable – spinnerbait.
GREAT SEARCH BAIT 
What was always impressive about a spinnerbait was its ability, or the angler's ability to search out various types of structure and fish holding hot spots. You could cast a spinnerbait into the lily pads and allow it to bounce of the stems, often resulting in a vicious strike. I have seen anglers do this on more than one occasion, and also have seen tremendous results. While covering one of the BASS Master Classics in Alabama one year, young pro, Steve Vickers, was throwing nothing but a spinnerbait. He had it tipped with a Zoom trailer and was banging the bait off the stems of lily pads. On one cast he got crushed and landed a 7-pound largemouth, which I believe was the largest bass caught that day.
There are a lot of other ways to fish it. One of my favorite methods was to bang it off timber. I would cast a spinnerbait into anything, then allow it to bang and change direction off anything it would it hit. Sure, I hung up a lot of spinnerbaits, but I also caught a lot of fish.
There is no secret that I am a Kevin VanDam (KVD) fan. This came partly due to his ability to catch fish, but also that I have had the pleasure of riding with him at several BASS Classics, and fish with him in the Finger Lakes, thanks to a Mustad outing. He is a power angler to say the least, and the spinnerbait falls right into this category. I remember one of the earlier trips with him and he had to make over 100 casts in an hour, using a white willow leaf spinnerbait in and around docks, lily pads and blow-downs. The one thing I remembered most was his retrieve. He would move his rod to force the spinnerbait to hit objects, but more importantly, change the direction of the retrieve. Think about it, a baitfish does not swim in a straight line, so why are you retrieving your spinnerbait in a straight line?
I like the white MadBite series of willow leaf spinnerbaits in 3/8 and 1/2. All of the color schemes - White, Blue/Black, Bluegill and White/Chartreuse – will catch however.
COLORS AND BLADES
For colors, you cannot go wrong with chartreuse or white. I have had more fish on these two colors then others combined. If you fish after dark, black is also a great color, and works great on new moon evenings.
The blade configuration is another option. I strictly use Colorado or willow leaf blades. They are my choice, and have proved faithful over the years. For clearer water, I like the willow as it gives a nice tight profile similar to a fleeing baitfish, and the flash needed for attraction. In darker, weed covered bodies I opt for the Colorado blade. This blade will give you a louder (vibration) that bass cannot resist. The Colorado is also a great blade in deeper bodies of water where you want to allow the spinnerbait to slowly sink to the bottom. The spiraling effect and thump of the blades works great and you will be shocked at how many times it gets hit on the initial fall. I'll use this method in any body of water where I can allow it to sink at least 5 to 10 feet or more.
Spinnerbaits come in a wide array of sizes. Depending on the circumstance, I'll use anywhere from 1/4 to 1 ounce models. Slow rolling a 1-ounce spinnerbait over a ledge or stump field is a sure bass killer. Then again, speed burning a 3/8 ounce through a field of milfoil will also put a few in the live well.
ROD AND LINE
You can throw a spinnerbait on spinning or baitcasting gear and do well. For me, I prefer baitcasting gear, with the KastKing Speed Demon Bladed Jig rod matched to the Crixus 7.2:1 reel will work great for baits over 3/8 ounce. The fast retrieve will allow you to rip through grass, or slow the crank down and slow roll a drop-off. If I feel the need to go with very light line, or light spinnerbaits – 1/4 ounce or less, then spinning gear or the new KastKing Zephyr Bait Finesse and 6 to 8 pound test 13X braid the way to go.
Speaking of line, I will opt for a variety of lines. If I am fishing a relatively clear body of water, fluorocarbon line in 10 to 12-pound test is my choice. If I am going to be banging off rocks, lily pad stems or timber, then I prefer KastKing 8X Finesse Braid in 20-pound test, with a 10-foot piece of KastKing Kovert fluorocarbon in 12-pound test. For really clear water like some of the Finger Lakes in New York, lighter line of 6 to 8-pound test is a better fit. The lighter line is less visible, allows for longer casts with lighter lures, and does not alter the spinnerbaits "look" on the retrieve.
We all have spinnerbaits in our arsenal, and some use them all the time. Make sure on your next outing you take along a few and give the old reliable a shot. Remember, it was not that long ago that a spinnerbait was your "go-to bait" for almost any circumstance. And I promise, if you use it more, you will catch fish!
Tom Melton is an expert in all aspects of inshore saltwater fishing and freshwater fishing. As an authority on angling he strives to excel while teaching others, and in his own outdoors adventures. Whether it is a freshwater bass fishing tournament, or recreational fishing with family, his skills and knowledge always shine. Tom has been an outdoor writer for more than three decades.