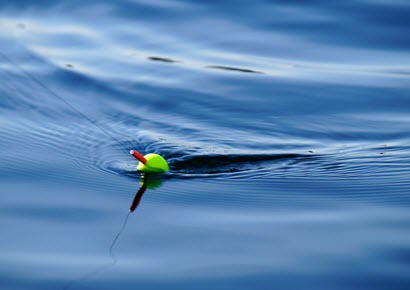 Five "Must Have" Soft Plastics
 Are you a bass fanatic that has every lure on the market? I know I am, and I can tell you one thing, I do use a lot of what I have. And to make matters even better, I usually can catch fish on the lures I choose for a given circumstance. However, if there is one thing, no five things, we all must have with us at all times it is; Finesse, Ned, Whacky, Swimbait and Creature soft plastics. Soft plastic baits will always produce fish in my opinion, but it may be up to you to decide which one will be the "go-to" bait on that given day. Let's take a look at what I feel are the five "must have" soft plastics every time you hit the water, and how to use them in different techniques.
Finesse
For finesse baits I am referring to smaller soft plastics used when drop-shot fishing. These baits will emulate a small baitfish struggling in the water column. The rig is made up of a hook 6 to 12 inches above a small drop shot weight. Simply drop the rig down, then either slowly drag along the bottom, or use a slow lift or jigging technique. The key is to find out how the bass want it presented to them on the day, so try every option until they bite.
Nothing beats a well-placed drop-shot finesse bait then the KVD Perfect Plastic!
Ned Rig
By far, the one soft plastic that will always get bit is the Ned Rig. The Ned is simply a short version of a stick bait like the Yamamoto Senko. The Ned is rigged on a small mushroom style head. To use, simply cast out and let it sit, retrieve slowly along the bottom or hop it along. I have the best success with this bait when I cast and let sit with no movement. For this technique, bright colored line (KastPro Braid in hi-vis yellow or ultra-pink are good choices) is a good option as you will be line watching for a bite, rather than feeling. The new KastKing MadBite Ned kit is a great way to get started Ned rigging.
The Ned rig is one of the simple ways to catch bass...it always produces!
Wacky Rig
Do remember the first time you used a nightcrawler for fishing? I do, it was more than 50 years ago. My mom brought me to the lake and I took a worm out and hooked him right in the middle! Fast forward to today, and that is exactly how to rig a soft stick bait wacky style. That is where the similarity ends however as a live nightcrawler will always out fish a soft plastic…most of the time! A wacky rigged worm will literally drive a bedding bass crazy until she bites. The subtle way it drops down, with each end fluttering as it falls is a presentation a bass can't resist. It is also good throughout the year – winter, spring, summer and fall. I have found the best way to employ is by making your cast and then allow it naturally drop to the bottom. After it settles, allow it to sit and then line watch. No bites, lift up several feet and allow to fall again.
Another simple way to fish a plastic stick bait. Allow the wacky rig to settle, then watch your line.
Paddletail Swimbait
Swimbaits come in various lengths and from a plethora of manufacturers. You can get super small 2.8 inch Keitech up to larger Berkley Hollow Belly in 6 inch. In between there are many others as well. For swimbaits, there are two specific styles of fishing I like, and feel they will produce good results in most conditions.
For the smaller Keitech style in 2.8 up to about 4 inches, I prefer to rig it on a small jighead and work it slowly across the bottom. I fish deeper bodies of water in the north like Candlewood Lake in Connecticut and the Finger Lakes in New York. Smallmouth bass will school up on the rock piles and structure in the deeper portions of the lake in the spring. This is the perfect bait for bagging a few. For shallower grassy lakes like Black Lake in upper New York and a lot of the Kettle Hole ponds in my area the larger swimbaits from 4 to 6 inches are my go to. These baits, which I rig weedless style in a weighted hook are deadly in amongst the weeds. Bass will lurk and seek shelter on those warm summer days in the grass. Working a weedless bait through cat tails, milfoil or other grass works great. Allowing the swimbait to deflect off the stems of lily pad fields is another easy way to score. Another style swimbait is the Yamamoto Zako. This style bait is one that resembles a smaller baitfish style and is best used on the back of a spinnerbait or blade bait.
Creature Baits
Creature baits can easily be defined as far as I am concerned is any bait that has appendages or claws hanging off its body, with most having some resemblance to a crawfishes legs hanging off the body or a lizard. Some good examples are Berkley Trigger Craw or Craw Fatty, Big Bite Baits Fightin' Frog or Kreit Tail Lizard. The Yum Christie Critter is great for flipping into thick grass or Carolina rigging.
I use creature baits in two methods most of the time. The first is to employ one on the back of any jig I use. The added flutter of the legs is a killer when dropping down in among the stumps or blow –downs in the lake. By matching the creature color to the jig, it also gives a larger profile, which for the most part is what big bass are looking for – an easy fulfilling one shot meal! The second method is Texas Rigging and working large grass fields very slowly. This is a great way to search out bass in a large area as well. I will fist locate grass humps, then back off and make long casts to these areas, slowly dragging with slight and occasional lifts of the rod tip.
Creature baits can be used as a trailer on jigs (top) or Texas Rigged (bottom).
Add these soft plastics to your arsenal, and make sure you bring them with you on every fishing trip. I guarantee they will not only catch fish, but you also might see your personal best hit the net as well. And, if you are a tournament angler, I'll bet you there will be more than one time when a Ned rigged worm helps fill out your livewell.
Tom Melton is an expert in all aspects of inshore saltwater fishing and freshwater fishing. As an authority on angling he strives to excel while teaching others, and in his own outdoors adventures. Whether it is a freshwater bass fishing tournament, or recreational fishing with family, his skills and knowledge always shine. Tom has been an outdoor writer for more than three decades.