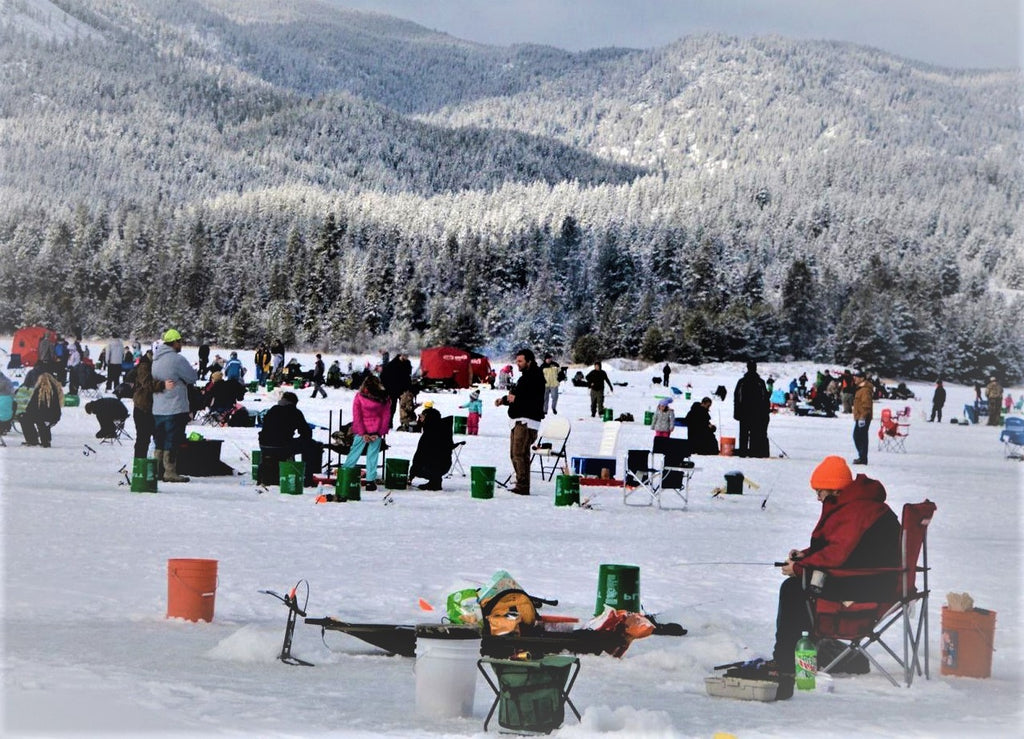 Ice fishing is a great way to pass the time in the winter months, and it offers anglers the chance at some truly trophy fish.
There is a ton of gear out there to make a day on the ice both rewarding and more importantly, safe. Let's explore what you need to know about safe ice, and making sure you stay on top of it. After safety, KastKing offers a few really good items for your adventures too. 
SAFETY FIRST 
As I live in New York, I trust the New York State's Department of Environmental Conservation's (DEC) safe ice guidelines, and feel they offer sound advice as to what is safe and what is not. 
I believe there are two factors that should always be adhered to for ice fishing safety. The first is the buddy system, or a spot where there are others fishing as well. Heading out alone, in my opinion, is just asking for trouble. The second item, which in my book is a must, is ice picks. There is no question that if you go through, ice picks may be the only thing able to save you. They are that important. Ice picks will allow you pull yourself back onto safe ice, and even if the ice keeps breaking, you will be able to continue to progress towards safe ice by using the picks. I recently found a really good video, and I urge you to watch it. 
There are several great ice picks out there with Frabill and Rapala making two of the best in my opinion. You can also fashion your own out of wood if you choose. 
Keep in mind, ice thickness can vary throughout a body of water. Areas where springs, dams or streams are present may be thinner than the main lake. Always be sure you are on ice thicker than two inches at all times. 
NY DEC recommends these guidelines for safe ice
 KastKing Extremus 23-SPIKE ICE/SNOW SAFETY TRACTION CLEATS
 Another item in the safety department is a good pair of ice cleats. And, once again, KastKing has you covered. The Extremus 23-Spike cleat is perfect for ice fishing, hiking in the winter or climbing steep slippery surfaces. The cleats are made from rust and abrasion resistant 201 Stainless-Steel, which provide excellent traction on a variety of slippery surfaces. The perfect placement of each cleat will give you incredible confidence while walking or hiking so you can avoid serious injuries in case of a fall. 
The highly flexible and resilient silicone frame stretches easily to make placing them on boots easily. The silicone stays flexible down to negative 40 degrees and increases comfort while wearing them on all styles of boots. Add these to your ice fishing arsenal for a safe day on the hard water. 
A PERFECT ICE FISHING REEL 
Are you ready to hit the ice? How about the perfect reel for the occasion? The KastKing Royale Legend II Ice Fishing Reels are a size 500 spinning reel that features an outdoors-ready, durable, non-rusting reinforced graphite body and rotor and a tough anodized aluminum spool. Add in what I feel is the best feature of all – the extra-long reel foot stem, which makes using the reel with heavier, and sometimes bulky gloves a piece of cake. 
On the build front, the reels have exceptional 5+1 shielded steel ball bearings combined with precision cut zinc alloy main gears and manganese brass pinion gears that give this KastKing spinning reel a smooth cranking feel. The combination of alloys will give you a smooth operation, plus reduced wear for long gear life. The size 500 ice fishing reel, with its high strength graphite glass-fiber-reinforced body, weighs 5.8 ounces, and makes it an ideal option as a finesse, ultra-light or kids fishing reel when ice fishing ends and Spring rolls around. 
Royale Legend II ice spinning reels have a super slick high gloss finish that sheds water and reduces icing. Three ultra-bright colors (green, red or white) will stand out even in the darkest ice hut. 
WHAT ABOUT THE ICE ROD? 
KastKing has you covered in the rod department too. The KastKing Konvert Linear Ice Rods are a great addition to the Royale Legend II Ice Reel. They are actually two different rods in one. The first offers a "Pencil Grip" shaped cork handle, complete with high tenacity reel bands, while the second option offers a two-piece graphite reel seat and two different tip sections. As for action, depending on what tip section you use, you get a medium action or a medium light action. 
The new, KastKing Konvert Hardwater Ice rods are made using a light and sensitive, 100 percent IM6 Graphite Blank. This material is used in the handle and all the way through both the medium and medium light tip section. They are highly sensitive for light bites and still powerful for solid hook sets. 
Whether you are fishing in a dark ice shelter or outside in bright sun or even on stormy days, you'll see more subtle bites because of the Konvert's bright, chartreuse green strike tips. Even the lightest bites are transmitted visually with this contrasting color. Once you use our strike tips, all other rods will seem obsolete. 
Are you walking any distance to the fishing grounds? Then the 27-inch packable rod is the perfect addition as it converts down to a mere 17 inches. Storing or carrying in a small back pack is real easy. 
Ice fishing can be fun, rewarding, and a great way to pass the time in the winter months. I encourage you to always seek out the safest ice you can find, use a buddy system and have those ice picks around your neck. 
In the northern lakes near me, anglers encounter trophy largemouth bass throughout the winter months. Farther north and west, big pike, muskies and more can be caught. And, never forget the great tasting yellow perch, which abound in most of the waters in the northeast area. 
Winter is coming, so stock up, watch the ice pick video, then hit the hard water for a fun afternoon.
Tom Melton is an expert in all aspects of inshore saltwater fishing and freshwater fishing. As an authority on angling he strives to excel while teaching others, and in his own outdoors adventures. Whether it is a freshwater bass fishing tournament, or recreational fishing with family, his skills and knowledge always shine. Tom has been an outdoor writer for more than three decades.