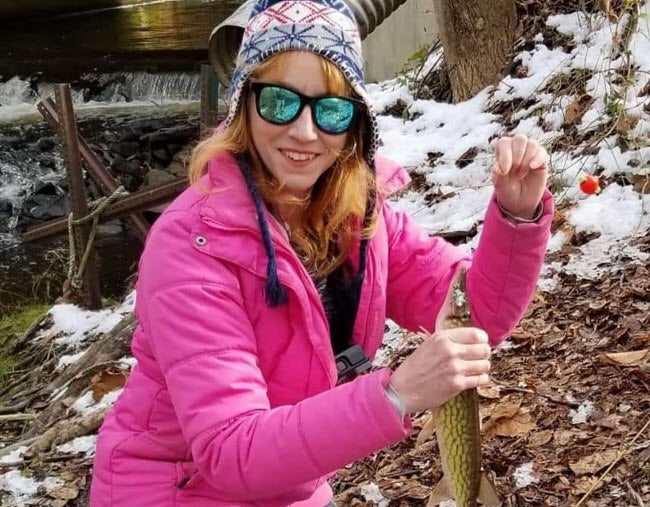 Winter Vibes - Fishing for Pickerel During the Winter
There once was a time in my life when I was very content with just fishing the comfortable seasons back when I was just targeting bass, carp, and catfish. Late spring, summer, and early fall fishing were all that I knew. I found it very hard to want to be outside on days when the temperatures were less than my age. Fishing was never far from my mind though and I would do things to stay connected like sort out all of my gear in preparation for the next year, read about it, or watch shows on the subject. As I did these things, my husband was bundling up to fish for winter stocked trout. Still, I'd rather stay in the warmth of my home and cheerfully wait to cook whatever he brought back from his trip that day. As the years went by and countless requests to join in, I finally mustered up enough courage to accompany him even though I absolutely hated the cold. He was bound to stop asking once I froze to death.
Well, there must have been some magic in the three sweaters, a heavy coat, long johns, wool socks, and sub-zero boots because I actually made it through the whole outing. Not enough magic to catch any fish, but I survived. That winter began my love/hate relationship with trout, but I do have to credit them for keeping me out there getting used to fishing in unfavorable weather. I went out every day until I caught a rainbow trout that year and each day seemed colder and windier than the last. I was quite proud of myself for sticking it out.
It wasn't long though before the novelty of sitting in one place waiting for the farm trout to bite wore off and I found myself longing to search for other active winter fish. I traded the picturesque lake for cedar creeks and rocky spillways that held abundant supplies of black crappie and yellow perch. These schooling panfish were quickly winning over my affection. It was easy to lose count of the numbers caught and I usually had to tear myself away before they stopped biting because I had other things to tend to.
As the winter went on, the cold seemed to be biting better than the fish. On one particular trip my icy hands could only manage to tie on one last crappie jig and it had better be "the one". I cast out in the hope of dropping it on the school. I reeled in, paused, jigged, reeled, paused. An unseen force darted along the bank and the bobber quickly disappeared. I saw fast flashes of what I thought might be a bass, but as I brought it in, I realized that I had caught my first ever chain pickerel. I nearly lipped it but my husband sharply stopped me from shredding my hand. Even so, I did find out that day that their gills can be just as treacherous.
This new fish had intrigued me and so began my fascination with fish with teeth. To me it offered an element of danger in some way and it was hard for me to understand that some people considered them a nuisance or a trash fish. I was certainly grateful to find a fish to fill my winter void with a little excitement while I was waiting on spring and some of the more "prized" catches.
When everything else is frozen over, fish a spillway.
"Love at first bite"
I fell hard for this prehistoric looking slimy stunner with a maw full of razor sharp teeth, but would I still love them when the winter melted away or were they just a winter fling?
"Sizing them up"
They are not as small as grass or redfin pickerel but they don't get as big as their cousins the pike or muskie that's for sure. Most chain pickerel are in the one to two pound range. What they lack in size, they make up in aggression. They are a fairly good fight, especially on ultralight or light spinning gear.
"The same old line"
I personally never worry about tying on a leader for any freshwater fish that I target as I find that it impedes the action of the lure. I switched over to braid in the winter a long time ago and it works great on its own. I use 6 pound test KastKing 13X finesse braid. I try to stay mindful of checking for frays after a catch instead of relying on a leader. Sure, I occasionally fall victim to being snapped off, but all is fair in love and war. You win some, you lose some.
"Where should we meet?"
Pickerel are pretty easy to pick up if you are near the eastern coast of the country. You can find them in lakes, ponds, reservoirs, rivers, and streams from fresh to brackish water. I have had great success in mid to shallow depths along weed beds and drop-offs. Spillways are one of my favorite places to target them and also a more likely area to remain open when most other waters have frozen over.
"Lures of Attraction"
As far as what gets them biting it's hard to beat live bait in the winter time. Minnows are always an excellent choice with or without a bobber, alive or dead it doesn't seem to matter to pickerel, which are opportunistic feeders. I prefer to jig for them and my go to is a 1/16 jig head dressed with a white or chartreuse curly tailed grub. Inline spinners are also very effective.
Be careful handling pickerel, they have sharp teeth.
"What time is our date?"
My favorite thing about fishing in the winter has to be that you don't have to go at the crack of dawn to put the odds in your favor. Early to late afternoon fishing not only allows for some extra sleep, it also gives the water some time to warm up and the fish will be more active.
"I know your type – Bad boy"
Much like other popular gamefish, pickerel are ambush predators. They lie in wait for baitfish to swim or be washed by their hiding spots and then they strike like lightning. This misunderstood and underrated bad boy is sure to please when other bites go cold. It sure beats sitting home organizing gear, sharpening rusty hooks, and re-spooling reels.
They may not be the biggest fish, but they are fun on light gear.
"Will I see you again?"
Will I be annoyed if pickerel show up when I have my sights set on another fish? Definitely not! Pickerel have earned a place in my heart for heating up those frigid winter days. I wouldn't mind hooking up with them any time of year.
Sandi Kennedy is an avid multi-species angler from New Jersey, fishing everything from the swamps to the saltwater coast.