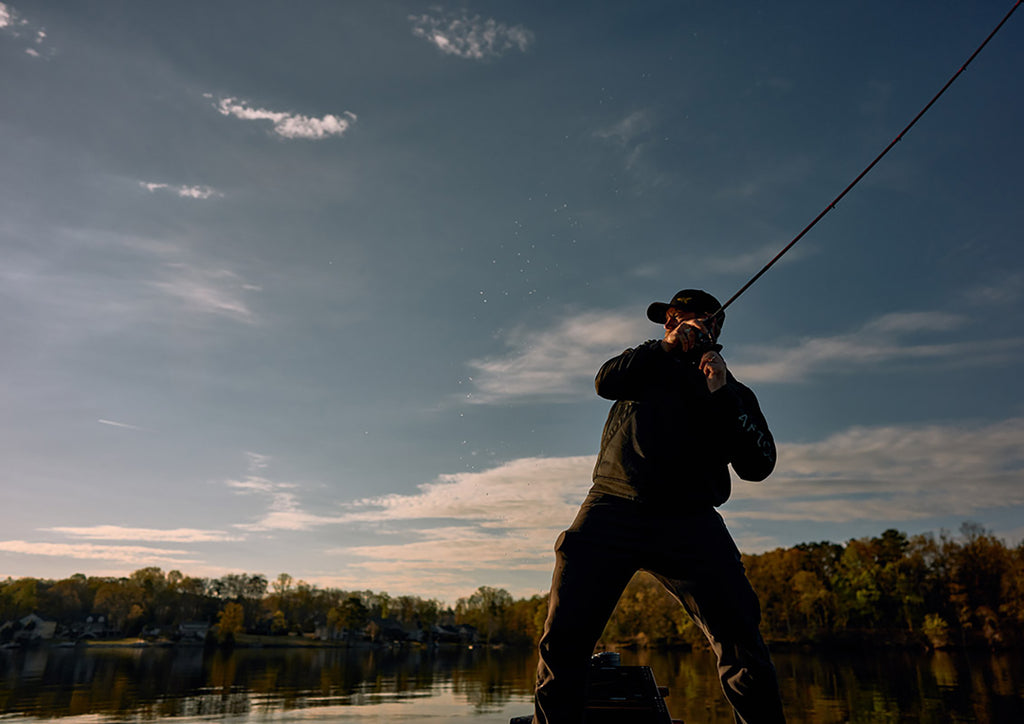 How To: Bass Fishing Rod Length
Choosing the "right" length fishing rod for bass fishing is not an easy task. If you watch any of the pro bass tournaments you will see multiple rod and reel set-ups on the decks of these professional angler's boats. The "right" length rod for bass fishing is determined by what you will be suing to target the bass! There are a variety of ways to target bass. You can drop shot, deep dive crankbaits, run spinnerbaits along edges, stick baits, jerk baits, topwater frogs and spooks, and the list goes on. Making sure you have the correct rod length when bass fishing goes a long way in successful angling. With various styles of lures and baits, each one will have a different rod length that works best. Let's take a look and see what works best with several different styles of fishing.
The Small Stuff!
In all areas, light lures and baits always come into play at one time or another when bass fishing. Smaller baits require lighter line to work well, and with lighter line comes a finesse style of fishing.
When picking the correct bass fishing rod length for smaller lures, rods in the 6 foot to 6-8 range to me are best. The lighter rods, paired with small size 1000-2000 spinning reels like the KastKing Zephyr or Spartacus II are perfect. These rod lengths, with lure weight ratings in the 4-10 pound class will allow accuracy when casting, plus the sensitivity needed for the bite.
Cranks, Spinnerbaits and Bladed Jigs
Moving up a notch to slightly heavier baits like a 3/8 ounce spinnerbait or bladed jigs, 2.5 size cranks, 5 inch stick worms and smaller topwaters, you need to increase the rod length a bit. These lures will need to be cast farther most of the times (longer rod, longer casts), but also need a good backbone to set the hook.
I like the Speed Demon Pro Tournament series fishing rod, and for these baits, I use the crankbait and bladed jig rods. Both rods are very similar with the only real difference, the jig rod is three inches longer and a slightly heavier rating (8-17 compared to 10-17 for the bladed jig rod).
Jerkbait
For jerkbaits, to me, you need a specific rod. Jerkbaits need to be worked precisely to work well and catch fish. You don't just cast it out, reel, jerk, reel, and jerk. You need to apply the correct cadence to ensure this bait is really acting like a wounded baitfish.
I feel the Speed Demon Jerkbait rod in the 6-foot, 10-inch length is ideally suited. The rod is short enough to "work" the lure, yet enough length to make a good cast. For jerkbaits, you need a good cast to be able to get two to three solid cranks on the handle to get the bait to the depth you want to fish. After reaching that depth, the jerk, pause technique can vary, but the lure will begin where you feel the fish are holding.
Go Long, Fish Deep!
Another technique while bass fishing and the need for picking the right bass fishing rod length is swimbaits and deep diving crankbaits. For these two applications, I like a spinning rod and casting rod respectively for the job at hand. I like long casts for both uses, but for different reasons. On the spinning rod with swimbaits, I like to cast to distant blowdowns, lilies and the likes to sneak up on a bass. For the crankbaits, deep diving cranks don't just get down to 20-feet that quick, so long casts allow the bait to get down, then stay in the strike zone longer.
On the rod end, the spinning rod I use is the KastKing Resolute rod in 7-foot, 6-inch length. This rod is rated for 10-17 pound test and can whip a swimbait up to 5 inches a good 100 feet with ease. It has a fast rating, and medium/heavy backbone making hooksets while a good distance from the shore or boat an easy task.
On the deep diving crankbait, my go-to set up is the KastKing Speed Demon series 7-foot, 11-inch Punchi' rod matched to the new MegaTron 200 or Kapstan Elite 300 baitcasting reel. These reels have large capacity spools and gear ratios of 5.4:1 and 6.4:1 respectively, making it a breeze to crank lures in the deep without fatigue.
Heavyweights
When we get into some of the heavier lures, the length, plus the weight rating are the key elements. If you plan on using frogs on top of matted grass fields or lily pads, combined with braided fishing line up to 65 pounds (You need the heavier line to get a fish out of the grass/lily stems), or heavier jigs fished in heavy cover (blowdowns, beaver dams), then usually longer rods are the way to go. For me, the two rods I like are the KastKing Royal Select in the 7-foot, 6-inch model that is rated for 14-30 pounds. This rod is ideal for pulling big fish from heavy cover. The rod is sensitive enough to detect bites, but yet powerful as well.
For fishing topwater frogs and heavy braided line, the Speed Demon Mag Swimbait rod gets the nod. This rod is 8 feet long to aid in long casts, and is rated for 20-50 pounds, making it is easy for your braid to cut through grass and lily pads. The moderate/fast action allows you to "work" frogs to entice a bite.
The Options are limitless!
There are hundreds of rod lengths out there today. In KastKing's lineup, the Perigee II alone has over 25, and that is just one of their rods. The key is matching the rod length to what you are throwing. Take the time to learn by watching lures in the water, and seeing how the tip section reacts to different weights. A little time watching and learning your rods will ensure a good choice. And, it might even open your eyes to a better choice in a different fishing rod, for a different application.