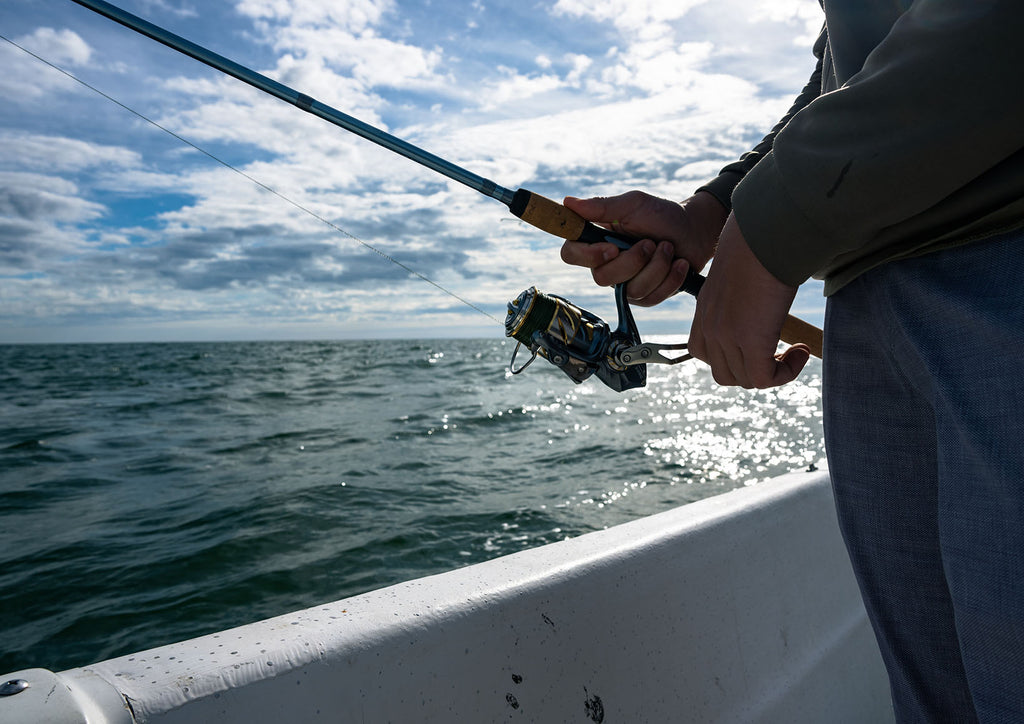 How to Select the Best Gear Ratio for Inshore Saltwater Spinning Reels
Inshore spinning reels have come a long way in the last 40 years. When I first started angling with spinning reels, lower gear ratios were the only ones offered for the most part. In today's fishing world, inshore saltwater spinning reels come in a wide array of gear ratios. Spinning reel gear ratios really come into play these days due to so many different bait and lure applications and styles of fishing.
I talked to a handful of anglers this past season regarding gear ratios of inshore saltwater spinning reels. My buddy Charlie said he likes a faster gear ratio to get his lure back to the boat or shore if he misses a fish and wants another shot. Isa Muqattash – my son-in-law – prefers lower gear ratios because he wants to have an easy time reeling in a larger fish by applying rod pressure along with pressure from the reel. A fellow angler I met on the beach surfcasting said the gear ratio for him needs to be low. He fishes big heavy lures and at times heavy sinkers and bait. High gear ratio reels make for a hand and arm weary task. Ask 100 anglers what they want in an inshore saltwater spinning reel regarding gear ratio and I'll bet you get a lot of different answers.
As far as gear ratios go with spinning reels for inshore saltwater, they can be classified quite simply as low or high. On inshore spinning reels the difference between gear ratios available is very minimal. The big difference is the size of the spool, which in turn will determine how much line the reel is capable of taking in on the retrieve. A low gear ratio with a large spool will take up line quicker than a higher gear ratio with a smaller spool…simple math right there. Before deciding what gear ratio is needed, really think of what you are going to do with the reel? For me, surf fishing requires a large capacity spool and diameter with a ratio of 5 to 7. For inshore saltwater fishing I like a smaller reel but with about the same ratio. Gear ratio only matters to the angler, and what he or she plans on doing with the reel and how comfortable they will be after a day of fishing.
Spool size and gear ratio matters
I have said this before in past articles, but in the early days when I began surf fishing, the reel of choice was the Crack 300 or Penn 706Z. Both these reels were classified as old "coffee grinders". Slow retrieve, but unbelievable powerful. Both these reels actually had the ability to take up line at a decent pace due to 3-inch diameter spools. The KastKing Kapstan Elite Saltwater Spinning Reel gives you the best of both worlds where low gear ratio is concerned. For example, the size 6000, which is great for the surf or pier boasts a 5.7:1 with a large over-size handle and larger spool diameter. This reel will take up 41inches of line per turn, but also give you the cranking power needed due to ratio and handle size.
When talking lower gear ratio, there are times where it is also not about power, but ease in cranking, especially if fishing deeper water. Tile or cod fishing in depths over 100 feet with 20 ounces of lead sinkers can be grueling to reel up from the bottom, even with no fish on the line with a higher ratio reel. Use a low gear ratio like the Kapstan 8000, and with or without a fish, the slow and steady will make for easy work.
A good KastKing inshore spinning reel for a faster retrieve would be the Sharky III Baitfeeder in size 6000. The 5.5:1 ratio will take in about 30 inches per turn and allow smaller profile lures like epoxy resin jigs, Kastmasters or Deadly Dick lures stay on the surface and attract speedsters like bonito, albacore, bluefish and more. If you are fishing the bottom, and like to speed hop a bucktail over structure or "snap-jig," then the Spartacus 5000 is a good choice. This reel will offer a slightly lower ratio then the Baitfeeder, but still take in about 30 inches of line per revolution.
Bottom Line
The bottom line when deciding what the best gear ratio for inshore saltwater fishing is the style you plan on fishing. Some anglers feel they can work a lure or bait with any gear ratio, while others like specifics. Gear ratios on reels combined with the spool diameter will determine how much line you take in per revolution. A larger handle will also factor in and give more cranking power. In my opinion, the best all-around reel and gear ratio is going to be on the KastKing Kapstan Elite Inshore Spinning Reel. This reel gives you a solid balance of power due to the handle plus speed from the spool size and gear ratio. It's time to hit the water, so go grab yourself a Kapstan…I am sure you will be happy.
More articles about Saltwater:
How To Pick The Best Saltwater Fishing Rods
Best Spinning Reel Size For Saltwater Fishing – Inshore And Pier