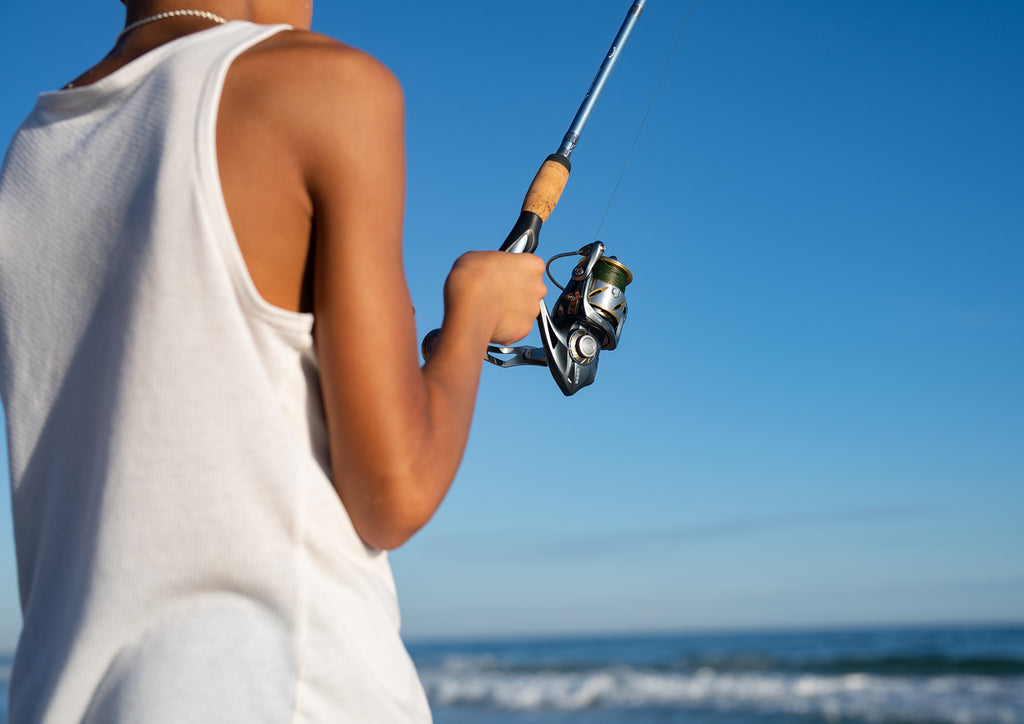 Best Spinning Reel Size for Saltwater Fishing – Inshore and Pier
For years saltwater anglers always used revolving spool reels when saltwater fishing. As spinning reels evolved, more and more anglers began using spinning reels for saltwater fishing. Spinning reel sizes have drastically improved (evolved) over the years with more and more sizes becoming available for larger species, heavier lines, longer casting ability and more. Choosing the correct spinning reel size is just as critical as choosing the right bait or lure if you want to catch! With saltwater fishing, anglers can choose from reels in sizes 3000 up to 12000, depending on what they are using them for. For this piece, let's focus on what is the best saltwater spinning reel size for inshore boat fishing and pier fishing.
If my recollection is correct, my first spinning reel for saltwater fishing on the inshore grounds was a Penn 710 or 712. This reel was the perfect size spinning reel for using bucktails while fluke (summer flounder) fishing in the bays around Long Island. I don't recall who introduced me, but the explanation was between the spinning rod and spinning reel, you could make a bucktail dance much better than a revolving spool reel.
Hit the Pier
Pier fishing around the states bordering the water in the US has become increasingly popular over the years. In fact, states have made a point to build and refurbish old piers to give anglers a place to fish – and not need a boat! Saltwater fishing from a pier gives an angler the opportunity to battle a wide range of fish from stripers and blues in the north, tarpon, cobia and sharks in the south; red drum and Jack trevalle off Texas to white snapper and sharks off California.
So What Reel Size is Best?
If I had to pick one KastKing spinning reel size that would be best suited for pier fishing around the states and other countries, I would say the size 5000 Sharky Baitfeeder III Spinning Reel would fit the bill perfectly. This reel has a large spool capacity for various size lines, is light and durable, plus offers a great drag system. The baitfeeder part just adds to its worth, while using bait – live or chunks.
Carbon fiber drag washers for up to 26.5 pounds
CNC aluminum Shark Fin Braid Ready Spool
10 + 1 shielded stainless steel ball bearings
5:1 gear ratio
The front or rear drag adjustment makes easy drag adjustments, even while fighting a fish if needed. I love the 5.5:1 gear ratio on this spinning reel as it gives anglers enough power to winch in the larger fish, but also offers enough speed – due to spool size – to work artificial lures making them appear lifelike or a wounded baitfish. Pair this spinning reel size with an Estuary Inshore Saltwater or Kong series rod of your choice and you have the makings of the perfect saltwater fishing rod and reel combo! For me, the 5000 pairs perfectly with the 8 foot Estuary!
Hit the Inshore Grounds
Moving to the inshore grounds from a boat, the game changes slightly where the "right" saltwater spinning reel size is concerned. For the most part, longer casts are not needed, but you still may want to push the distance element. Another factor for the inshore game is a lot of casts may be made as for the most part artificial lures or jigs will be used. For me, the best inshore saltwater spinning reel has got to be the KastKing Kapstan Elite Saltwater Fishing Reel in size 3000. Thus reel is a beast and can tackle any inshore gamefish you target while saltwater fishing.
100% Waterproof fishing reel at level of IPX6, with up to 15 EverSeal rubber rings
ultra-smooth triple-disc carbon fiber drag system and 30lbs max drag
6 double-shielded stainless steel ball bearings; One special-designed polymer roller bearing that is high-strength and will never rust, and one 8-pin stainless steel one-way bearing to prevent the flywheel from reversing.
I have used this reel while saltwater fishing the flats in my local bays on fluke and even bottom dropping for blackfish, to chasing striped bass and monster bluefish on the nearshore grounds just outside the inlets of New York. There is no question that this reel is a beast in the saltwater game and is the perfect saltwater spinning reel size for your inshore game plans. Pair this reel with an Estuary 7 or 7-foot, 6-inch spinning rod and you are ready to battle everything from outsized tarpon to stripers to bottom dwellers and more.
The Choice is Yours
There are a ton of options for saltwater fishing and choosing the best spinning reel size for pier and inshore fishing. I feel however, that if you want to add two solid additions to your arsenal, the Kapstan Elite Saltwater Spinning Reel in size 3000 or the Sharky III Baitfeeder in size 5000 will give you all you need when working the flats, channels, holes or inlets by boat to casting from your favorite pier.