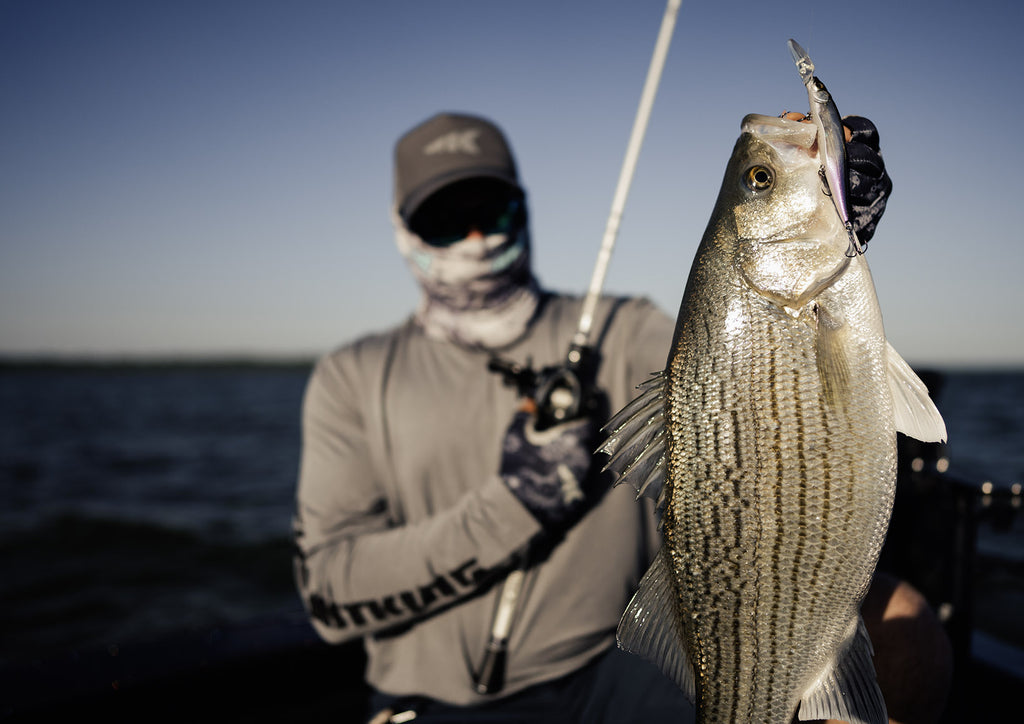 Best Baitcasting Reels for Jigging
Vertical jigging while fishing is an important style that will land you large fish, and work throughout the year. Depending on where you are fishing, and whether you are saltwater or freshwater fishing will depend on what size and style baitcaster you can use while jigging. KastKing has a lot of baitcasting reels that will work when jigging in either the saltwater or freshwater environs. Let's take a look at what I feel are the three best, and will serve you well while jigging.
I can remember a few years back while striper fishing the northeast during the sand eel run. My son-in-law and I were bailing large striped bass vertical jigging with Diamond Jigs in sizes A27, 47 and 67. The bass were all in the 30-60 foot depths and chowing down. Using a KastKing Rover in size 50 did the job as we landed bass after bass until we couldn't reel anymore!
KastKing Rover Round Baitcasting Reel
For saltwater jigging, I like the KastKing Round Rover Baitcasting Reel. The reel is built well and offers all an angler can need while jigging. The level wind aspect also allows you to concentrate on jigging technique rather than worrying about how the lime will lie on the reel.
New, thicker hard anodized aluminum side plates, CNC machined spool, precision cut brass gears, all alloy flawless level wind, industry-first stainless steel worm gear, patented metal idle gear and stainless steel shaft
Superior carbon fiber drag system. Newly designed "Cymbal Washer" System, KastKing Rover now offers up to 30 pounds of smooth drag.
Premium MaxiDur double shielded stainless steel ball bearings (6 + 1 BBs on Size 40-60, 4 + 1 BBs on 70 - 90) for smooth operation.
If you are heading to saltwater in search of your favorite species while jigging, the KastKing Round Rover Baitcasting Reel will serve you well. Spool it up with mono or the line of your choice for hours of action. A simple wash down after each use will have the reel in mint condition for years to come.
KastKing Kapstan Elite Size 300
When this reel came out I called it a beast, and after some time, now I call it the ultimate beast! I was using this baitcasting reel for crankbaits in deep water for largemouths, and for topwater frog action. I felt the low gear ratio was perfect for winching fish. Fast forward and I have found this reel makes a great vertical jigging reel too! It gives you cranking power with its low gear ratio, large capacity spool and large handle.
Largest frame, highest capacity, low profile baitcasting reel to date.
Comfortable, low profile design yet high line capacity and incredible drag power make this the perfect big fish/big bait, casting reel.
Perfect baitcasting reel for additional line capacity for jigging deep water
8+1 BB(8 MaxiDur double-shielded, stainless-steel ball bearings plus an instant anti-reverse bearing)
What I really like about this baitcasting reel is its ability to be used in saltwater or freshwater. The large capacity allows ample amounts of line for fighting large gamefish in either areas. Add in the cranking power needed while jigging and you have a solid winner.
KastKing MegaTron 200 Baitcasting Reel
The new player on the block for KastKing is the MegaTron 200 deep spooled baitcasting reel. This reel offers a great alternative, and can be used in inshore saltwater jigging for red, blues, stripers, to the Great Lakes and large bodies of water throughout the US for largemouth bass. The reel is a standard style baitcasting reel – low profile/level wind. It packs a solid punch and will work great while jigging.
Wider frame and larger capacity spool that holds up to 130 yards of 17 pound mono and delivers up to 28.6 pounds of smooth, triple disc carbon drag.
Designed with a low-profile shape for comfortable, all-day fishing. The frame and side covers are made of lightweight and durable graphite that is carefully designed to fit comfortably in your hand. A wide, 105mm aluminum handle arm and beautiful 3A Cork knobs ensure you are always in control, and gives you power for jigging when needed.
7+1 Double shielded, stainless-steel ball bearings ensure smoothness under load and consistent performance for both fresh and saltwater fishing. Precision machined brass main gear and brass pinion gear provide exceptional strength plus durability make this the perfect baitcasting reel for jigging.
Although this is a relatively new reel, I did have a chance to play around with it. Fishing my home waters, I jigged up some school stripers with Diamond Jigs in the smaller A27 size. The reel made for quick work of the bass, and was comfortable to fish with all day long.
Whether you plan to fish saltwater of freshwater for gamesters, KastKing has got you covered with these three great reels. The Kapstan is just over $100 while the Rover baitcasting reel and the new MegaTron are both under the $100 platform…by a lot! Hit the web and check one of these three before your next trip, especially if you plan on jigging.