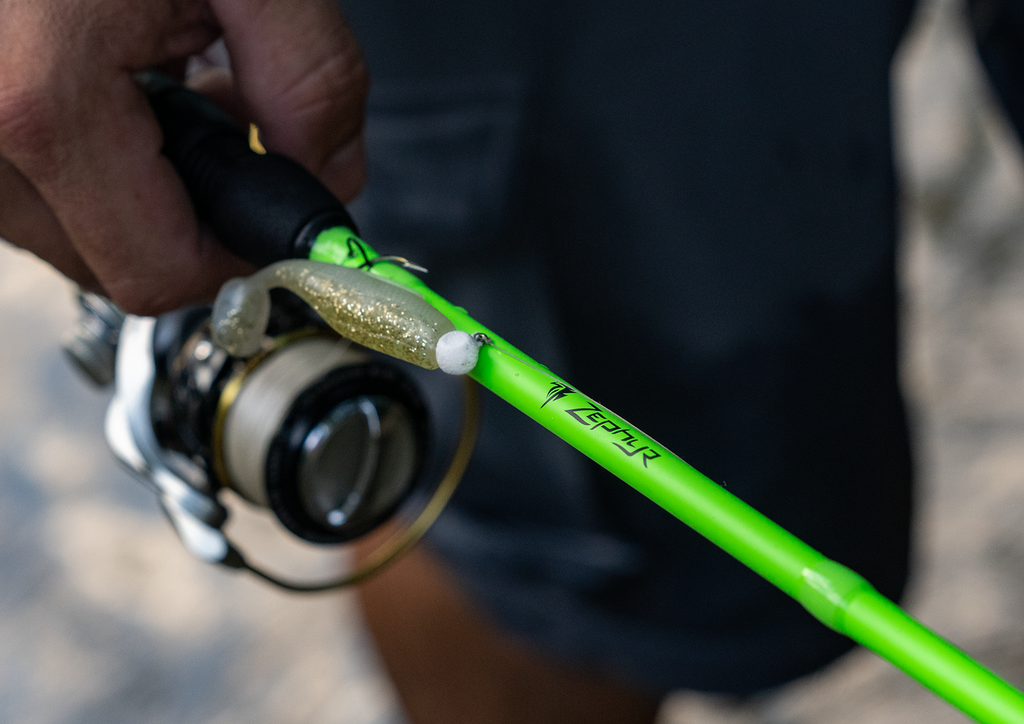 KastKing's Best Ultra-Light Fishing Rod for Trout Fishing
In the KastKing line-up, there are several ultra-light fishing rods available. The Perigee II, 6 footer is a great rod, and will serve anglers well while throwing lighter lures for trout. However, the two new players on the block – Zephyr and Royal Charge may unseat the Perigee II as the best available. These rods are a perfect match for light action trout fishing. What I liked about both rods is they are very light, come in several different sizes and are two-piece rods, which makes them great for hiking through the woods or biking to your favorite fishing hole. Another feature of the two-piece is carrying them on a plane while traveling.
Before we dive into the specifications that make these two rods your top choice for ultra-light trout fishing, let's see what it takes to fish ultra-light fishing rods. Ultra-light fishing is not like other types in that almost every offering you use will be less than 1/4 ounce. Using lures in this weight class requires lighter lines, which inevitably may lead to lost lures and worse than that, lost fish. You reel's drag has to be super smooth, and you might even want to learn how to "back reel" while fighting a fish. There are several good YouTube videos on back reeling. 
Zephyr Ultra-Light Fishing Rod 
This fishing rod is made for ultra-light fishing and finesse fishing and is built on a multi-layer IM6 Graphite blank. This blank will enhance sensitivity, plus reduce weight – a key for me in any fishing rod. The multi-layer design also creates a power and action to bully fish, and make lures "dance." 
Zirconium Oxide Super Line Rated Guides – These guides are the perfect answer to using super thin and light braided line to make the longest possible cast with the lure that weighs under 1/4 ounce.
3 for The Win – The Zephyr series offers three (6 others for other than UL fishing) different ultra-light rods. The rods come in a 4-6, 5 and 6 foot model. I prefer the 6 footer… longer rod, longer casting ability.
Zephyr SFS – For me, I like the Zephyr SFS reel for this rod. The reel offers a super smooth drag, which is paramount for light lines, light lures and heavy fish! 
Royal Charge Ultra-Light Fishing Rod 
The Royal Charge spinning rod is slightly different than the Zephyr but will perform just as well in my opinion. The blank is slightly different in its name, but most anglers will not be able to feel the difference. The KastKing KastFlex IM6 blank is what makes this series sensitive, light and incredibly powerful. The high carbon construction enhances the slightest bites and provides the power to penetrate hooks quickly and consistently while trout fishing with an ultra-light fishing rod. 
Another Winning 3 – Similar to the Zephyr, the Royal Charge series offers three ultra-light models (13 others for light to inshore fishing). The rods for ultra-light fishing come in a 5-6, 6 and 6-6 length.
Titanium Oxide Performance Line Guides – Titanium is strong and resilient and when used to create guide rings, and provides unmatched durability. Again, perfect for light super lines! All Royal Charge fishing rods include premium stainless-steel guide frames.
For this rod, I like the new Kestrel 1000.
Double It Up
Both rod series – Zephyr and Royal Charge ultra-light fishing rods offer two great design features. 
Easy Travel and Storage with 2-pc Designs – Every KastKing Zephyr and Royal Charge spinning rod is made in 2 pieces for super easy storage and travel. This makes trout fishing in remote places with either rod simple and easy. With either rod series, you can ride a bike or backpack into your favorite lake. You can easily carry multiple rods or have a spare on hand in your car or boat. KastKing's time-tested ferrule design ensures that these 2-pc rods will perform like 1-pc rods.
High Density EVA Handles – The thin and light, high-density EVA handles and fore grip complement the graphics and color of the rods and helps reduce overall weight. It's comfortable in your hand and provides all day performance.
Colorful Too! 
In closing the Zephyr and Royal Charge ultra-light fishing rods are also quite colorful with fluorescent green Zephyr or fluorescent orange Royal Charge fishing rod blanks. These rods will be a huge hit for the kids just getting started in fishing. The rod series also offers rods for other species with a wide range of lengths and weights. For trout fishing however, I feel your best option is the Zephyr KRDSPNZP-6UL2 and the Royal Charge KRDSPRC-60UL2. Both rods are rated for 2 to 6 pounds and will handle any trout fishing adventure you have planned.
One last tip for trout fishing and the use of ultra-light gear. Don't underestimate trout as they are hard fighters and don't roll over and give up. Make sure whatever reel you are using is in top shape, with a smooth drag. As I said above, back-reeling is also an option but to me, a smooth drag will work equally as well.