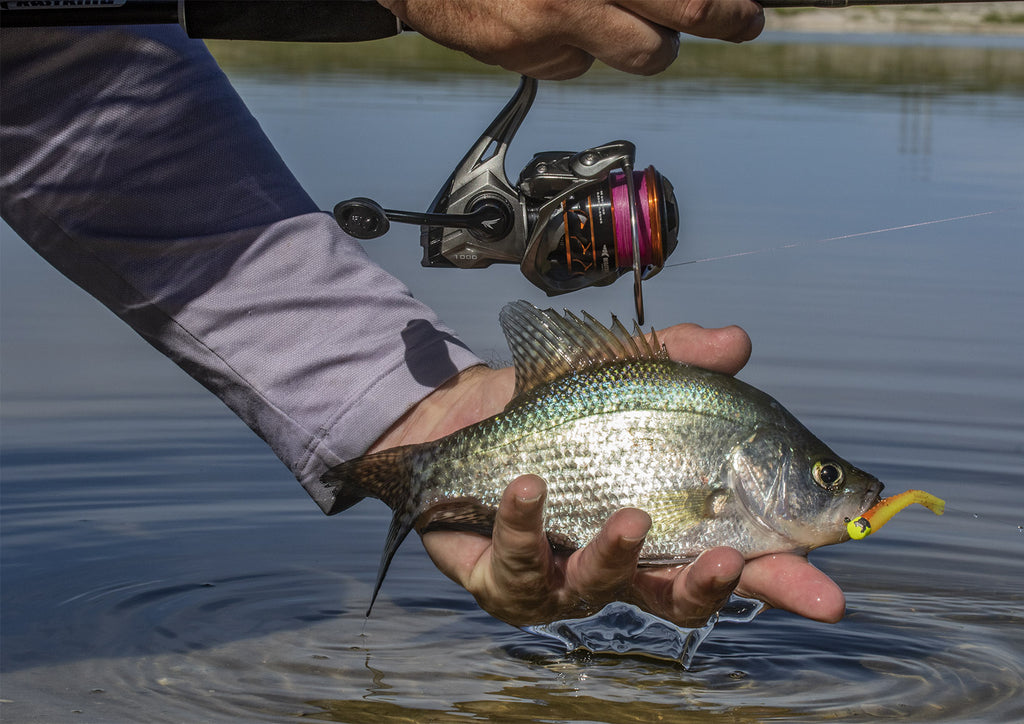 Buyer's Guide: BFS (Bait Finesse System) Rod and Reel Combos
Bait Finesse Fishing (BFS) has taken the fishing world like a storm the last several years. Anglers are using smaller and smaller lures for bass, crappie, snook, redfish and more. In fact, there probably isn't a specie out there that anglers have not tried bait finesse fishing on! When bait finesse fishing, the fishing combo is just as important as the lures you throw, the line you use and the fish you are targeting. Let's take a look at four KastKing reels for this style, and also offer up what I feel is a solid rod choice for each. The first two are high-end specimens made for serious angling… or the angler that just wants the best! The last two are moderately priced to ease the wallet, and still perform flawlessly while bait finesse fishing.
Kestrel Elite Magnesium Frame BFS Finesse Baitcasting Reel
To say the new KastKing Kestrel Elite Baitcasting Reel is a top end reel is an understatement. This reel is built like a tank, weighs next to nothing and is probably one of the best bait finesse reels on the market today! I only fished with this reel a handful of times, but I was able to cast hair jigs as light as 1/8 of an ounce with ease. And, the reel is so light you don't even feel like there is one on the fishing rod.
Lightest on the market – 4.4 ounces
Compact size
FAF (Flyout Arc Finesse) Braking system was designed specifically for finesse fishing
Shallow feather spool weighs only 5.6 grams
LFTV (Low Friction Tapered Vortex) Line Guide
Two half-ring magnetic brakes automatically adjust to slow down the spool when braking is needed to prevent backlashes. As the speed of the spool decreases, the magnetic field inside the spool diminishes and the magnets retract to maximize casting distance. There is also an external fingertip brake adjustment dial for fine tuning spool speeds for smaller baits.
Although weighing under 5 ounces, the main gear and shaft are constructed of hard anodized aluminum and linked to a 100 percent brass pinion gear. A carbon handle and side plates also keep the weight low while maintaining strength.
The patented LFTV (Low Friction Tapered Vortex) Line Guide decreases the angle the line enters the guide, limiting friction during casts. A straight line and less friction means one thing – zero backlash issues and longer casts with light lures.
As for the fishing combo portion of this bait finesse set up, I would pair this reel with the Speed Demon Pro Jerk Bait casting rod. This rod is light enough to pair well, plus offers a nice taper capable of throwing smaller finesse baits, and slightly larger ones as well.
KastKing Kestrel 1000 SFS Carbon Body Spinning Reel
Moving to the spinning side of things the 1000 SFS is just as light and strong as any around and a perfect bait finesse reel. At only 4.6 ounces and made from a full carbon fiber frame along with maximum use of 7075 and 6061 aluminum components are what keeps the weight down. Pair this reel with a Speed Demon Pro Tube rod and you have a great fishing combo.
6.2:1 Gear ratio
10-pounds of available drag
The patented spool makes for less friction due to its dual lip design
Powerfully built
Carbon fiber drag washers
You want to talk tough, the reel is built with a 7075 aluminum main shaft and 2014 aluminum drive gear, solid brass pinion gear, and a shallow cut CNC 6061 aluminum braid-ready spool! Add in the double sliding stabilizer rods (D.S.S.R.), an aluminum main gear and brass pinion gear as well as a direct drive aluminum handle, this reel provides anglers with a surprisingly stout tool to target finicky fish in clear and/or highly pressured waters. This is one bait finesse reel you want to add to your arsenal this year.
On the rod end to complete the fishing combo, again I like the Speed Demon, but for this combo go with the 6-10 finesse tube rod. The rod offers a great balance and the power to land the big girls. The fast taper also allows a good feel with smaller finesse baits.
KastKing Zephyr 1000 SFS
The Zephyr SFS is the spinning reel is made specifically for finesse fishing. The reel offers a shallow spool, making less friction and less weight. I have used this reel for about a year now in my area. It was primarily used for throwing small 1/16 ounce in-line spinners for local trout. You could fish this reel all day and not feel any arm fatigue whatsoever. 
Carbon Fiber Body – 6.7 Ounces
Oversized 7075-T6 Aluminum Alloy Main Shaft
7 Stainless Steel Ball Bearings
Added Anti-Reverse Bearing and 4 Shielded Bearings in key areas 
What I really liked about this reel was the gear ratio. The 5.2:1 gives you ample power, plus enough speed. Keep in mind, most finesse fishing is a slower retrieve anyway, but at times – especially with the in-line spinners I was using, you will need some speed. 
On the fishing combo side, the Speed Demon Pro gets the nod again. I guess you could say I really like the Speed Demon Pro series, but trust me, the Perigee II series and Wide Eye Walleye make great choices as well. For the SFS though, the Speed Demon Pro Spinning Rod - 6'10"/Fast-Medium Light-Finesse Tube-1PC, which is rated for 4-10 pound test line will give you the perfect set-up for light lines, light baits and "big" fish 
KastKing Zephyr Bait Finesse Casting Reel
This reel is a beast in a small package. The Zephyr Bait Finesse casting reel features a small, palm-sized frame that is perfect for finesse style fishing applications. Made of extremely light weight carbon fiber, it weighs in at 5.6 ounces. This combination of light weight, small size and extreme strength, make this the perfect baitcaster for bait finesse applications.
8 Magnets – 10 Levels of Adjustment
High Speed – 7.2:1 Gear Ratio
Carbon Drag
Ultra-Light Spool - 0.32 ounces/10 grams
The bottom line with this reel is you will love it. It weighs nothing, has a solid foundation, speed where needed, and is stronger than most reels out there. The spool is machined from solid aluminum and spins freely thanks to double shielded SS bearings. I have used this reel to throw small 1/8 ounce hair jigs and was able to sling them a good distance with no issues. This reel is a great addition and definitely can be classified as a "Best Baitcasting Reel" for finesse fishing.
I paired this reel to the Perigee II casting rod - 7'0"/Fast-Medium-2Pcs, which is rated for 6-12 pound test line. The rod is stout when needed but light enough for the lighter finesse baits you want to throw.
In Conclusion
Whether you want to spend a little money and opt for the higher end Kestrel series or stay low budget in the Zephyr series, KastKing has made finesse fishing as easy as can be. Pair these reels with a wide array of KastKing rods and you have the perfect fishing combo for bait finesse fishing.