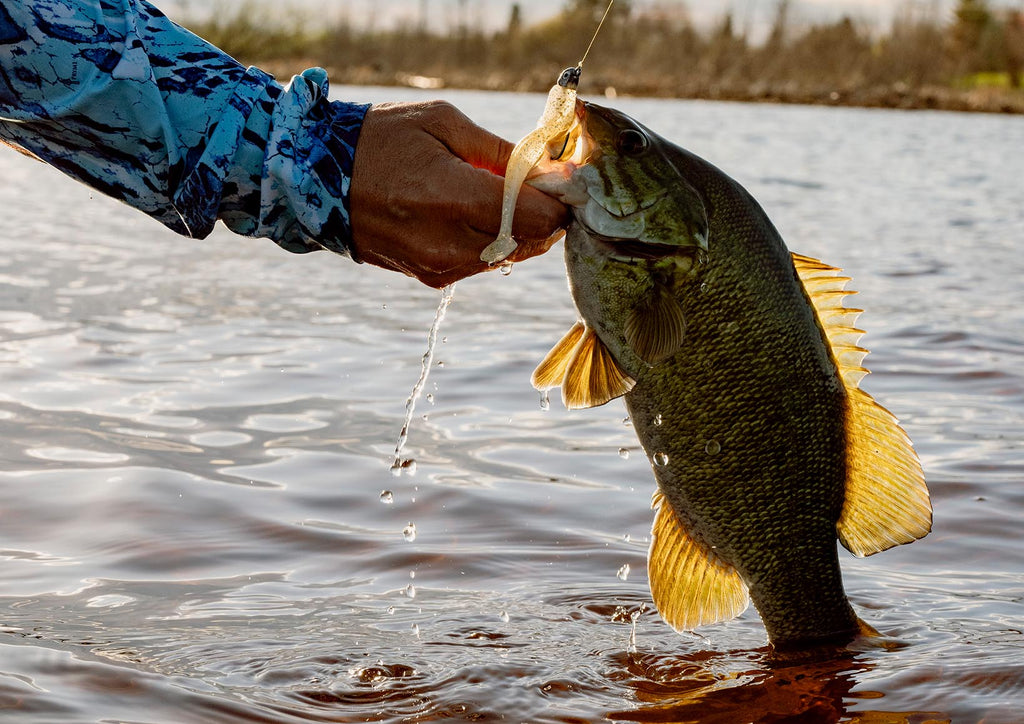 How to Choose Saltwater Rigs
Although it is fun to fish, especially with family and friends, catching fish is probably the number one reason we all go fishing. And, without the correct terminal tackle and rigs, chanced are there will be a lot of unhappy anglers come the days end. Choosing the "right" rig before heading out will increase your chances ten-fold and make for a rewarding day…and possible a tasty dinner. Let's take a look at a few I like – MadBite Jigs, Big Bait Rig, Fish Finder Rig and Bottom Rig. All four of these rigs will work well on a variety of species.
MadBite WideEye Jig
The MadBite WideEye Jig is no different than any other bucktail style jig. And, for me, the jig is one I use for a lot of different species and situations. Jigs can be used on either spinning or conventional tackle, including baitcast reels. They come in sizes for saltwater from 1/4 ounce all the way up to 5 plus ounces. A jig can be used to work the bottom while tipped with a strip bait for bottom dwellers like summer flounder and the likes. They can also be used to cast to ocean debris in search of mahimahi. A heavier jig can also be used as the bottom weight on a three-way rig where the jig is baited with a strip bait, while a hook or another lighter jig is 16-20 inches above. This in effect appears like a small school of baitfish…and is deadly.
A favorite of mine, the MadBite Jig covers a wide array of styles and species, making it a go-to rig.
Big Bait Rigs
For big baits, nothing beats a two-hook rig. This rig, which is called the Bottom Feeder made by Capt. Tom Cornicelli of Back-Bay Outfitters in East Moriches, NY. This rig is made for big baits, especially for summer flounder (fluke). The rig offers a blade ahead of the two hooks, which are spaced about 6 inches apart. This rig can hold a large strip bait of 12 inches or longer, plus small whole squid and many other baits. The rig can be used for a variety of species including big stripers, weakfish, sea trout, and more.
FishFinder Rigs
For me, this is the best all-around rig. The rig allows you to fish live baits, jigs with bait, strip baits and any other offering. What makes this rig effective is the slip-sinker holder that allows any live bait to swim freely without the sinker weight obstruction. When using strip baits or other dead or artificial baits, the bait will lie on the bottom and when picked up by a predator, they will not detect the sinker weight, plus the angler will feel the bite, not the weight of the sinker.
The best all-around rig that is easy to tie and works well in all water depths and situations.
Bottom Rig
One of the most basic rigs is a bottom rig. This rig is good for a multitude of species, and is easy to tie, and is basically tangle free. This rig is either tied with one hook or two hooks, with the hooks placed 6 inches above the sinker, or 6 and 12 inches above the sinker on the two hook model. The rig is tied with a bottom loop, then a dropper loop for the hooks. The hooks can either be tied directly to the loop, or with short leaders – 12 inches long. For fish like Sheepshead and blackfish, I prefer a one-hook rig to lessen snags in the rocky structure. For fish like porgies, kingfish, flounder (winter) drum and a variety of other bottom dwellers, the two hook model is preferred.
Although the Bottom Feeder is specifically made for summer flounder, there are many other species where big baits will reward your efforts.
Leaders and Weights
When tying any of these rigs, your leader will be important. For my leaders I use Ande Pink Monofilament or KastKing Kovert Fluorocarbon. The Ande is durable, abrasive resistant and strong. The fluorocarbon is less abrasive resistant, but is totally invisible in the water column. If you are targeting a toothy fish like bluefish, shark etc., then make sure your leader material is steel. For weights on the rigs, I always use the lightest weight possible for the current and depth conditions.
In Closing
As an angler the key component of choosing the right rigs is like most options in fishing… you need to know what type of fish you plan on targeting. You need to know what type of structure, water depth, current, possible wind direction and speed, plus other nuances you will be up against on any given day. Is the tide running at 6 knots? Wind blowing hard, or not at all. These are all factor that will determine what rigs you use on a given day.
There are other rigs out there that will catch fish, but I feel these four will cover most of your angling needs in saltwater. Before heading out, check the conditions, pick a specie, then head to your local tackle shop, KK website for MadBite Jigs or tie your own. Tight lines and screaming drags await your next outing.