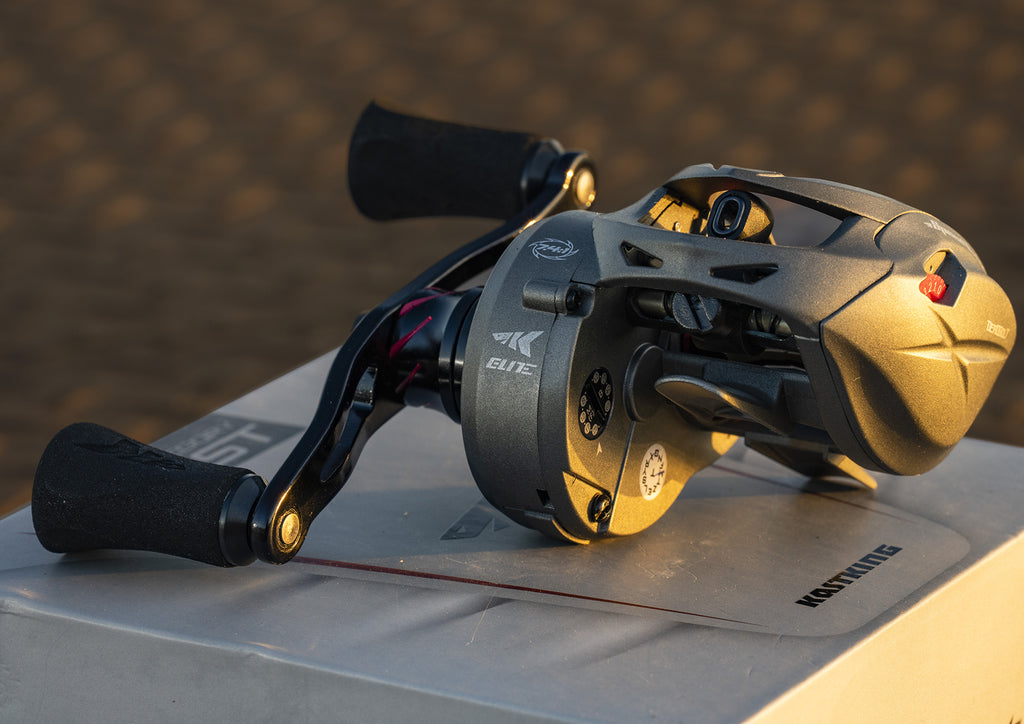 How To Lubricate A Fishing Reel
A fishing reel is one of the most important pieces of gear an angler will have in their setup, no matter if they chase 200-pound tuna or bream from the local pond. A smooth operating reel will increase the efficiency and effectiveness on the water. Reels go through wear and tear from daily use and need to be maintained like any piece of intricate equipment. Reels function due to bearings and gears, that need to be lubricated, especially if the equipment is used heavily and frequently. By lubricating your reel, you can protect it and prevent future damage to your equipment. 
KastKing is here to help with any of your reel needs. Add KastKing lubricant to your order for an easy addition to your new reel purchase. This preemptive measure will help you stay on top of reel maintenance in the future. KastKing reel lubricant is specifically designed for the high-tech inner workings of fishing reels and will work better than cheap or generic lubricants that can have impurities detrimental to a reel's interior. Additionally, it will keep you from resorting to lubricants that can have negative impacts on your gear. 
Reels can spin freely due to bearings within the housing of the reel. To fully access the reel the user must completely take apart the reel. There are some ways to easily access the bearings through maintenance ports, but they are neither foolproof nor present on every reel. Bearings rely on oil for their lubrication which is better for fast-moving parts that need less friction, whereas grease protects and coats slower-moving parts that interlock with one another, like gears. Both are important when maintaining a reel, as fishing reels serve both functions. 
Anglers should regularly oil the reel every few times out on the water but a deep clean is only necessary once or twice annually, depending on the frequency of use. By lubricating your reel, you can get more enjoyment out on the water knowing that your reel is ready to perform to its fullest capabilities.  
Why Lubricate Your Reel?
This step-by-step guide will help you keep your reels in tip-top shape throughout the fishing season. Adding oil is necessary for any reel, even one straight out of the box, as some come with insufficient lubrication in the bearings. Dirt, grime, water, and weather exposure can harm the moving parts of reels, which are key to a smooth application. If you have ever used a reel that has been neglected, then you know how irritating the grinding bearings can be as you retrieve your lure. Additionally, the reel will have a longer life and will not fail you when the fish of a lifetime bites. 
Fishing is a hobby that requires patience in-between moments of excitement. Treat reel maintenance as a part of the process that helps you meet your end goal. After all, no one wants to deal with gear malfunctions when the day is supposed to be devoted to purely fishing
Lubricating a reel with specific oil and grease may seem like a tedious process, but it will save you an extra trip to the sporting goods store or part order when the reel eventually fails. Remember that there are many types of reels, and each has different mechanics. Do proper research on your specific reel model for details on operation and disassembly. Here I will give a step-by-step guide on the basics of how to lubricate a reel for regular maintenance. 
Step By Step Guide
Items
Brush
Paper towels
Cleaning solution
Cleaning the reel of all dirt or grime on the outside is key to maintaining the reel as it is disassembled. By keeping the exterior clean you can ensure the important inner workings remain free from the outside elements that would cause significant damage. 
The next step is to disassemble the reel. Some reels have easy-to-access maintenance ports to apply lubricant, but disassembly is required for a thorough maintenance service. Label each part of the reel and pay close attention to the assembly of the reel because they can have complicated parts. 
Clean the interior workings of the reel as well if they are dirty. Just adding lubricant to the reel will not fix issues resulting in the buildup of dirt. The oil and grease need clean surfaces for the reel to work properly. Use a non-abrasive cleaning tool to gently remove the debris. Use a specialized cleaning solution designed for fishing reels. 
The next step is to apply the grease to the gears. Using grease and oil for specific parts of the reel will ensure the reel works correctly. Never mix grease and oil in your bearings or gears. Remove any excess.
Oil the bearings adequately. Just a drop or two will do.
Next, make your way through each part as you start to reassemble the reel. Apply oil to every moving part as it is put together. This includes the bail, knobs, and handles. By paying attention to each part there will be longer periods of time between maintenance. 
Finally, complete assembly and ensure the reel is put back together properly. Each part should move smoothly when put to use. 
Conclusion
Reels are the workhorses behind your success on the water and they go through a lot when they are dragged through the salt, rain, and mud. Reel maintenance should be a part of every angler's gear checklist routine. At least once or twice a year sit down to take apart your reel and reapply the lubricant that makes your casts and retrieves as smooth as they can be. 
Taking apart and reassembling a reel can be a difficult and confusing task, so seek the help of experienced anglers and professionals for guidance. But if you do choose to take on the task it can be a rewarding way to become more familiar with your equipment and how it helps you succeed on the water. KastKing is proud to not only supply you with the right reel for the job but also the supplies to help keep your reel as pristine as the day you bought it.