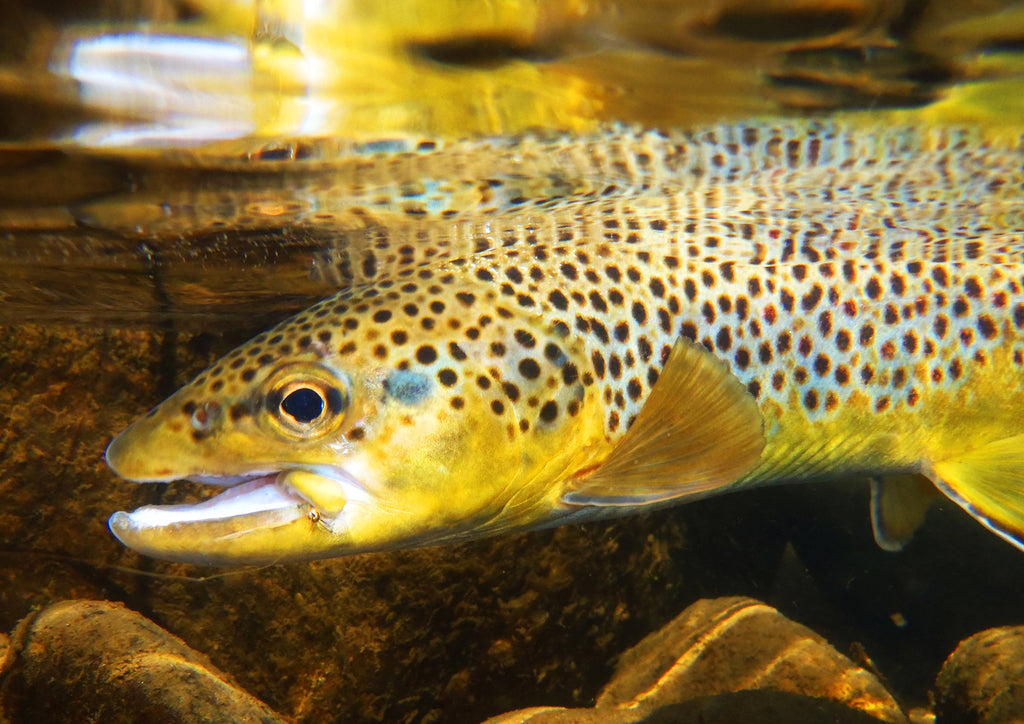 "A trout is a moment of beauty known only to those who seek it." - Arnold Gingrich
They say it takes a special kind of person to continually be outsmarted by a fish that's usually less than 12 inches long. But its that drive that keeps them coming back for more. The drive of a beautiful rainbow, or brown trout that glisten from the depths of a river, and shine like the gloaming in the middle of a field. It's the silent call that all fisherman feel, that courses through their veins and beats through their heart.  If you are a beginner to trout fishing, then you are in luck. There is nothing like that first catch of a beautiful trout that will truly stay with you for a lifetime.  Let's talk about how to trout fish.  
There are 5 species of trout.  Brown trout, rainbow trout, brook trout, lake trout, and cutthroats.  Those are your main species, there are others, but lets stick with them right now.  Trout are ever elusive, and they are a great fight. That is why fishermen love them so.  
Where to find trout
Trout can be found in rivers, lakes, brooks, and even some ponds.  Trout are mostly found in cold, moving water. They are very active and can be found swimming through the waters.  In lakes, they can be found deep and can grow very big.  
Types of baits and lures 
When fishing for trout, natural food that is the trouts diet, will always be best.  The top baits are fish eggs, worms, flies, minnows and live baits.  Its important to remember that presenting these baits in their natural way, will give you the best results in catching a trout.  Crank baits, believe it or not, are actually a great lure to use as well, as bigger trout will definitely eat it up.  You are imitating bluegill or perch or any kind of baitfish. Drop shot and split shot is also quite common and a useful method of fishing for trout as well.  Loading up a hook rigged with live bait and casting it out and slowly bringing it back to you through the current.  Try bouncing the bait off the bottom as well.  Power bait is another useful bait.  Trout are scavengers and are always searching beds of fish for their eggs.  In-line spinners are a great lure to use as well.  Rooster tails being the most popular of trout fishermen.  The blades give off a nice flash to attract the trout.  You can't ever go wrong with soft plastics and bugs.  Crickets are great at catching trout.  Grasshoppers as well.  Spoons are another great lure.  Just like the inline spinner, they give off enough flash through the current to reel in those beautiful trout.   
Fly Fishing 
Fly fishing is a true art form, and their is nothing more beautiful than watching a fly fisherman casting through a river as they wade in the current, beckoning the trout.  Fly fisherman will use an array of flies on topwater to catch a trout.  They will fish rivers, creeks, and streams, after the ever elusive trout.   
Night Fishing For Trout 
Night fishing for trout is another great technique.  When that sun goes down, its an entirely different world for fishing.  Suddenly, the water you knew in the daylight, has now turned into a dark abyss of the unknown, and quite honestly, that's the exciting part other than catching the trout.  It's also quite challenging, which makes for a fun fishing adventure.  Lets face it, that's why they call it fishing, not catching.  If it were that easy, and you caught the trout 100% of the time with ease and no challenge, well, it would be rather boring, now wouldn't it? Finding the right location in the dark is key.  Focusing on the banks or slack water is best.  But don't always go by the book, because the fish sure don't.  Cast where you feel they may be.  Have fun with it, and try to read the water the best you can.  You will eventually run into some fish.   
Summertime Fishing for Trout 
As the temperature heats up in the summer, the trout will move to deep holes or be behind obstructing breaking the current.  You must make sure you bring your bait or lure effectively across the breaks in that current.  Presenting that bait or lure the right way is key.  Remember, they are going to want to move to deep holes as well.  Present your bait or lure to entice them to come out.   
In conclusion, trout fishing is one of the most popular forms of fishing.  With the beauty of the trout that brings the allure, and the fight that they give, there is no wonder why its so popular.   I've never found more peace, more tranquility, more in touch with Mother Nature, than wading the waters for a trout.  To me, that's what its all about.  Catching the trout is the bonus.  But being immersed, deep in the wildlife that surrounds you, and feeling the hand of calm, is what its about.  Let go, leave your worries on the bank, cast forward into the life that awaits, and breathe in all that is good.