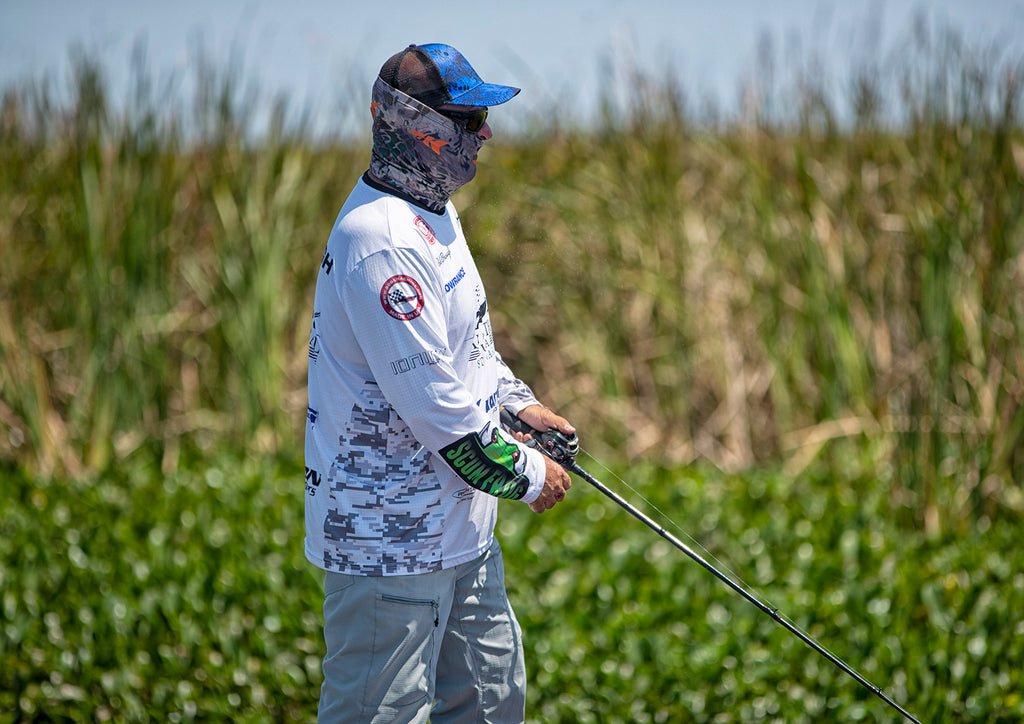 How to fish for bass in the summer
"One must maintain even a little bit of summer, even in the middle of winter." ~Henry David Thoreau.  Summertime is the most exciting time of the year.  Kids are so excited to get out of school and enjoy the freedom that comes with a sunny day.  The smell of freshly cut grass or a charcoal briquette entices as it glides through the air on a cool breeze. Let's not forget the amazing bass fishing that comes with summer, if you know where and how to catch them.  Bass are going to be kind of picky in the summer.  They will eat, but they are not going to be as excited to do the work, and will be lethargic.  You are going to have to put in the work, but if done right, you can yield a true trophy fish catch or maybe even your next personal best.  
Where to find bass: 
Always listen and watch Mother Nature closely.  What do I mean by that?  Mother Nature will always tell you where to find the fish.  Watch the birds.  Where are the birds feeding?  Where are they going?  What part of the water are they in? Are they catching fish?  Listen to the breeze and watch where the current is or ends up.  A windy day will push the water to a certain end and where the water is being pushed, that's where all the bait fish and nutrients in the water will end up. That is where the fish will likely be feeding and end up as well.  Watch for fountains or currents which produce oxygen and bring food for the bass as well.  
Because it is very hot in the summer, you are going to want to look in deeper waters where its cooler.  But you can also find bass in shady areas that are only a few feet deep as well.  Overhanging is cover and protection for bass.  Bass love to go under docks, trees or lay downs in the water, any place that is going to provide that cool cover or escape for them.   
Look for ledges or points that drop off.  It's a great place to just sit and camp out, casting straight down and waiting for that strike.  They love to hide right under those ledges or close to them.   
Vegetation is another great place to find bass in.  Vegetation such as Lilly pads are a great place to use a top water frog to entice those picky bass and draw them out of cover to strike.  Other vegetation such as hydrilla is great to find them in as well.  Throwing a weedless bait into vegetation is almost sure to reel in a good fish.  It's huge cover for them and it gives them the shelter they need.   
When to fish for bass:
You can catch a bass almost any time of day, but the summertime brings hot days and if you can avoid the hottest time of the day, its best.  Early morning fishing or evening fishing are going to be your best times.  Nighttime fishing is great as well.   
Early morning fishing is ideal because you get to watch as the world comes alive around you.  Again, you get to listen to Mother Nature and watch all the signs she points out.  From the sun rising over the water and the wild life starting to awaken.  The birds will start their descent to the water as they are looking to feed.  Watch where they are feeding and take note of their actions.  This is also an ideal time to cast parallel along the banks as the baitfish are up against them and the bass will be feeding right along there.  Making your fan casts, is a great way to cover a lot of water in a quick period of time before it gets too hot.  A fan cast is exactly how it sounds.  Starting parallel and then making your casts in a fan shape, then moving on to the next spot and doing the same.  If you start getting bites, spend some extra time there and see what you can catch before you move on.  If you are not getting any bites, don't waste your time, and move on.  Remember, you are trying to fish as much as you can before it gets too hot and the bite turns off.  
Evening fishing is a wonderful time to fish as well.  Top water is great for evening fishing.  The bass are nice and cooled off and are ready for some action.  Now you can fish some shallow spots in the water as the bass will be held up there.  Fishing points and up against the banks as well, will yield some good bass.   
The best lures for summertime bass fishing: 
Now lets face it.  If the bass are biting, anything is going to work.  If they are biting and hungry, you can throw your car keys in the water and they will bite them.  Seriously though, if the bite is on, its on.  Whatever works for you, or whatever your confidence lure is, go for it.  Always try to "match the hatch" or match what they are eating in the water.  
But, some ideas you may want to try are going to be…
lipless cranks, jigs, plastic worms, top water frogs or buzzbaits, or live baits. 
Lipless Cranks- Make sure you try to match whatever the local baitfish is.  They are ideal for both shallow and deep water.  You can vary your retrieve and yo-yo the lipless crank, or straight retrieve it in.   
Plastic Worms- The plastic worm is such a versatile bait.  You can do so much with a worm.  You can wacky rig it, Texas rig it, or Carolina rig it.  You can slow retrieve it, dead stick it and just let it sit, or vary the retrieve by reeling and pausing.   
Top water frogs and buzzbaits- Are great to throw around Lilly pads and will produce some large bass.  Hop the frog along the pads, pausing and allowing the rings in the water to disappear before you move the frog again.  This allows enough time for the bass to discover the frog as they will usually grab it on the pause.  
Buzzbaits- Are great to cause a disturbance on the top of the water to entice those finicky bass.  Just straight running it along the open water and up against the banks are sure to awaken those sleepy fish.   
Jigs- There are many jigs out there to use.  A skirted jig is great for summer bass.  You can drag it along the bottom as it will kick up a disturbance and resemble a baitfish feeding off of the bottom.  You can toss it into vegetation or any kind of structure and lay down.  Toss it under docks.  The jig, if used correctly, can be a deadly weapon in summer bass fishing.  Kastking makes Madbite jigs that are great for summertime bass fishing.   
Live bait- Live bait usually does the trick.  You can catch a huge bass off of live bait. Live bait such as shiners, worms, crawfish, will surely awaken those summertime bass and call them out to play.    
Types of Rods and Reels to use bass fishing: 
Rods-  There are many different types of rods out there to use for bass fishing.  You always need to make sure you have the right equipment for the kind of fishing you are doing.  There are different rod lengths and actions for bass fishing.  In picking the rod length, you are going to want to choose something that matches your height well.  You also want to choose the right length for where you are fishing as well.  If you are a bank fisherman, maybe a shorter rod would be a better option since you might be fishing around trees or overhangs.  As opposed to fishing on a boat where you might choose a longer rod to cast for distance.  Then you have to decide if you want a casting or spinning rod.
Kastking has a plethora of bass fishing rods to choose from.  For example, the most popular Speed Demon rods, which have a variety of jig/worm, bladed jig, Carolina rig, crankbait, deep crank bait, flippin, frog, jerkbait, lipless crankbait, swim bait, punching, spinnerbait, square bill crankbait, finess tube, shakey head.  Each rod with its specific title for its specific job.  It depends on the type of lure you are using.  Each for casting and spinning rods.   Kastking has saltwater rods such as the popular Estuary inshore saltwater rod.  Made specifically for inshore saltwater fishing, incredibly lightweight, and a powerful action which will hold up in extreme conditions.  They have telescopic rods which are meant for traveling, such as the BlackHawk II telescopic rod.  These rods have floating guides in a six piece telescopic design which opens up to a full length rod of 14 different lengths to choose from or packs down to nothing for better travel or storage.   
Reels- There are many different reels to choose from when it comes to bass fishing.  You first need to know if you want a spinning reel or a baitcaster.  Since we are at it, why not both?  Kastking has a great selection of bass fishing reels.  Did you know Kastking has the fastest baitcaster in the world, with a heart stopping 10.5:1 gear ratio?  The Speed Demon Elite.  It truly lives up to its name.  With a gear ratio like that, its perfect for tournament fishermen looking to reel that line in quick to get on to that next fish, or a fisherman like me who lives in Florida, that gear ratio is perfect to winch those bass in from the thick saw grass we have here.  It's also great if you lose a fish and want to toss that line back in there quick enough to get on em' one more time.  How about a deadbolt reel with NO drag.  That is right.  ZERO drag.  If you are a punching and flipping fisherman who is tired of their drag slipping, then this reel is for you.  Kastking also made the new MegaJaws Elite reel with a flipping switch, for all the flipping and pitching fishermen out there.  Flip the switch to engage flipping and pitching feature.  Depress the thumb bar and it lets your line out.  Release it and it stops the line.   
As you can see, there are many different rods and reels to choose from.  It all depends on what you are fishing for and what you are comfortable with.    
Remember, fishing is supposed to be fun.  Don't overthink it.  If you have confidence in a certain lure, than use it.  If you have confidence in a rod or reel, than use it.  Don't always go by the book when it comes to fishing, because the bass never do.  They are an enigma and its our job to figure that puzzle out of what they are biting on.  That is the fun part.  Don't underestimate cloudy, overcast, or rainy days.  That is when the barometric pressure is perfect, and the bass are riled up and ready to pounce.  I always get my biggest and most fish on overcast, rainy days.  Besides, its just water.  If you get wet, you are not going to melt.  Have fun.  That's what life is about.   
In closing, always try to remember that the fish are a bonus.  It's being immersed in Mother Nature, enjoying the fresh air, spending time with the ones you love, or enjoying that special alone time, that matters most.  Be respectful to the fish.  Catch, photo, and release.  Let the fish grow for another day.  Be respectful to the other fishermen around you, and always pick up your trash.  It's a privilege to enjoy this great sport.  Keep on fishing!