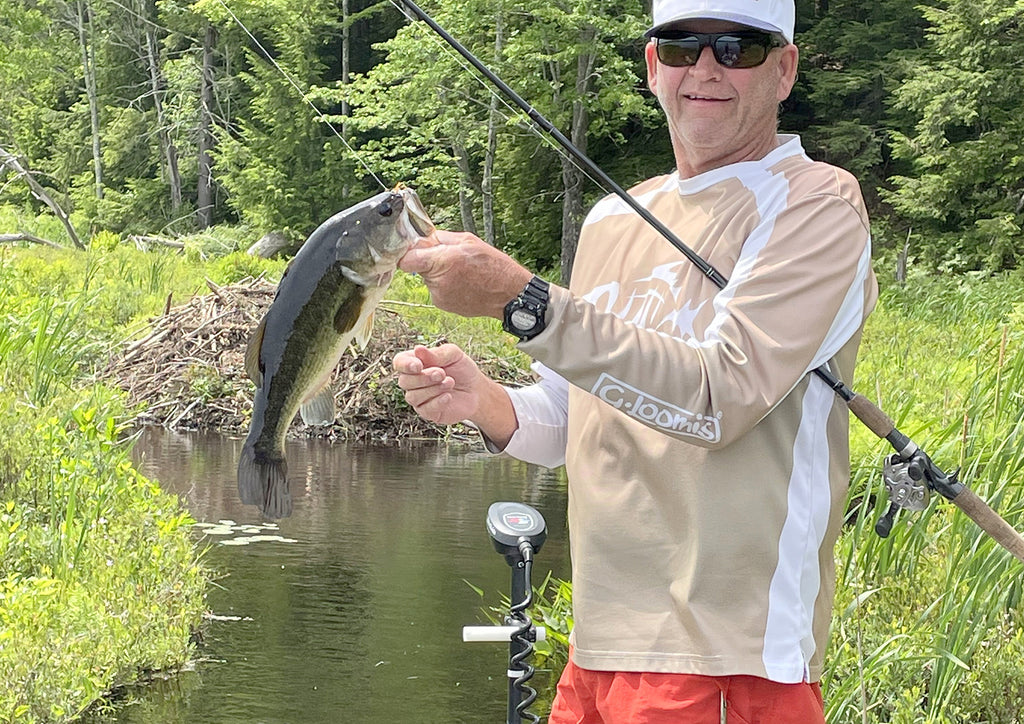 How-To: Summer Bass Fishing
The heat of the summer is fast approaching most areas, and in fact some areas are already seeing "summer doldrums" type fishing. So tell me, how do you fish for bass in the summer? Summertime bass fishing is not as bad as you think. There are two elements that you need to understand – Bass have to eat, and bass will continue to eat in the summer! Yes, bass do become a bit lethargic at times in the summer, but they can still be aggressive. Let's dive into a handful of summer options to make sure you can catch bass in the summer months.  
Dragging the Grass 
One of the best options for summer bass fishing is to hit the grass. Grass comes in all shapes and sizes, depending on where you live. In my opinion, there are four main types of grass that bass love, and they love it even more as the summer bass season kicks into high gear. The four grasses are coontail, hydrilla, milfoil and eel grass. All grass will provide cover from the heat of the sun, attract baitfish and offer ambush points. 
For summer bass fishing, Texas rigged worms or creature baits can be dragged through the fields. A punch rig will allow the angler to penetrate very thick vegetation on the surface, where bass may be nestled waiting for an east target. 
Notice all the baitfish in among this vegetation? And also take notice to how much shelter it will offer from the heat of the sun.
For me, I probably use a Texas rigged and pegged creature bait in the heavy grass more than any other offering. There is however another bait that will evoke vicious strikes. A slender swimbait fished on a weedless hook can be swam through eel grass and milfoil. For summer bass fishing, this technique will allow you cover a lot of area, and as you make the retrieve, it can be dropped into holes in the grass. 
Swimbaits rigged weedless are great for covering grass fields – milfoil, hydrilla etc. - and can be swam through, or dropped into holes.
Jig 'Em Up 
I absolutely love using jigs for bass! I throw jigs into the thickest cover I can find. In fact, I am known to toss a jig high in the area and drop it into the middle of a cattail field, and then pull a good bass out! It is no secret that bass seek cover in the summer months. And, there is no secret that a well-placed jig will put a bass at the end of your line. 
I use 3/8 or 1/2 ounce jigs in blue with a blue trailer, green with green pumpkin trailer or some form of bluegill pattern and trailer. The key is to look for thick cover in the way of blow-downs, heavily matted vegetation or tall stalks of cattail. Allow the jig to penetrate, hit bottom, than give it a subtle twitch. No bite, reel in and pitch to a new spot.
Beaver dams are prime holding areas for bass in the summer months. They offer plenty of shelter and hold a ton of baitfish.
Lily Pad Fields 
Lily pad fields abound throughout the United States and come into full bloom as the summer months heat up. These fields, with long stalks anchoring them to the bottom present the ideal cover for bass in the heat of the sun. They provide ample shade, hold a ton of baitfish, also seeking shelter, and give bass a cover to hide in. 
The best way to fish lily pad fields for summer bass action is with weedless frogs. Weedless frogs can be hopped, swam, jerked, or allowed to lie motionless. All of these methods will produce bites. The key with fishing frogs is cadence, and finding out what the bass want on a given day. There will be days where swimming it across the field is best, whereas other days you will need to stop and start, and on others hop it around a bit. There is no wrong way to work a frog. 
An assortment of colors is best to have with you. Don't be afraid to change up the size or color until you find what the bass want.
KastKing recently released the MadBite Frog Fishing Kits. These frogs come in all the "right" colors for any application, and also offer a popping frog. These frogs are slightly smaller than most on the market, but in my opinion, that could be good. When you use frogs for summer bass fishing, you are not always trying to imitate a frog. A frog worked well can also imitate small baitfish on the surface or a variety of bugs – dragon flies and mayflies to name a few. These work best on the edges of lily pads or in pads that are not that dense. Heavy and thick lily pads are best fished with the larger frogs available. 
Dark Side  
One of my all-time favorite ways to target summer bass is after dark. The air temperatures have dropped, the water has cooled slightly and God knows, there are a million bugs out after dark! I have had some real lunkers while summer bass fishing at night with fish over 5 pounds. That may not sound like a beast, but up where I live in Long Island, NY, a 5 plus pound bass is a trophy. Remember, our bass don't get the blessings of the south and mid-west growing months. 
Wait for the bass to fully engulf the frog before setting the hook.
I use two different lures for bass at night. The first is the good old fashioned Arbogast Jitterbug in black. On the size, 5/8 ounce is the go-to bait. Black Jitterbugs, for reasons I have no idea, have always produced rock solid action. The second bait is one I fish a little below the surface – the 5-1/2 or 6-inch black Lunker City Slug-Go. This bait, rigged weedless with a non-weighted hook darts and slides side-to-side and bass cannot resist it.  
I can remember one outing with two buddies – Rick Holmberg and Alberto Knie - in New York. We had just fished a tournament all day, went out to dinner, but like all anglers, we wanted more. It was the heat of the summer, but the lakes we were near were all solid summer bass producers. The three of us stood on the shore and cast Jitterbugs in all directions. All you heard was the bubble of the bug crawling across the water, then the suction of bass engulfing them. We had fish-after-fish, non-stop for over two hours! 
In Conclusion
As I said earlier, summer bass do get lethargic in the summer. What I have found over the years is that the larger bass do not feed heavily, or should I say overly aggressively in the summer for the most part. What summer bass will do however, is look for an easy, fattening meal that will fill the void, and most importantly, take as little effort as possible. With this in mind, most of your retrieves should be slower than you would normally fish them. You can always alter the retrieve back and forth, but my gut tells me that most of your strikes will come from the slower, more lethargic retrieves than the high-speed ones.
Summer is here and summer bass fishing will be red hot just like the air and water temperatures. Put on some sun screen, grab some frogs and weedless creature baits by day or hit the dark side and fish black Jitterbugs or Slug-Go baits after dark. I guarantee you will catch, and it may be a big fish as well!