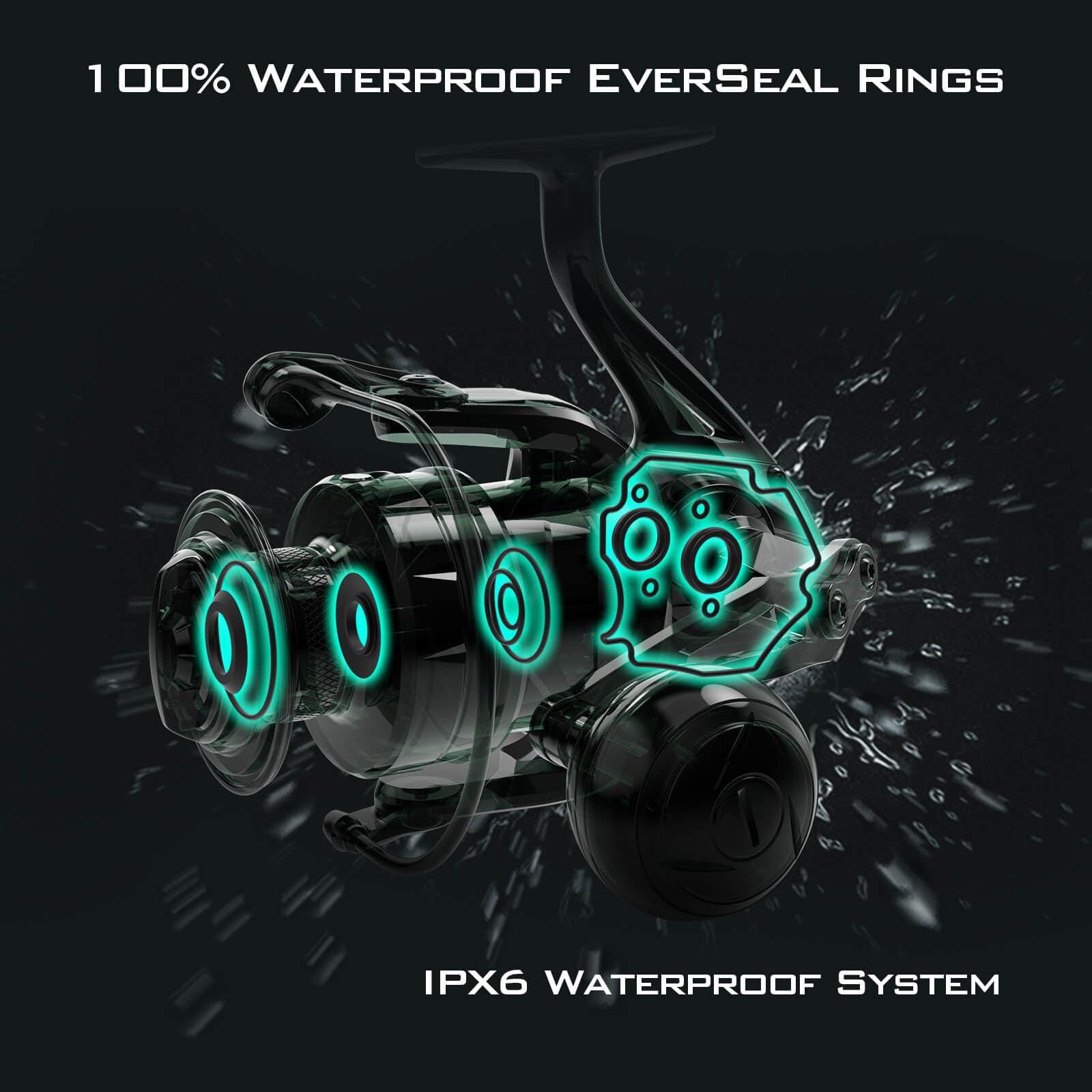 BUILT FOR SALTWATER
Specially engineered for offshore saltwater fishing. Kapstan Elite High Speed Spinning Reel is KastKing's highest end 100% Waterproof fishing reel at IPX6 level, with up to 15 EverSeal rubber rings to keep water out of the main gear. The KastKing Intrusion Shield System includes labyrinth-style greased sealing grooves that reduce rotational resistance and provide an innovative water-tight seal.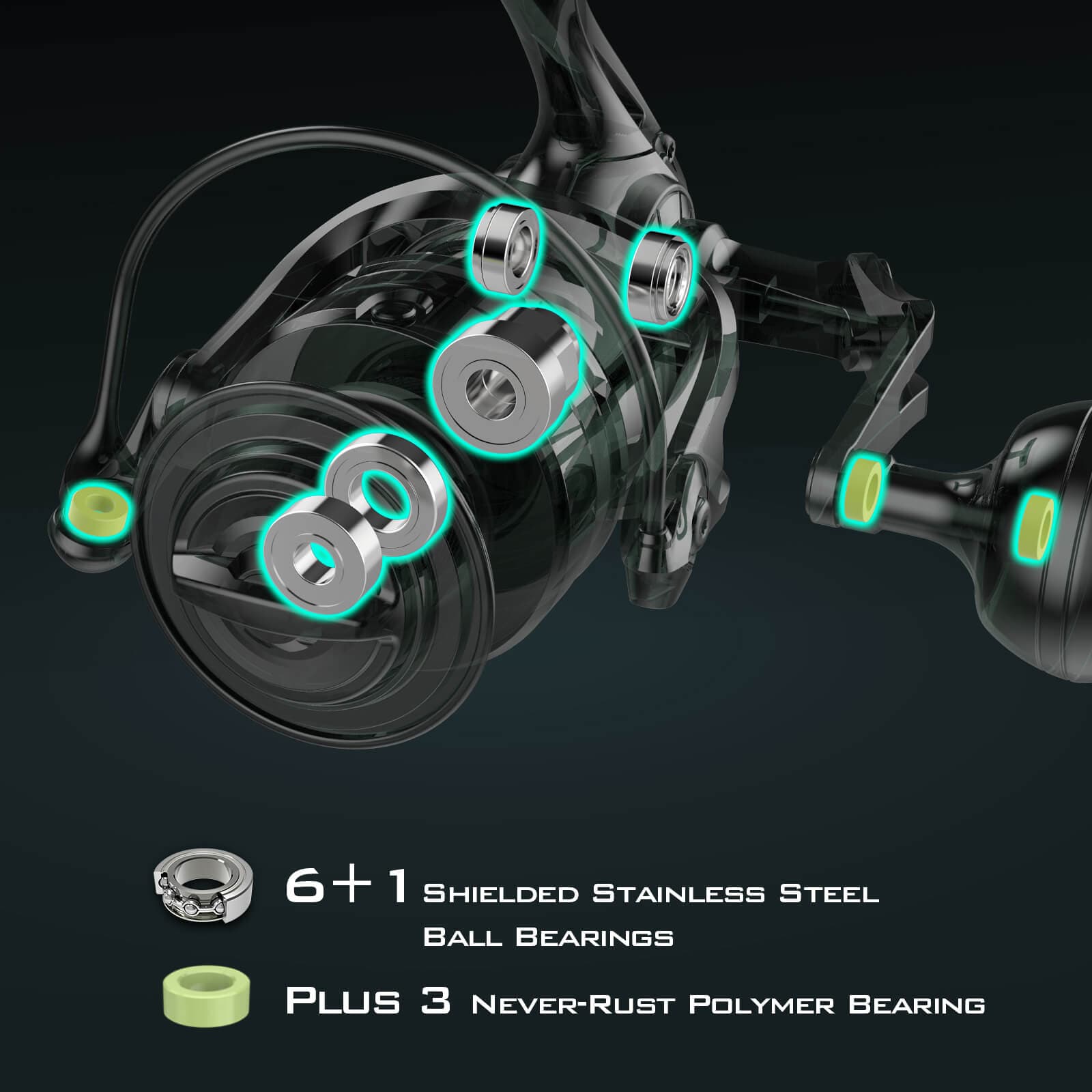 ULTRA-SMOOTH, FAST & RELIABLE
Kapstan Elite saltwater spinning reel is equipped with 6 double-shielded stainless steel ball bearings that provide a superbly smooth feel even in rough conditions. Plus 3 special-designed polymer roller bearing that is high-strength and never rust, and one 8-pin stainless steel one-way bearing to prevent the flywheel from reversing. Size 3000-4000 offer 6.2:1 faster retrieve, size 5000-6000 offers 5.7:1 and size 8000 provides 4.9:1 gear ratio.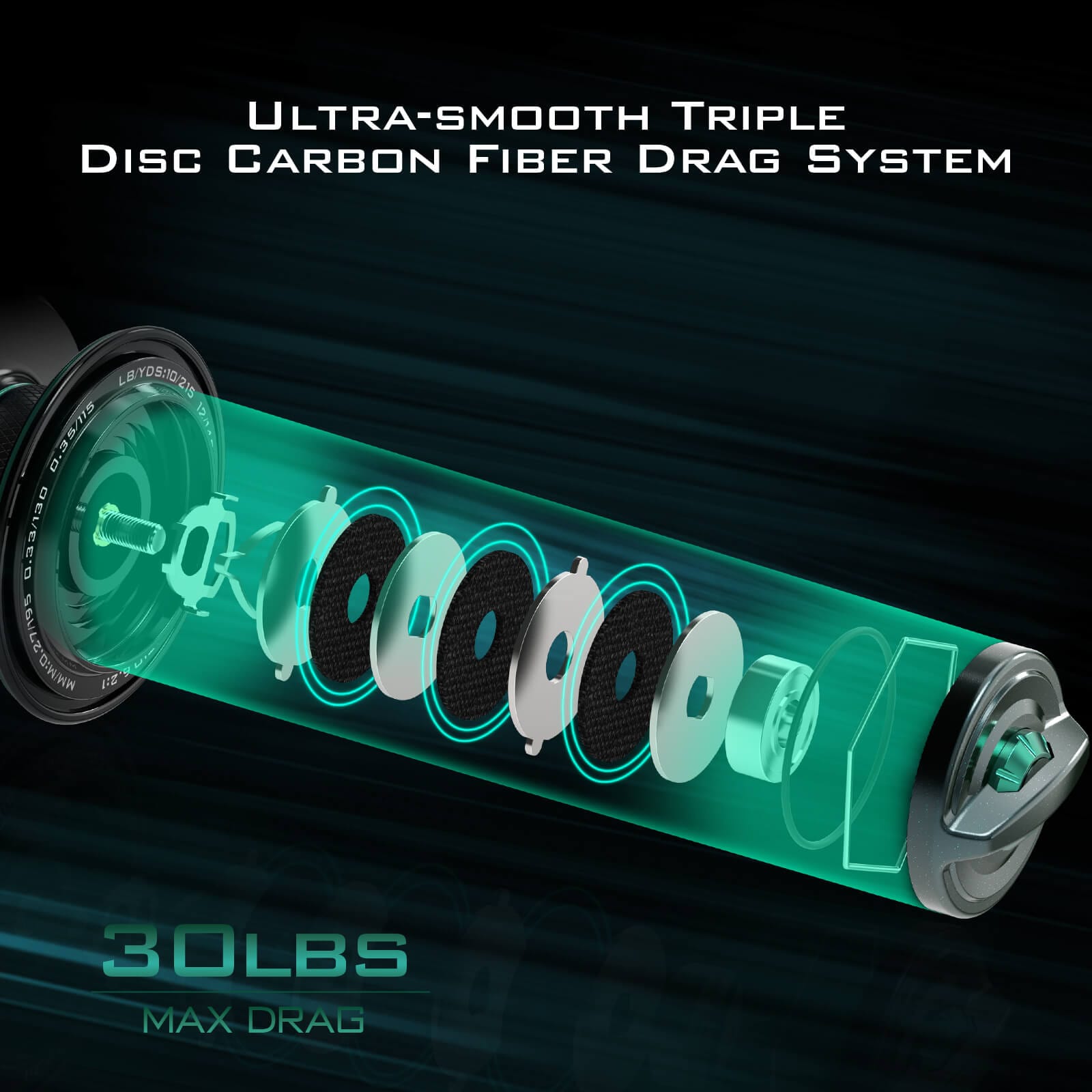 EXCEPTIONALLY STRONG & SMOOTH DRAG
This premium saltwater spinning reel is designed with a powerful braking force for hard fighting fish. Sizes 3000/4000 have an ultra-smooth triple-disc carbon fiber drag system and 30lbs max drag; 5000/6000 have a quad-disc carbon fiber drag system with 40lbs max drag; 8000 have a special double drag system, that consist of five front carbon fiber discs and one oversized spool carbon disc, to provide 55lbs max drag. Perfect for saltwater, big game fish.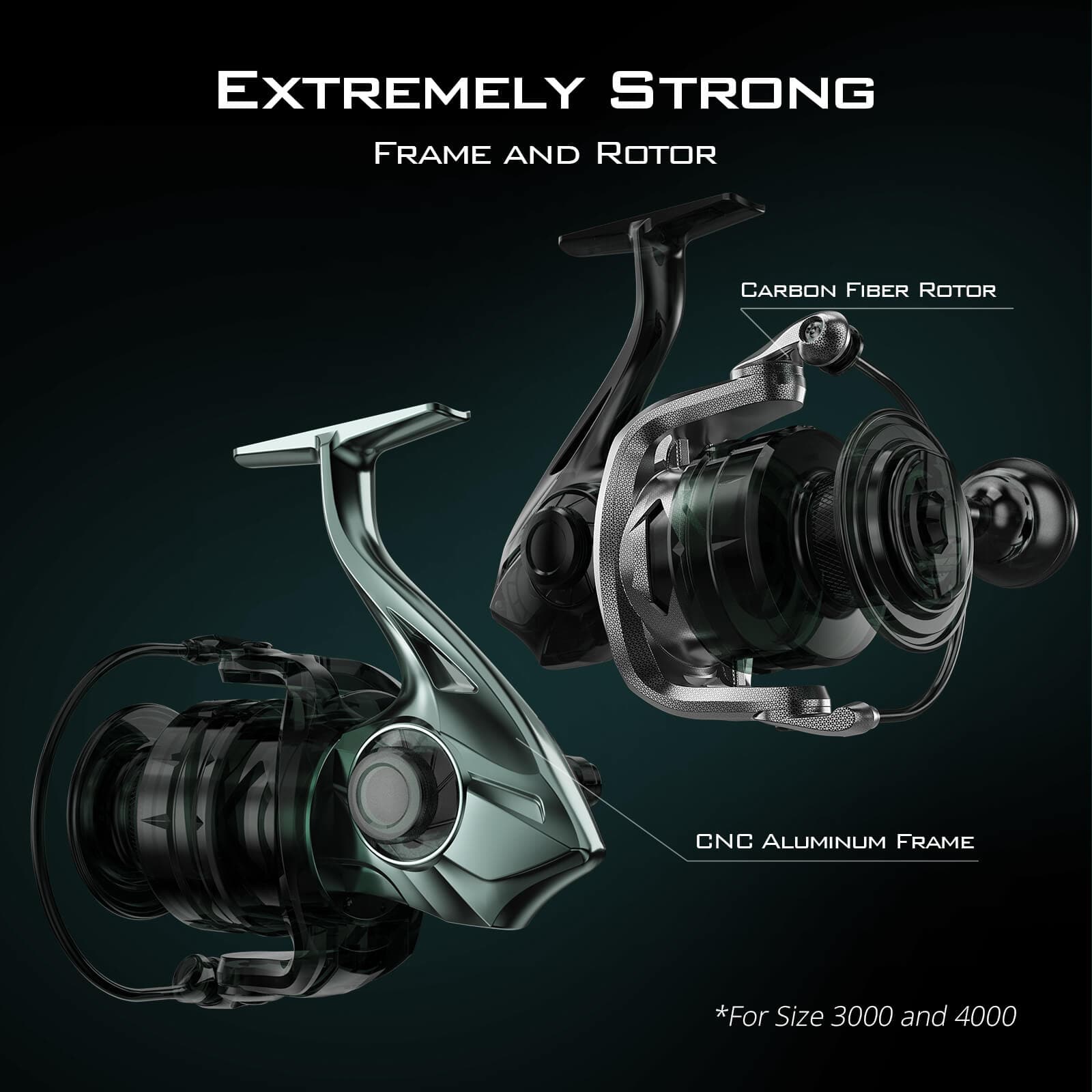 SUPER STRONG ALUMINUM BODY
Max-strength CNC aluminum frame construction. Sizes 3000/4000 have a carbon fiber rotor for strength with reduced weight. Sizes 5000/6000/8000 offer a CNC Aluminum Rotor for extra-strength in fishing. The large power handle and knob are machined from solid aluminum to provide incredible cranking power. This spinning reel has the strongest overall design for offshore sport-fishing, deep-sea game fishing, and blue water fishing. Great for monster fish in freshwater also.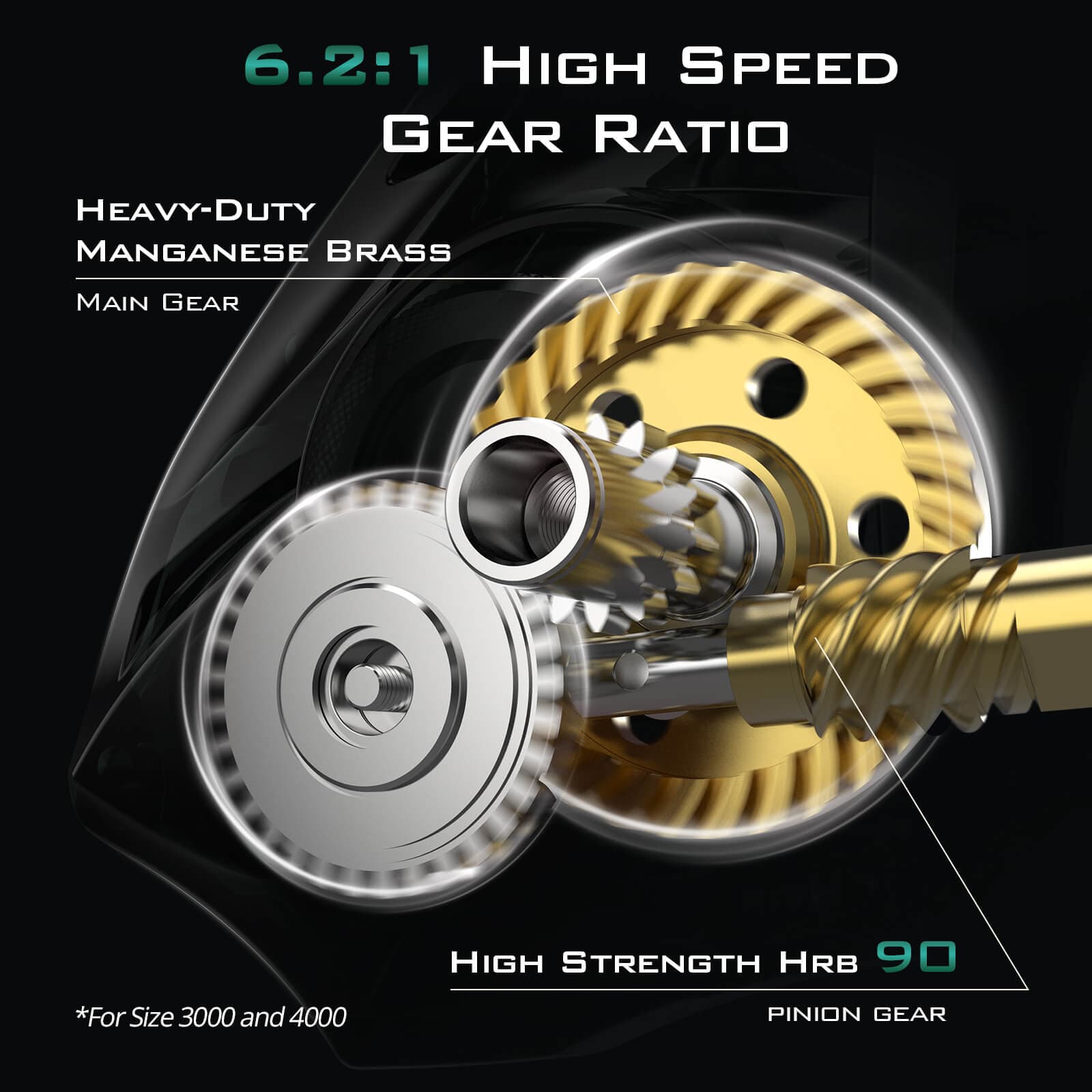 AERO-SPACE QUALITY GEARS
Best-in-class HRB 90 high strength aerospace alloy pinion gear with manganese brass gear guarantees extreme durability and smooth operation. These heavy-duty gears are 20% more durable than Aluminum and 95% more durable than zinc alloys. And the high-capacity CNC aluminum spool has a braid-ready structure, so there's no need to add mono backing when spooling braided line. Plus, the seamless one-piece bail will never get rusted or caught on fishing line.
Built Like A Tank, Smooth As Butter!!!
Very impressive reel through and through! It came beautifully and well packaged. When I opened the box I immediately noticed how huge this reel was. However, it was amazingly balanced in the hand. Every component of the reel feels solid and over built in the best way possible. The action is buttery and has a beast of a drag!I took this reel on a two day fishing trip around Catalina Island and put it through a torture test. I cannot tell you how impressed I am with this reel. Everything about this reel is buttery smooth. I was able to out cast and out fish everyone on the boat! I fly lined sardines, threw surface irons and fished 100 feet of water. This reel handled it all like a dream. I took down barracuda, sand bass, calico bass, sheep head and even a few yellowtail with ease! Even the deck hands on the boat were so impressed with the reel they I asked I send them the link!Buy this reel, you will LOVE IT!