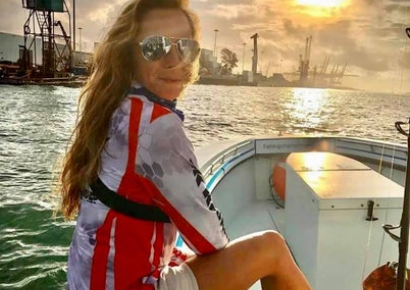 Are KastKing Sunglasses Polarized?
Anglers often ask if KastKing sunglasses are polarized but may not completely understand polarized sunglasses or their benefits.  Here's an in depth look at polarized sunglasses and when they are needed.
Polarization Defined
Each pair of KastKing sunglasses is indeed polarized. You have probably been in a retail store looking for sunglasses and noticed some are polarized and some are not, so what is the difference? Polarized lenses reduce glare by blocking horizontal light rays.
 Why block horizontal light rays?
The sun gives off light and it travels in all different directions. Some light bounces off horizontal surfaces like sidewalks, roads, snow, sandy beaches or even water and is reflected in all directions. This reflected light is horizontal light and it is responsible for most of the glare that interferes with your vision.
 A good analogy is to think about horizontal blinds in your home, when you open horizontal blinds the light comes into your house in horizontal strips which is comparable to horizontal light passing through your sunglasses. Polarized lenses are more like vertical blinds, when they are opened light comes into the room in vertical strips instead of horizontal strips. Filters within the lenses allow vertical light to pass through but they block horizontal light.
Are my sunglasses polarized?
Don't know if your sunglasses are polarized? There are a few easy ways to tell if you have polarized lenses in your sunglasses. Hold your sunglasses up to a computer screen, which has an anti-glare coating similar to polarized sunglasses.  Rotate the frame about 60 degrees so one side is at 10 o'clock and the other side is at 4 o'clock. If your lenses are polarized the screen will look black.  You can also check by holding one pair of sunglasses in front of another pair and looking through both lenses. Rotate one pair so it is 90 degrees from the other pair. If they are polarized the sunglasses will turn considerably darker or even black.      
There are also varying degrees of polarization. Some lens colors such as yellow are usually lightly polarized to reduce glare, but also allow for more light to pass through for better vision in low light conditions. In this case if you test for polarization some light will still pass through the lenses so the computer screen will not turn completely black, but it will appear darker.
What is better polarized or non-polarized?
There is no right or wrong answer, it really depends on what activities you will be doing while wearing your sunglasses.
If you are participating in activities like skiing or flying, then you should opt for non-polarized sunglasses because you want to able to avoid dangerous situations.  While skiing, glare helps you to distinguish the snow from ice so you can avoid dangerous icy conditions. Likewise, pilots should wear non-polarized sunglasses because polarized lenses can sometimes make it difficult to read control systems and GPS screens in the cockpit.
For other activities such as driving, fishing, biking or walking you should wear polarized sunglasses. The reduction in glare helps to improve your vision making it safer. Anglers will experience a significant vision improvement, especially if sight fishing because reflected light bouncing off the water is filtered out. This allows anglers to see deeper into the water column making it much easier to spot fish passing by.
Another advantage of polarized vs non-polarized sunglasses is that polarized lenses have several benefits for your eyesight.  These advantages include enhanced comfort, reduced eye strain, and improved visual clarity.  Make sure you consider all these factors before buying your next pair of sunglasses.
By Scott Thomas