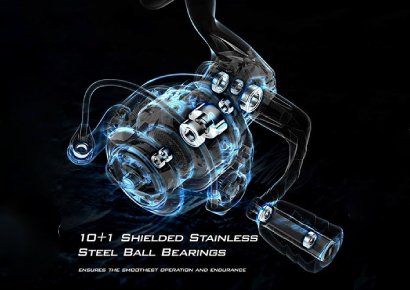 Are the Bearings Used In KastKing Reels Sealed for Saltwater Use?
When we answer the question are KastKing fishing reel ball bearings made for saltwater fishing, we have to take a look types of bearings.
Just as important as the questions about the location of bearings, or how many bearings are in a fishing reel, how ball bearings are made for saltwater fishing and other uses is equally important. There a couple of things that come to mind in the selection of ball bearings for saltwater fishing reels.
Bearing Corrosion Resistance
No matter what type of bearing is being considered, sealed bearings, shielded bearings, or even open face bearings, one requirement is that they must be highly corrosion resistant. Saltwater, and salt water spray will eat through almost anything or corrode it given enough time. High quality stainless steel is the only material that is applicable, cost effective, and readily available. Stainless steel balls and races can be machined and finished to exact tolerances and will hold up well even when lacking professional cleaning, lubrication and maintenance. An average angler can easily service stainless steel ball bearings on their fishing reel, if they have the skills and knowledge to disassemble and reassemble a reel.
 Open Face Ball Bearings
These bearings, no matter what material they are made of, are generally (with a couple of exceptions) not suitable for saltwater fishing reels. As you read on you will understand why.
 Stainless Steel Double Shielded Bearings
There are two types of bearings that come into play in a saltwater reel; shielded and sealed. Shielded bearings, as the name implies, have a thin metal shield that covers the balls within the bearing. The shield keeps dirt, grit, and sand out of the inner parts of the bearing. To a degree, I t also keeps bearing oil in. KastKing uses double shielded stainless steel ball bearings on all reels approved for saltwater fishing and many of the freshwater reels. Using double shielded bearings is a common practice on even the best fishing reels.
 Stainless Steel Sealed Bearings
Sealed bearings have an actual rubber or other material gasket-type shield that totally closes off the ball chamber from the outside environment. It is tightly fitted within the bearing race. The seals keep out water, and other contaminants such as dirt or sand particles and keep lubricants in. A down side of sealed bearings is that the seal has to be removed to clean and add lube, which can lead to damaging the seal. And, if the seal is not installed correctly, it can slow the rotation of the bearing. Typically sealed bearings are the most expensive bearings, aside from ceramic bearings.  
 The Verdict
So, are the bearings used In KastKing reels sealed for saltwater use? KastKing uses double-shielded stainless steel ball bearings for saltwater use. They offer great performance, durability, and protection of the ball bearings when used for a saltwater spinning reel or a saltwater baitcasting reel. Given the extra cost of sealed bearings, KastKing doesn't use them at this time, and finds the double-shield bearings work fine. As always, it is a must that the reel is washed thoroughly with fresh water after each fishing trip, dried with a clean soft cloth, and bearing oil is applied at the scheduled maintenance time. As mentioned, saltwater and saltwater spray can corrode any fishing tackle.