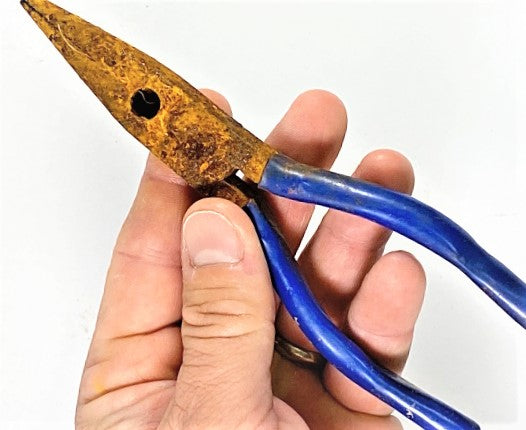 BEWARE OF CHEAP FISHING PLIERS - Good Fishing Pliers Features Review
KastKing compares a good pair of fishing pliers that can prevent a fishing trip disaster to cheaply made fishing pliers, fishing tools, or fishing gear that can be a nightmare.
What Are Fishing Pliers Used For?
 There are a lot of ways you can use fishing pliers. Most often this common fishing gear item is the best hook remover and is a fishing tool that you are most likely to own. The best fishing pliers can be used for crimping, cutting fishing line, or as a hook disgorger for pulling fishhooks out of fish. Fishing pliers often suffer as many misuses when they are used as a wrench or a hammer. Whether you are bass fishing, saltwater fishing, fly fishing, catfishing or any other type of fishing, having a pair of efficient pliers is a must.
 Some Fishing Pliers Are Expensive
 High end fishing pliers can cost hundreds of dollars. There are expensive pliers and fishing accessories made of titanium, machined aluminum, or sometimes a combination of both. These are beautiful fishing tools and get the job done, but do you really need a pair of expensive fishing pliers that cost over $200 to remove a fishhook? How upset would you be if you dropped them overboard? Excellent fishing pliers are available in the $20 to $30 price range.
 Cheap Fishing Pliers Are False Economy
 Then there is the other end of the fishing scale, well at least for fishing pliers. Those are the endless assortment of cheap fishing pliers. Sometimes you will see them along with other cheap fishing gear  selling at fishing flea markets. Sometimes they are cheap knockoffs of another brand. Sometimes they are inexpensive because they are made by an inferior brand with the cheapest materials possible, don't have close tolerances, or saltwater corrosion protection. For saltwater fishing, corrosion protection and strength in saltwater fishing pliers are primary concerns.
 Fishing Pliers Features To Look For
Which fishing pliers is best for you? Simply said, the best fishing pliers are the ones that efficiently get the job done, last for a long time and fit within your budget. Some things to consider are, is lightweight important to you? Then aluminum fishing pliers may be the best pliers for you. Is strength, toughness and durability at the top of your fishing tool list? Then select a high grade stainless steel pliers that have added corrosion resistance. High carbon stainless steel is the hardest and makes the best pliers to keep the jaws aligned. KastKing Cutthroat stainless steel pliers are made from corrosion resistant 420 stainless steel and coated with Teflon for added protection. These stainless steel pliers are 46% harder than aluminum pliers with nearly 3 times the bending strength of aluminum pliers.
 Carbide Fishing Line Cutters
 Good, properly aligned carbide steel line cutters will cut braided fishing line as well as fluorocarbon line, copolymer, and mono fishing line. Cutters should have screws that allow you to remove the cutting blades for alignment, sharpening or replacement.
 Plier Handles and Grips
 Handle grips should be over-molded grips with texture to prevent slipping in wet conditions. A thin grip profile and the spring loaded jaws allow for easy one hand operation. Good fishing pliers will have synthetic rubber like TPR grips, which don't hold odors. An alternative are Golf grip style plier grip materials, as found on KastKing Speed Demon Pro fishing pliers.
Know About The Pliers Nose
 If you change fishhooks on lures often, especially treble hooks, the best pliers have a split ring nose. Some anglers feel that the tang on the split ring pliers also offers more help as a fishhook puller. If you don't change split rings much, flat nosed pliers are fine. You can grab and remove any fishhook with serrated jaws or use the crimping slots to secure a split shot weight or build a steel leader. On KastKing fishing pliers there are convenient holes to pull hooks with when tying fishing knots.
What Are The Best Saltwater Fishing Pliers and Saltwater Fishing Tools
 The best fishing tools and fishing accessories are ones that last. Always look for hardened aluminum pliers or stainless steel pliers, preferably with a Teflon coating. It's best to care for your fishing pliers and fishing tools by washing them with fresh water after saltwater fishing and applying a light coat of oil. KastKing uses a salt spray booth in their testing lab that puts KastKing fishing pliers and fishing tools under more than 100 hours of salt spray.